PLEASE WELCOME TODAY'S GUEST…..
~CLOVER AND THE TWINS: The Search for the Cloverleaf Dogs ~
Children's Book Author
NICOLETTA BARRIE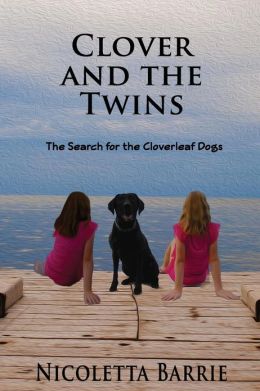 20 questions about reading or writing
Q: If you needed to whack a zombie with a book, which book would you use.
1984. There's no room for zombies in that world.
Q: If you could only have one book with you while trapped on a desert island, which book would it be?
Nelson DeMille's The Lion. I've already read it three times so I know it will hold my interest for the duration.
Q: Which character would you most love to bring to life to meet?
Tom Sawyer or Huck Finn. They're full of life, youth and mischief.
Q: Which character or creature terrifies you the most?
Serial killers no matter what book they're from.
Q: Name the book that you loved most as a child.
Anne of Green Gables. What young girl wouldn't want to be Anne?!
Q: Name a book that you wish you had read as a child.
The Wind in the Willows. I would still like to read it.
Q: What author has had the biggest impact on your life?
There are many authors who have impacted my life. The book that got me started was Ski Bum by Romain Gary, 1964.
The first time I read all the books of one author was the Sherlock Homes books by Arthur Conan Doyle. Then I found Crime and Punishment by Fydor Dostoyevsky, and that led me to Leo Tolstoy's books.
That sounds lofty until you realize that some of the other authors who later fell in that category include Stephen King, Patricia Cornwell, Nelson DeMille, Dean Koontz, Stieg Larsson and James Patterson. All popular contemporary authors.
Q: What author has had the biggest impact on your reading or writing style?
Honestly, I don't think any have. My writing style has been influenced by some of the editors I've worked with in my magazine career (nonfiction). Editors who explained why I should do one thing instead of another or told me to consider something else before committing to what I had . . . there's nothing like advice from a good editor to make a better writer. (You can also learn from the bad editors, but it takes longer.)
Q: Think of something related to books that you could get years ago, which you dearly miss.
Cherry phosphates!? I don't know, really. I thought of the phosphates because as a kid, I use to buy them in this little store that sold magazines and paperbacks. I would sip my phosphate and read at the soda fountain.
Q: Think of something related to books that you love but couldn't get until recently.
That one is easy: ebooks. I love my Kindle Fire and it goes nearly everywhere with me.
Q: Name a book where you wish you could rewrite the ending.
I would have loved to see the rapist caught and convicted in The Lovely Bones, but the real ending didn't disappoint me.
A Pulitzer Prize winning book that drove me crazy because it offered NO hope…The Road.  That book definitely needed to fill up its glass at least halfway.
Q: Name the book that most moved you emotionally.
The Lovely Bones. Sad but beautiful.
Q: Which author could come up with the most creative way to change a light bulb?
Erik Larson hands down.  How clever he was to have two GREAT stories going at one time in Devil in the White City.
Q: Which author could best describe how to change a light bulb in an exciting way?
Hemingway, in his short, precise sentences.
Q: Can you think of a wild pen name that you'd be too embarrassed to use as an author?
How about Blue Velvet? It sounds like a porno name.
Q: Can you devise a really embarrassing typo?
Penis instead of pens. I've done this but fortunately caught it in time.
Q: If you had to write a poem or short story without one letter of the alphabet, which letter would that be?
I'd say Z or X but they might be really fun to use in a poem. Probably a missing vowel would be the easiest to figure out as a reader.  For example: Prbbly a mssng vwl wld b th asst t fgre t s  rdr. (and that's removing ALL the vowels not just one letter).
Q: If you could remove a common word from the English language, which one would you choose?
Basically. It's overused. Apparently usually works as a substitute so it wouldn't be terribly missed.
Q: Devise a creative twist for the ending of a classic fairy tale.
Peter Pan becomes human and marries Wendy. Neither one of them have a memory of having met before.
Q: Devise a clever title for a parody of a popular novel.
The Girl Who Got Stung by Bees (The Girl Who Kicked the Hornet's Nest/Larsson)
Thank you, for spending time with us and our readers!!

A free booklet, What You Need to Know before You Adopt a Dog, is available on (the real) Dogs Forever's website, www. http://dog-rescue-iowa.org/wp-content/uploads/2012/11/How-to-Choose-a-Dog.pdf.
###
CLOVER AND THE TWINS:
The Search for the Cloverleaf Dogs
NICOLETTA BARRIE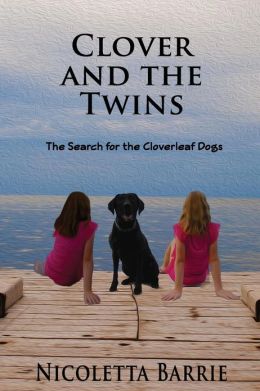 Paperback: 200 pages
Publisher: CreateSpace Independent Publishing Platform (January 8, 2013)
Language: English
ISBN-10: 1480175102
ISBN-13: 978-1480175105
*Amazon*
<h2>Clover and the Twins: The search for the Cloverleaf Labrador dogs</h2> This <B>Labrador Dog Story</b> begins with Channel and Bezel Sini, ten-year-old spokesgirls for Dogs Forever – a Dog rescue. They knew their involvement in an advertising campaign for homeless dogs would be exciting. But not until they adopted a feisty dog, a labrador named Clover did they realize just what a rollercoaster ride it would be. One night prior to the start of the campaign tour, the twins are awakened by Clover talking in her sleep and making running motions with her legs. Bezel and Channel wake up Clover who explains that she was separated from her dog family on Christmas Eve when a terrifying outlaw she calls Red Eyes tried to capture them in their home in the Chicago trainyard. Clover was successful in luring Red Eyes away from her family, but in the process she hopped on a freight train headed for New York City. The girls eventually discover that Clover is one of the Cloverleaf Dogs, a line of dogs who, legend has it, rescued people and pets during the Great Chicago Fire of 1871. The Dogs Forever advertising campaign serves two purposes for Clover and the twins. The first is Dogs Forever's goal of raising awareness about homeless dogs. And the second is more personal. When they get to the last destination, Chicago, Bezel and Channel have the personal goal of helping Clover find her dog family. What surprises and frightens Clover and the twins right out of the gate is that they are followed from city to city on the tour by a man in the crowds. As it turns out, Red Eyes did not give up when Clover escaped from him in the Chicago trainyard, and he is determined to capture her again.
Clover and the Twins: The Search for the Cloverleaf Dogs  is available from www.Amazon.com, www.Smashwords.com and www.BarnesandNoble.com
###
Please check out "My Thoughts" on this title, on our sister site, MyBookAddictionReviews
###
Thanks everyone! Please help us spread the word on this interesting Children's Book!!
 ###
About the author…..
Nicoletta (Niki) Barrie has had a lifelong love of animals, both wild and domestic, and this love has influenced her career path as well as her personal life. She has been involved in nature publishing and the photography industry as a writer, photo editor, text editor, publisher and agent…for leading conservation magazines and picture agencies. As a freelance writer, Niki has contributed articles to photography and art magazines and worked on the startup of a general interest magazine, a nature photography magazine and a photography annual. Niki served on the North American Nature Photography Association's (NANPA) Board of Directors for five years. She is a NANPA Fellow and received the association's Russ Kinne Recognition Award in 2003. The American Society of Picture Professionals (ASPP) honored her with the 2006 Picture Professional of the Year Award. This year, 2013, she received NANPA's Outstanding Service Award.
Niki lives in Rochester, New York, and works from her home office. She starts every morning with a walk with her dog Abby on the Genesee River Trail. The trail is part of Rochester's park system, which is often referred to as the Emerald Necklace designed by father of American landscape architecture Frederick Law Olmstead (1822-1903). Niki says her morning walks with Abby are the best part of her day.
Abby, Hildy and Humphrey–all Labrador retrievers–have been inspiration for Niki, and have influenced this book. Niki is also a new cat person with the adoption of Little Lulu.
Clover and the Twins is Niki's first full-length work of fiction for children.
The book's blog can be found at: http://cloverandthetwins.wordpress.com/
 ###
For "My Thoughts" on this title:
Please visit our sister site, MyBookAddictionReviews
###
Thank you everyone for helping us support our guest, NICOLETTA BARRIE!
Please help us spread the word!!