IT IS OUR PLEASURE TO WELCOME TO MY BOOK ADDICTION AND MORE TWO AWESOME LADIES, HISTORICAL ROMANCE AUTHORS: AMANDA SCOTT AND MARGARET MALLORY TODAY!!
WELCOME AMANDA SCOTT!!
MBA: Amanda,please tell our readers a little about yourself?
(photo from author's website)
    AS:    I am a fourth-generation Californian, have taught first and second grade, junior college history, Red Cross water safety, elementary swimming, and advanced swimming. Penguin USA's Signet published my first romance, The Fugitive Heiress and I have written 58 books so far. My publishers include, Signet, Doubleday, Dell, Kensington (Zebra), and Warner Books (now Grand Central Publishing, Forever, which is a division of Hachette Book Group USA). Every manuscript I've written has been published. I love hiking, kayaking, and doing almost anything with children, dogs, or cats. A longer bio is located at www.amandascottauthor.com and readers can also reach me through the email link on my website or at amandascott@att.net. I love to hear from readers, have learned a great deal from them, and I answer all messages.
MBA:  What made you want to write about the Scots & Highlander, if anything?
AS:    I've written books set in the English Regency and Victorian periods and books set in Wales, as well as the Scottish Historicals I'm writing now. I have a master's degree in British history with an emphasis on England and Scotland, and my heritage is Scottish on both sides with the addition of Welsh on my father's side. Although I have written a number of books set in the Highlands and have ancestors who were Fergusons from Galloway or Perth, and Jamisons from Clan Gunn and Orkney, most of my Scottish ancestors hail from the Borders (Scott, Douglas, Logan, and related septs). I tell people I have horse thieves (reivers) hanging from every branch of the family tree.
MBA:   Is Highland Hero a part of a series, if so how many books will be in this series?
     AS:  Highland Hero is book 2 in my Scottish Knights trilogy. Book 1 was Highland Master [Forever, February 2011] and Book 3 will be Highland Lover [Forever, April 2012]. These stories take place in early fifteenth-century Scotland at a time when the third person in line for the Scottish throne was determined to rule Scotland, the heir to the throne was a reckless, womanizing profligate, and the second in line was a seven-year-old boy. Three close friends, all knights who studied together under the Bishop of St. Andrews but who never knew each other's full names, will do all they can to aid the rightful heir in his battle against the murderous efforts of his wicked uncle to seize Scotland's throne. In Highland Hero, Sir Ivor Mackintosh, known at St. Andrews only as "Hawk," is summoned by the King and asked to transport his grace's younger son, seven year old Jamie Stewart, in secrecy, across Scotland to the safety of Bishop Traill's guardianship at St. Andrews Castle. The inspiration for the plot came from a Scottish bard's tale that I'd read, which also resulted in Ivor's being named Ivor (meaning archer) and his having become the finest archer in Scotland. The first chapter of Highland Hero is posted on my website at www.amandascottauthor.com.
MBA:  Can you give our readers a few tidbits about any upcoming project(s)?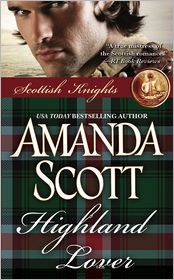 AS: The next and last book in my Scottish Knights trilogy is the aforementioned Highland Lover [Forever April 2012]. Its hero is Sir Jacob "Jake" Maxwell, who appeared as a boy in King of Storms, much of which tales place on a ship that Jake's father captains until the hero "borrows" it with Jake and his father aboard. [Forever, August 2007]. Now grown, Jake is a knight of the realm and captain of his own galley, the Sea Wolf. To introduce a fictional secondary character from an earlier series as the hero of a new one is a first for me. But Jake's background eminently qualified him to become a member of the St. Andrews brotherhood established (fictionally) by Bishop Walter Traill, which connects the 3 heroes in the trilogy. My next trilogy, Lairds of the Loch, is in the works, too. The three books in that series will have heroes from clans on or near Loch Lomond, an area that connects the Highland with the Lowlands. Most clans there, though not all, are considered to be Highland clans. The loch's north and west banks are Highland, its south and southeastern areas generally Lowland. But clans in the latter areas often controlled lands on other shores too. The heroine of Book 1, Lady Andrena MacFarlan, is based on Camilla, a warrior-huntress who was close to Diana, Roman goddess of the hunt, and Andrena has a few extraordinary skills of her own. She can "read" people's emotions and intentions with extraordinary accuracy—people, that is, except for the hero, Magnus Og Galbraith, who is a veritable giant with a mind of his own.
MBA:  Amanda, with the holiday season approaching, tell our readers one of your favorite memories of the holidays?
     AS:  Curling up by the fireplace in the big living room at my grandparents' ranch with my three siblings and a host of cousins, all of us kids in pajamas and robes, in a tangle of bodies, listening to our parents, aunts, uncles, and grandparents swapping funny stories—or all of us, adults and kids, too, listening to my grandfather read Dickens' Christmas Carol or recite long poems from memory. I think it was an effort on the adults' part to wear us out or bore us silly, hoping we'd go to bed (and sleep), so they could play Santa Claus. Never worked. A few of us would always creep downstairs to keep listening to them talk until my dad or one of the other dads would hear someone giggle and send us to bed, threatening dire things if we did it again.
HIGHLAND HERO
By Amanda Scott
ISBN: 978-0-446-57430-3
Published by: GRAND CENTRAL PUBLISHING
Genre: FICTION, ROMANCE
Available now in mass market
When Scotland's Queen Annabella dies, her devastated niece, Lady Marsaili Cargill, takes charge of the seven-year-old prince James, who is second in line to the throne. But rumors abound that the King's brother—the Duke of Albany—will stop at nothing to fulfill his ambition to govern Scotland. But before Marsi can help the young prince escape to the safety of St. Andrews Academy, she will need to confront the men seeking to use her—and accept the help of the King's devoted master archer, Sir Ivor Mackintosh. With traitors and assassins all around, Marsi and Ivor must risk all for the little prince James, while hoping for a future that will allow their love to flourish.
THANK YOU,AMANDA FOR TAKING THE TIME OUT OF YOUR BUSY SCHEDULE TO VISIT WITH US TODAY!!
AND WELCOME MARGARET MALLORY!!
                                                                                                                                              (photo from author's website)
 MBA: Tell our readers a little about yourself?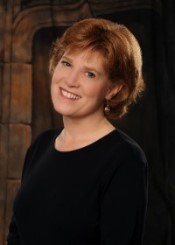 MM: I grew up in small towns in northern Michigan, but I've lived most of my adult life in the beautiful Pacific Northwest, where I met my husband and we've raised our kids. Becoming an author is a second career for me. I was the first lawyer in my family and spent many rewarding—but rather wearing—years in jobs devoted to improving services for abused children and care for the elderly.
MBA: What was your inspiration, if anything, in writing "The Sinner"?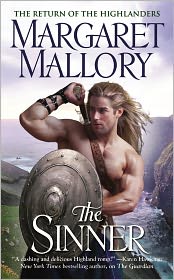 MM: History inspires me. Because I write adventurous romances, I look for a period with a lot of conflict. I found exactly what I wanted in the year 1513, in the wake of the Scots' disastrous loss to Henry VIII's forces at the Battle of Flodden.  The chaos that followed gave me the opportunity to have my four Highland heroes return from France to find their king and chieftain dead, a rebellion brewing, factions fighting for control of the crown, and their clan in grave danger. What fun!
I still had to find a clan for my Highland heroes. When I discovered that the first chieftain of the MacDonalds of Sleat had six sons by six different women and that the animosity among the six sons led to two generations of murder, I knew I had found my clan. J
Alex is the bad boy of this series. Because this charming rogue is so set against being married, I was inspired to pair him up with a serious-minded heroine who is adamantly opposed to marriage, particularly to a known philanderer like him.
MBA:  Can you tell our readers why you enjoy writing about the Highlanders and/or  Scotland?
       MM: I like my heroes swinging swords and my romances adventurous, so writing historicals set in the Highlands suits me perfectly.
MBA: Can you give our readers a few tidbits on your upcoming project(s)?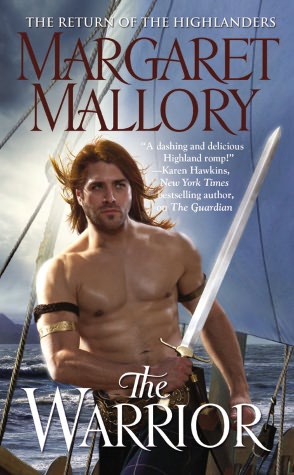 MM: I have two more books in this series, Duncan's book, THE WARRIOR, and Connor's book, THE CHIEFTAIN.  All four of the heroes appear in each other's books, which is fun for me because I don't have to let them go so quickly, and readers seem to enjoy it, too.  Many of them have told me they are anxious for Duncan's story because they want to see him happy at last after having his heart broken years ago by Connor's sister.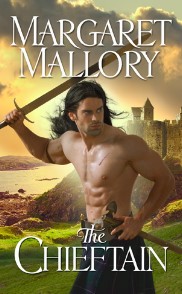 (coming in 2012)
                                                  (coming in 2013)
MBA:   Last but not least, Margaret, with the holiday season approaching, can you give our readers a few of your favorite family traditions for the holiday season?
      MM: I love Christmas. We always do a lot of baking and have a huge Christmas dinner with all the trimmings.  Decorating the tree together as a family is really important to me. We play the same Christmas music every year, and the kids have memories attached to many of the ornaments that they made or received as gifts when they were little.
 Now for my mother's whine. Since my kids went off to college, it's become so difficult to coordinate their schedules that last year it was Christmas Eve before I got my tree up. But Mom's putting her foot down, and this year it will be up earlier!
(from the author's website)
THE SINNER – Slide Show Here is a slide show of photos I took in Scotland of some of the lovely settings & castles that are in THE SINNER. Click on "show info" on the upper right for descriptions. Enjoy!
http://www.flickr.com//photos/62127626@N05/sets/72157627725465622/show/
THE SINNER
By Margaret Mallory
ISBN: 978-0-446-58310-7
Published by: GRAND CENTRAL PUBLISHING
Genre: FICTION, ROMANCE
Available November 1 in mass market
Alex MacDonald is known for his skill as a warrior, his prowess with women, and his vow to never take a wife. But now his chieftain has asked him to make the ultimate sacrifice: wed Glynis MacNeil, a lass famed throughout the Highlands for her exquisite beauty—and defiant ways. Familiar with heartbreak, Glynis refuses to fall for another handsome scoundrel. Yet when Alex's past sins force an unlikely union, Glynis gives in to temptation and becomes his wife. Will their newfound passion be strong enough to fight the enemy that threatens their home, their clan, and their very lives?
THANK YOU, MARGARET FOR TAKING THE TIME OUT OF YOUR BUSY SCHEDULE TO VISIT WITH US TODAY!
How dear readers,please go forth and purchase "HIGHLAND HERO" AND "THE SINNER"….
***GIVEAWAY***
Thanks to Jennifer at Grand Central Publishing, we are offering 1 lucky commenter a print copy of both "HIGHLAND HERO" by Amanda Scott and "THE SINNER" by Margaret Mallory. (will include 1 copy of each book per winner)No P.O. Boxes,please. Giveaway open from today November 18 until November 25,2011.Open to U.S. and Canada residents only. Please leave your email address in your comment. We use this to contact the winner(s).
GOOD LUCK EVERYONE!!
**Stop by My Book Addiction Reviews for our thoughts on "HIGHLAND HERO" BY AMANDA SCOTT AND "THE SINNER" BY MARGARET MALLORY in a few days**
    Thank you for visiting My Book Addiction and More…..