~THE CHRISTMAS TOWN~
TIME TRAVEL AND ROMANCE
ELYSE DOUGLAS
JUST IN TIME FOR CHRISTMAS!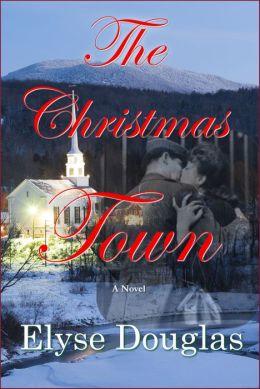 Time Traveling with That Christmas Man
by Elyse Douglas
For most of us, the words Christmas and romance evoke feelings of joy, fond childhood memories and the exciting possibility that something wonderful could happen just around the next bell-ringing, corner Santa Claus. 
As a child in a French-Canadian family, my imaginative and romantic nature was drawn to the romance and mystery of the first Christmas.  I wanted to be transported back in time to experience that glorious first night where shepherds, angels, wise men and a bright star changed the mythology, religion and the world forever.  I imagined myself hovering in the heavens with the angels, meeting a cute shepherd boy and roaming the dark hills under cold, glistening stars, and riding a camel with a bearded wise man.
After I read Louisa May Alcott's Little Women, I decided to write my first Christmas story.  It was entitled The Man From Christmas.  I was living in Atlanta at the time and was surrounded by stories about the American Civil War.  My story was about a handsome Rebel Cavalry officer who came galloping into our backyard one snowy Christmas Eve (although it never snowed in Atlanta).  When I burst out the back door, nightgown billowing, hair blowing, eyes glowing, he charged toward me with saber drawn, exclaiming.  "There she is!  The girl of my dreams!"  He swung me up onto his horse and we rode off to 1863, where love and adventure knew no bounds or reason, except for the problem of how I was going to get back home to my time, since my beloved officer was killed heroically in battle.  No problem.  I met another man, an alchemist, who swept me off to 18th century France.  He was a dark, brooding prince, cunningly skillful at unhooking my diamond necklace and my inhibitions.  
I re-read the story recently and cringed, quickly slipping the over-heated thing back into the coffee-stained manila envelope, and hiding it in the back closet, next to my husband's can of WD-40. 
As I grew older, it was the Christmas music, the midnight mass on Christmas Eve and the traditions of gift-giving and candlelight carol-singing that uplifted me, and sent my overworked imagination into a delicious Christmas-pudding frenzy.  I transported myself back to the "olden days" of one-horse open sleigh rides, gas lights and snowy kisses with Charles Heath (my second imagined Christmas man) who escorted me to his imposing and massive Victorian house, where he proposed marriage under the mistletoe, next to a gleaming fireplace.  Did I want to marry him?  He was handsome and rich, yes, but, he was also… well, a little too nice.  I had my eyes set on Austen Landis, the town rascal.
But I was hooked on the genre.  Time, travel, and romance: three beguiling words, alive with so many alluring possibilities.  Each word fires up even the driest of imaginations.  Each word promises the glamour of adventure and romance, and I can never resist reading them and writing them.
Elyse Douglas' newest novel, The Christmas Town, is a light and breezy Time Travel Romance about two successful modern women who get lost in a snowstorm, cross a covered bridge and wind up back in 1943, in a small Vermont town.  They meet two soldiers, who are about to be sent off to war.  They fall in love and struggle to return to their own time, caught between new love and their wish to return home.  A Christmas miracle changes them all forever. 
Whether you prefer the steamy Time Travel Romances or the cleaner, lighter style, Time Travel Romances allow you to escape for a time into an almost mystical world of hope, adventure and romance.  A friend recently said "These novels make me feel bigger than my little house and small town.  I can travel to distant places and be a beautiful adored woman, for at least a little while."   
By the way, The Man From Christmas has reappeared in my closet, crooking his finger at me, beckoning.  There is a strange eerie light shimmering around him, suggesting a time travel journey?  Shall I be petulant, remote and coy?  Shall I go with him?  Christmas is just around the corner.
Copyright © 2013 Elyse Douglas
 What a wonderful guest post, Elyse. Thank you so much for stopping by today! Happy Thanksgiving to you and your family!
+++
Meet the author…..
Elyse Douglas is the pen name for the husband and wife writing team of Elyse Parmentier and Douglas Pennington. Elyse's mother was a painter and her father a textile consultant. Elyse began writing poems and short stories at an early age, and graduated from Columbia University with a Master's Degree in English Literature. Douglas grew up in a family of musicians, astrologers and avid readers. His great grandfather lived to be a 134 years old, and was the oldest man in the world when he died in 1922.
Some of Elyse Douglas' novels include: "The Astrologer's Daughter," "Wanting Rita," "The Christmas Diary" and "The Christmas Town." They live in New York City.
CONNECT & SOCIALIZE!
Website: www.elysedouglas.com
+++
Paperback: 254 pages
Publisher: CreateSpace Independent Publishing Platform (September 29, 2013)
Language: English
ISBN-10: 1492852805
ISBN-13: 978-1492852803
*Amazon*
Publication Date: October 5, 2013
Traveling home for Christmas, two young women in their 20s are forced to drive together during a snowstorm, and they get lost. They cross a covered bridge and, suddenly, they enter the past, finding themselves in a small picturesque Vermont town in 1943. They meet two handsome soldiers, who are about to be sent off to war, and they fall in love with them, while also struggling to find a way to return home to their own time.
With the soldiers' help, on Christmas Eve, the two women finally have one chance to return to their own time, but they are caught between their love for the soldiers, and their desire to return to the present. At the last moment, they must make the difficult decision and, because it is Christmas, a miracle happens.
Watch the book trailer: http://youtu.be/DOJFUUGrmAU
Buy Links:
Amazon:
Barnes & Nobles:
http://www.barnesandnoble.com/w/the-christmas-town-elyse-douglas/1117109987?ean=2940148666417
And other fine retailers!
+++
~GIVEAWAY ALERT~
(Sponsored by the publisher and/or publicist)
Thanks to Kelsey, we are offering 1 lucky commenter a digital copy (Kindle only) of "The Christmas Town". Giveaway will run from November 24,2013 until December 1, 2013.
*Remember this giveaway is for a Kindle version only*
GOOD LUCK EVERYONE!
+++
My Thoughts:
The Christmas Town is an interesting Time Travel/ Romance. It will make you laugh, smile, and cry as you join four people,Jackie,Megan, Danny and Jeff, on a journey of a Christmas miracle. From present day to 1943,caught between wanting to go home,the present and their love for each other. Two women, Megan and Jackie meet two soldiers, Danny and Jeff and find themselves caught between the present and the past,the desire to go back to the present and their love of two soldiers. Because its Christmas,of course, a miracle may just happen. If you enjoy Christmas spirit,the past,adventure, and romance than "The Christmas Town" is definitely up your alley. Be warned, you will find yourself turning pages, as you read this story of love and romance. A perfect Christmas story! If you do not particular care for Time Travel stories, please do not let this stop you, you will not be disappointed. You will be taken back in time,though. Well written with an interesting storyline, intriguing characters who are engaging,humorous at times and who will steal your heart. If you enjoy Christmas stories with a twist than you will enjoy "The Christmas Town".  A sweet Christmas romance. A recommended Christmas time read! Received for an honest review from the publisher and/or publicist.
RATING: 4.5
HEAT RATING: SWEET
REVIEWED BY: AprilR, courtesy of My Book Addiction and More
+++
Thanks everyone for stopping by today and please spread the word!!