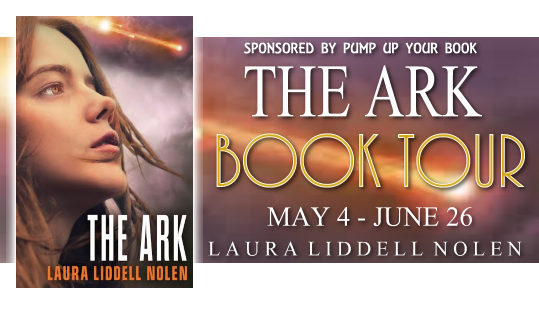 Researching the Future
Laura Liddell Nolen
When I set out to write my first book, I didn't think much about how much time I'd spend researching. The book is set fifty years in the future, just after World War III, so I thought I'd have more leeway in coming up with technology. After all, the sky is the limit- future tech hasn't even been invented yet! But the more I wrote, the more I felt the need to ground Char's universe in realistic, nearly-current technology. I also found myself double-checking little details about stuff I thought I knew. Handcuffs, Braille, motor boats, Kevlar, so-called "assault rifles," you name it, I looked it up!
Although I did have lots of fun with the cars. Automobiles of the 2060's won't drive unauthorized users, and if they think you're trying to commit a crime, they shut down entirely. Considering the GPS systems we use today, it wasn't that much of a stretch. So that gave me some fun rules to work with, especially when you add an escaped convict trying to fight her way into space.
The spaceships were another story- definitely fun, but requiring way more research than any other part of the book. There are two main kinds of spacecraft in The Ark. The first are Off-Planet Transports, which hold ten thousand passengers and blast off from earth. They're a lot like modern-day rockets, but they have thin, aerodynamic spokes that hold the passengers.
The other kind, obviously, are the Arks.
Arks are a hybrid of a space station and a spaceship. They're too big to blast off from the earth, so they were constructed in space, like a space station. But they have more propulsion capabilities than a station like the ISS, for example, because they aren't meant to stay in orbit. They're travelling to a planetoid in the Kuiper Belt, which is a considerable distance from earth. In that respect, they're like spaceships.
Each Ark is designed to hold a hundred thousand people for several years. Certainly, there are enough resources on earth right now to feed a tiny fraction of our population for a very long time, but you need somewhere to put all that food. Plus, you need terraforming equipment, farm animals, and any other– ahem– remnants of human civilization you want to preserve. So I knew the cargo hold had to be big.
Eventually, I decided that the North American Ark would be shaped like a doughnut, so that the outer rim is much bigger than the center rim. That's why I put the cargo hold as far out as possible- it's got tons more space
In researching space stations, almost the first thing I discovered is that gravity is really, really good for us, and its absence can wreak havoc on all our body systems. My ship had to have it- most of the time, anyway. So the North American Ark spins, pressing its cargo and occupants outward. Somewhere near the middle rim is the "sweet spot," where the amount of simulated gravity is one g- the same as the force of gravity on earth. Naturally, the Guardians took the sweet spot for themselves.
Which leaves the rest of the Ark, including the cargo hold, for everyone else. The outer rim is a dark, heavy place- full of perfect hiding places for stowaways and their ilk. Here's hoping Char can find it before Central Command finds Char.
The wildest part of it is, this spaceship design isn't nearly as original as I'd thought! While looking up historical spacecraft, I stumbled onto a few ideas that never became reality. And folks, as unbelievable as it sounds, there once were plans for a real-life, doughnut-shaped ship. I present to you the Stanford Torus, a marvel of modern imagination and possibility. The 70's were a magical time, clearly. There are lots of differences between the North American Ark and the Stanford Torus, but the similarities are striking. I'm going to use as much of this as possible in writing the sequel to The Ark.
So happy researching, everyone! May your internet searches be ever fruitful, bearing only the happiest of results and the silliest of cats.
Thank you for stopping by today! What a delight to have you with us today!
***
Title: The Ark
Author: Laura Liddell Nolen
Publisher: HarperCollins
Pages: 239
Genre: YA Scifi
Format: Paperback/Kindle/Nook
There's a meteor headed for Earth, and there is only one way to survive.

It's the final days of earth, and sixteen-year-old Char is right where she belongs: in prison. With her criminal record, she doesn't qualify for a place on an Ark, one of the five massive bioships designed to protect earth's survivors during the meteor strike that looks set to destroy the planet. Only a select few will be saved – like her mom, dad, and brother – all of whom have long since turned their backs on Char.

If she ever wants to redeem herself, Char must use all the tricks of the trade to swindle her way into outer space, where she hopes to reunite with her family, regardless of whether they actually ever want to see her again, or not . . .
For More Information
***
Meet the author…
Laura Liddell Nolen grew up in Hattiesburg, Mississippi, where she spent lots of time playing make-believe with her two younger brothers. They supplemented their own stories with a steady diet of space- and superhero-themed movies, books, and television. The daughter of a comic book collector, she learned how to handle old comics at an early age, a skill she's inordinately proud of to this day.

Laura began work on her first novel, The Ark, in 2012, following the birth of her daughter Ava, a tiny rebel and a sweetheart on whom the novel's main character is loosely based. Completion of The Ark was made possible in part due to an SCBWI Work-in-Progress Award.

Laura loves coffee, dogs, and making lists. She has a degree in French and a license to practice law, but both are frozen in carbonite at present. She lives in Houston, Texas, with her husband and two young children, and their dog Miley, who is a very good girl.
For More Information
Follow the Tour Schedule!
http://www.pumpupyourbook.com/2015/04/12/pump-up-your-book-presents-the-ark-virtual-book-publicity-tour/
Presented by: