GOOD MORNING,GABRIELLE,AND WELCOME TO MY BOOK ADDICTION AND MORE TODAY..
"His Last Duchess"by GabrielleKimm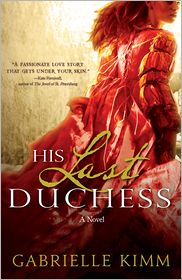 Good morning!
MBA:  Gabrielle,tell our readers a little about yourself?
I'm one of four sisters, raised in rural Sussex (on the South Coast of England), where I now live with my own family – I have two teenage girls.  I love country life – my dog and I walk every day, watching the seasons change (well, I watch the seasons change – the dog just sniffs and barks and runs around).  I play the piano and sing; I've been paid to sing a few times, but no one has yet paid me to play the piano …  I've been
a committed vegetarian for about twenty five years.  I have a Masters Degree in Creative Writing
and I'm a qualified English teacher.  I'm very untidy and forgetful – my main form of exercise is running upstairs to see if I can remember what it was I forgot last time I was there.
MBA: Can you tell our readers why you chose sixteenth-century Tuscany and Ferrara as the setting for "The Last Duchess"?
That's easy. It's all thanks to Victorian poet, Robert Browning.  I fell in love with his poem, 'My Last Duchess' – a dramatic monologue, narrated by the wonderfully sinister fifth duke of Ferrara, who smugly admits that he had his late wife permanently silenced because she irritated him once too often – and I decided that I simply had to write a novel, exploring what really happened.  The story clearly needed to be set at the time of the events of the poem – that is, Ferrara in 1559 –  because that's where the duke lived, and when!
MBA:  How hard was it to find research during this era for your writing purposes?
After all the excitement of the initial idea had died down, and I had scrambled the bare bones of a plot together, I had a bit of a panic, when I realized what an enormous task I had set myself.  I knew SO little about the era and the place!  I started by browsing the British Library catalogue for likely titles of research books, and located about half a dozen, which I duly borrowed.  Several of those were really helpful, so I bought copies of them (not wanting to have to give them back!).  I trawled the internet, of course, and found masses of information there.  If I found a website I thought promising, I would contact the writer directly, and ask specific questions, and I was continually amazed by the feedback I got  – people are SO generous with their time and expertise.  I did a fair amount of hands-on research – flying falcons, consulting a herbalist, visiting the locations in Italy, and analyzing my duke with a psychiatrist friend.  And if something I badly wanted to know was just completely impossible to track down … then, being a novelist rather than a historian … I made it up.  (I love my job!)
MBA: How did you choose who was to be the villain and who the hero/heroine, or did they choose themselves in your mind?
Ooh, I've never thought of it like that.  I never really plan in advance what role my characters are going to play, as such – I wouldn't want to pigeon-hole them.  In the early stages of a book, I just need to get to know them as people, and to see how they work together, and their roles become clear as the writing progresses.  It's not always possible to predict how a character is going to react in a given situation – you know what you want them to do (because you plan it in advance) but when you get there, sometimes your characters feel quite
differently about things to how you expect them to.  This can be quite annoying when it doesn't fit in with your plans!
MBA: Can you tell our readers a few tidbits about your future project(s)? 
My second book, 'The Courtesan's Lover', which is a 'spin off' from 'My Last Duchess' will be coming out with Sourcebooks in May 2012.  This takes a secondary character from 'Duchess' – the duke's long-suffering mistress, Francesca – and gives her centre-stage in her own story.  She is living in Naples, in
this book, and is working hard to achieve the prestigious status of 'cortigiana onesta' –'honest' courtesan,
though of course, things do not progress smoothly.  My new, third novel (it doesn't have a name yet) is in the very early stages – and it's still a bit too tender and delicate to allow outside on its own.   All I'll say is that it will be set in seventeenth century Paris – in the time of Louis XIV, the Sun King – and that it opens with an execution!
MBA: Gabrielle, after a long day with deadlines, personal issues, family and of course friends what do you do to relax?
I hesitated about what to put here.  I thought about inventing something really exciting or interesting to entertain you all, but then I thought that I'd probably better admit to the truth. After a long day, I'm most likely to veg out in front of the TV, I'm afraid.  Hopefully a lovely historical drama, like Downton Abbey, or The Crimson Petal and the White, but I'm just as happy watching  rubbish when I'm really tired.
MBA: Now Gabrielle,tell our readers where to find you and your books?
Here are a couple of links which you might find interesting – my website www.gabriellekimm.co.uk,
and this one – http://royaltyfreefictionary.blogspot.com/2011/05/courtesans-lover-by-gabrielle-kimm.html  which will tell you more about the writing of 'The Courtesan's Lover'
THE LAST DUCHESS
GABRIELLE KIMM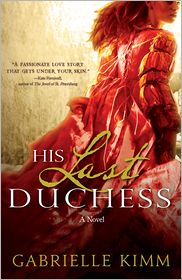 Pub. Date: October 2011
Publisher: Sourcebooks, Incorporated
ISBN-13: 9781402261510
ISBN: 1402261519
Product Description
The chilling story of Lucrezia de Medici, duchess to Alfonso d'Este, His Last Duchess paints a portrait of a lonely young girl and her marriage to an inscrutable duke. Lucrezia longs for love, Alfonso desperately needs an heir, and in a true story of lust and dark decadence, the dramatic fireworks the marriage kindles threaten to destroy the duke's entire inheritance–and Lucrezia's future. His Last Duchess gorgeously brings to life the passions and people of sixteenth-century Tuscany and Ferrara.
Thank you,Gabrielle,for taking the time out of your busy schedule to visit with us today..
Links to find "His Last Duchess"
SOURCEBOOKS
http://www.sourcebooks.com/store/his-last-duchess.html
AMAZON
http://www.amazon.com/His-Last-Duchess-Gabrielle-Kimm/dp/1402261519/ref=sr_1_1?ie=UTF8&qid=1317750300&sr=8-1
B&N
http://www.barnesandnoble.com/w/his-last-duchess-gabrielle-kimm/1100076362