Good morning Susan and welcome to My Book Addiction and More today…
SUSAN MAE WARREN
Thank you!  I'm so delighted to be here!
MBA: First, Susan, tell our readers a little about yourself?
Sure.  I live in the north shore of MN (where I've conveniently placed Deep Haven!) and I've been married for nearly 25 years.  I have four children, two in college, two who play football for our local team.  I love to drink coffee, read, write, swing dance and hang out online with my friends!  I'm also the author of 34 Novels, and run a craft and coaching community for novelists called www.mybooktherapy.com.
MBA: Hook,Line and Sinker is set in Deep Haven,can you tell our readers how many books will be in this series?
Already, we have four in the collection:  Happily Ever After, Tying the Knot, The Perfect Match, and My Foolish Heart.  Hook, Line and Sinker is a novella to complement these books by veering off into the
territory of one of the main characters, Noah Standing Bear and his wilderness camp.  There will be two more books in the Deep Haven collection:  The Shadow of Your Smile (out in Feb 2012) and You Don't Know
Me (out in the fall 2012).
MBA: What made you decide to use the settings for both Hook,Line,and Sinker and Waiting for Dawn?
Hook, Line and Sinker is set in Deep Haven – an offshoot of the collection to enhance the stories.  Waiting for Dawn is actually the prequel to Flee the Night and the Team Hope series.  It's set in Iraq.
MBA: Who do you credit your desire for writing to and why?
I think God puts in us the desire to use our passions and gifts – I am just trying to be a good steward of those.  I love to write, love to weave words and stories and meet the characters roaming around in my head.  It's terribly scary how real they feel to me!  But once they step onto the page, I can't help but want to see their story through and give them a happy ending!
MBA: Susan, what relaxes you after a long day of writing?
I love to go out swing dancing with my hubby!  And, if there isn't any dance bands, then I'm happy to stay home and watch some football. J  And a hot cocoa is always a treat.
MBA: Susan, can you tell our readers what some of your next project(s) may be?
My next book out is the Shadow of Your Smile, the story of a woman who loses her memory of the past 25 years when she is injured during a robbery.  However, when she discovers the life she's created, she isn't sure she
wants to get it back!  Not only is she married to a man she doesn't know, but the secrets surrounding the family just might destroy her.  And, when she discovers what they are, does she have the courage to face them or should she just start over? It's a story about a broken marriage and just how far two people have to go to discover if they want to repair it.  It's also set in Deep Haven, in winter, and it has all the characters I've introduced over the years.
MBA: Now, tell our readers how to reach you and where your books are available?
They can find them at their local bookstore, or online retailers.  For a complete listing, go to: www.susanmaywarren.com
Susan May Warren
2010  ACFW Mentor of the
Year
Are you a writer?  get writing tips at: http://www.mybooktherapy.com
Read the My Book Therapy Ezine: Voices!
http://voicesmag.mybooktherapy.com
visit me online at: http://www.susanmaywarren.com
let's connect, books, friends,
tweets
(fan page!)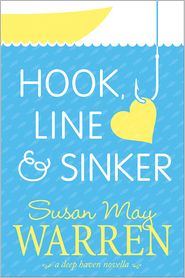 HOOK,LINE AND SINKER
SUSAN MAE WARREN
Pub. Date: September 2011
Publisher: Tyndale House Publishers
ISBN-13: 9781414367026
ISBN: 1414367023
Product Description
The annual Deep Haven fishing contest draws professional and amateur anglers from across the country, but this year, Ross Springer is determined to win the top cash prize. In fact, he has no choice. It's his last chance to leave a lasting legacy at Bethel College. He just never imagined his fundraising scheme would hook Abigail Cushman, the grad student who reminds him of all they'd had—and lost—every time she glances his way.
Abigail Cushman may not know the difference between a bass and a trout, but how hard can it be to catch a fish? She's a quick learner, and she's certain her smarts can net her a win over Ross Springer, the handsome charmer she's tried to forget since grief tore them apart.
In the ultimate showdown between brains and heart, will Ross and Abby reel in more than they bargained for?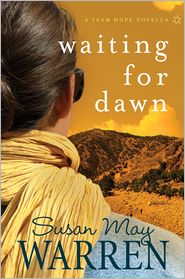 WAITING FOR DAWN
A TEEN HOPE NOVELLA
SUSAN MAE WARREN
Pub. Date: September 2011
Publisher: Tyndale House Publishers
ISBN-13: 9781414366999
ISBN: 141436699X
Product Description
In this prequel to Flee the Night—the first book in Susan May Warren's critically acclaimed Team Hope series—Lacey Galloway leads a rather predictable life as a contractor for the Department of Defense. But news that Sergeant First Class Jim Micah is missing in action leads her on a dangerous trek overseas to rescue the man who secretly captured her heart.
Although her DOD connections quickly cut through the red tape, she also enlists the help of her ex-boyfriend and Micah's best friend, Lieutenant John Montgomery. As they hatch a covert plan to find and rescue Micah, Lacey's feelings are once again torn between the two men.
Filled with romance and adventure, this twisty tale will hold you captive to the very last page.
Thanks Susan for visiting with us today……
Reviews at My Book Addiction Reviews for both Hook,Line & Sinker and Waiting For Dawn….
HOOK,LINE & SINKER REVIEW:
http://mybookaddictionreviews.wordpress.com/2011/10/11/hookline-sinker-by-susan-mae-warren-review/
WAITING FOR DAWN REVIEW:
http://mybookaddictionreviews.wordpress.com/2011/10/11/waiting-for-dawn-by-susan-may-warren-review/