MBA&M IS HONORED TO HAVE WITH US TODAY….
~AUTHOR, ACE COLLINS~
Join Ace Collins, author of the Christian fiction, Darkness Before Dawn, as he tours the blogosphere April 1 – 26 2013!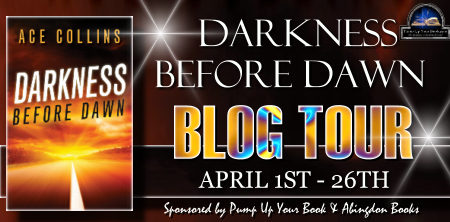 ***********
ABOUT DARKNESS BEFORE DAWN
On the same night she discovers she is pregnant, twenty-eight-year-old nurse Meg Richards' husband is killed in an auto accident caused by a drunken teen. James Thomas, the teen, comes from one of the most influential families in the community. He's a star athlete and glamour boy at the local high school. Angered by her senseless loss, Meg blames God for what has happened and considers a decision that could change her life even further—until the D.A. intervenes.
The results of the brutal trial enrage Meg, leading her down a frightening path of retribution. When the opportunity for revenge comes unexpectedly, will Meg follow through? Or will the remnants of her faith lead her in a different direction?
Purchase:
****************
ABOUT ACE COLLINS
Bestselling author Ace Collins has written more than fifty books including novels Farraday Road, Swope's Ridge and Words of the Father, as well as the nonfiction Stories Behind The Best-Loved Songs of Christmas, grAttitudes, and Lassie A Dog's Life. His books have become movies and network television specials.  He has appeared on Good Morning America, the NBC Nightly News and The Today Show and has been featured in the Distinguished Lecture Series at the National Archives in Washington D.C.  Ace Collins has sold more than 1.5 million books during his career.
His latest book is the Christian fiction, Darkness Before Dawn.
Visit Ace's website at www.acecollins.com.
Connect with Ace:
*************
Darkness Before Dawn Tour Page:
***************
Please spread the word!