~AVAILABLE NOW ~
COLTON CREEK COWBOY
[Contemporary Romance]
PATRICIA THAYER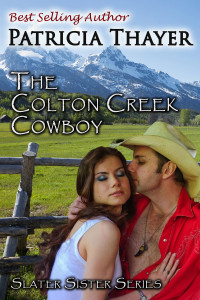 Publication Date: December 7, 2013 On the run… and right into a cowboy's arms.
When being stalked by an ex-boyfriend, Tori Slater leaves the Montana family ranch to make a new life at Great-Great-Grandmother Rachel's homestead, Colton Creek Ranch in Wyoming. Suddenly there a brand new complication when the caretaker's grandson becomes her new business partner and soon her heart gets involved in the partnership.
Ex-cop, Logan McNeely, has his own dreams of a solitary life, raising free-range cattle on his neighboring ranch. Half his dream ends with his grandfather's recent death. Then in walks Tori to add problems he didn't need. He can't seem to ignore her, and when danger comes to the homestead, more than his cop instincts kick in.
To save her, he has to save himself first before they can have a future together.
Print Length: 198 pages
Publisher: Patricia Wright; 1 edition (December 7, 2013)
Sold by: Amazon Digital Services, Inc.
Language: English
ASIN: B00HBTMONO
+++
About the author…..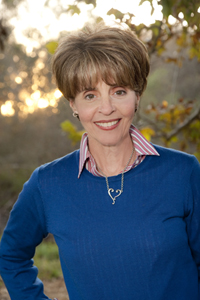 Originally born and raised in Muncie, Indiana, Patricia Thayer was the second of eight children.   She attended Ball State University, and soon afterward she headed West.   Over the years, she's made frequent visits back to the Midwest, trying to keep up with her family's numerous weddings and births.
Patricia has called Orange County, California home for many years.   She not only enjoys the warm climate, but also the company and support of other published authors in the local writer's organization.   For the past eighteen years, she had the unwavering support and encouragement of her critique group.   It's a sisterhood like no other.
When not working on a story,  you might find her traveling the United States and Europe, taking in the scenery and doing story research while thoroughly enjoying herself accompanied by, Steve,  her husband for over 41 years.  Together, they have three grown sons and four grandsons.   As she calls them, her own true life heroes.    On rare days off from writing, you might catch her at Disneyland, spoiling those grandkids rotten!   She also volunteers for the Grandparent Autism Network.
Patricia has written for over 20 years and has authored over 39 books for Silhouette and Harlequin.  She has been nominated for both the National Reader's Choice Award and the prestigious RITA.  Her book, Nothing Short of a Miracle won a Romantic Times  Reviewer's Choice award.
She has been a guest reader at elementary schools and lectured aspiring authors.  A long time member of  Romance Writers of America, she has served as President and held many other board positions for her local chapter in Orange County.    She's a firm believer in giving back.
Connect & Socialize!!
For more information about the author or her titles,please visit her at:
Find her on Facebook: https://www.facebook.com/PatriciaThayer
Twitter: @patriciathayer.com
+++
Thanks everyone for stopping by today~ Have a great rest of the week.
+++
Don't forget to like her on her Facebook author page(Patricia Thayer) for lots of fun, prizes and so much more!
https://www.facebook.com/authorPatriciaThayer
+++
Have a great day!