Fog
City
Strangler Blog Tour
Welcome, Gregg!!
BACK TO THE 1950S
 A trip back in time to the 1950s world of my mystery series "Last of the Seals," "Deadly Plunge," "San Francisco Secrets" and now the latest "Fog City Strangler" is full of reminders how much the world has changed. 
One of the most obvious changes is the social mores surrounding smoking.
When I began my career I remember conference rooms being smoke filled with ash tray spilling over with cigarette butts and ashes.  Today smokers must huddle outside of doorways to grab a cigarette outside. That's fine with me but it has been a monumental change.  
It would be considered appalling if in the middle of an office, someone lit up a cigarette.
In the 1950s, smoking was even more pronounced. My grandparents were both chain smokers and I remember as a child or a teenager, that you could actually see smoke rolling out the door when you entered their house. I was exposed to massive amounts of second hand smoke for years. 
There was a transition to when there were smoking sections on airplanes, particularly. I remember being in the last row of the non smoking section which was pretty much the same as sitting in the smoking section. 
In the world of my protagonists, Sam Slater and Amelia Ryan everyone smokes and pretty much non-stop–even baseball players like Sam Slater. Imagine going in to your doctor's office and he walked into the examination room with a cigarette hanging out of his mouth.
Another noticeable difference is in the area of sexual mores. Sam and Amelia were married in the middle of the third book in the series, "San Francisco Secrets."
I had one reader ask me, "Why don't Sam and Amelia just have sex and get it over with?"
The answer is that in the 1950s there was a different moral code. I realize that pre-marital sex and adultery still occurred but not to the extent that it does some 60 years later.
Amelia had a strict Catholic upbringing and as she said in "Deadly Plunge" it had been drilled into her that "weddings come before honeymoons."  
Besides I think it is much more interesting for their to be sexual tension between Sam and Amelia instead of instant gratification. There was a day when you wondered if your girl kissed on the first date–not had sex on the first date. 
 I remember the day when hotels and motels used to care who was checking in to their establishments. Hotel and motel proprietors were very concerned because they were "running a respectable" business.
At some of the larger hotels there were even house detectives or "house dicks" who made sure that all of the guests were behaving themselves. This meant that there was no hanky-panky going on such as extramarital affairs or trysts between unmarried people happening under their roof.
From today's perspective it is mind boggling that motels and hotels would try to be the morality police for those checking into their establishments.
A running joke of the era was "Mr. and Mrs. John Smith" checking in was assumed to be someone who was concealing their identity.
I even remember that in the "free love" era of the late Sixties and early Seventies in the Bay Area I got skeptical looks from the check in clerk on my honeymoon. My wife was a very petite woman and even though she was 20 years old on our honeymoon, she probably looked like she was 13 or 14.  My father in law suggested that I take a copy of our marriage license on our honeymoon in case there was any question about me checking into a hotel with her.
Technology or that lack there of, has a profound impact on life in the 1950s. There was no constant and instantaneous communication.
One of the frustrations that Sam Slater has in "Fog City Strangler" is he cannot contact the elusive Harvey Collins—the husband of a missing woman. No one is sure where he is at any given time and he's out of town a great deal. This was a day when people could be hard to find and locate. Today we call it "off the grid." In 1958, everyone was basically "off the grid."
No one could find Harvey Collins because when you called his home or business phone, it just rang and rang. No one answered. Where was he? No one knew. You couldn't leave him a message.
Long distance calls were restrictive as well in the 1950s because they were very expensive. Sam and Amelia rarely communicate with one another during the week while she's flying in the Eastern U.S. with TWA. It costs too much.
If the characters are away from home and need to make a phone call, they look for a phone booth.
I have often thought that if Sam Slater and Amelia Ryan and the characters in my books were magically transported into the 21st Century it would probably make them very nervous at the pace of communication. It would be very jarring to be always "hooked up."
I also imagine that if you and I were magically transported into the 1950s, it would drive us crazy to not be able to communicate readily as we do now. At least we could calm our jangled nerves by having a cigarette.
Thank you for stopping by today! What an interesting post!
Fog City Strangler Blog Tour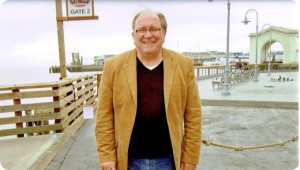 About the Author:
Greg Messel grew up in the San Francisco Bay Area and now lives in Edmonds, Washington on the Puget Sound with his wife, Carol.  Fog City Strangler is his seventh novel and is the fourth in a new series of Sam Slater mystery novels. Greg has lived in Oregon, Washington, California, Wyoming and Utah and has always loved writing, including stints as a reporter, columnist and news editor for a daily newspaper.
Follow news about Messel's writings and books at www.gregmessel.com.
Connect & Socialize with Greg!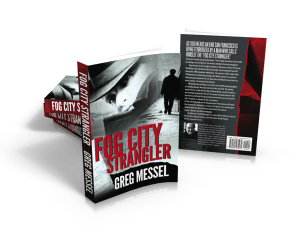 About the Book:
As 1958 nears an end San Francisco is being terrorized by a man who calls himself the "Fog City Strangler," who preys on pretty young blonde women.  The strangler announces each murder by sending a note and piece of cloth from the victim's dresses to the local newspapers.
Private eye Sam Slater is worried that the Fog City Strangler may be eyeing his beautiful blonde wife, stewardess Amelia Ryan. Sam's angst mounts as the strangler continues to claim more victims. His anxiety is further fueled when TWA launches an advertising campaign with Amelia's picture on a series of billboards plastered all over the city. Sam fears the billboards may attract too much attention–the wrong kind of attention.
Meanwhile, Sam and Amelia are hired to try to find the missing daughter of a wealthy dowager who fears she has lost her only child. The missing woman went for a walk with her dog on Stinson Beach, near San Francisco, and seemingly vanished into thin air. The woman's husband arrived at their beach house and found the dog running loose but there was no trace of his wife. The police are stumped in their investigation.
As Sam and Amelia look into the disappearance of the woman on the beach they discover that nothing is as it seems at first glance. On a stormy night a shadowy figure sets fire to the beach house where the couple is staying–hoping to stop their investigation.
Fog City Strangler is a stand-alone thriller but is part of the Sam Slater Mystery Series–Last of the Seals, Deadly Plunge and San Francisco Secrets.
Purchase your copy:
Discuss this book in our PUYB Virtual Book Club at Goodreads by clicking HERE.
 ———————————————————–
BOOK TRAILER:
————————————————
Giveaway Details:
Greg Messel is giving away a 3 book set of his Sam Slater Mystery Series (Last of the Seals, Deadly Plunge and San Francisco Secrets AND a $25 Amazon Gift Card!
• By entering the giveaway, you are confirming you are at least 18 years old.
• One winner will be chosen via Rafflecopter to receive the 3 book set and $25 Amazon Gift Card.
• This giveaway begins February 3 and ends on March 28.
• Winner will be contacted via email on Monday, March 31, 2014.
• Winner has 48 hours to reply.
Good luck everyone!
ENTER TO WIN!
——————————–
Fog City Stranger Tour Page:
http://www.pumpupyourbook.com/2014/01/11/virtual-book-tour-pump-up-your-book-presents-fog-city-strangler-virtual-book-publicity-tour/
—————————
Presented by:

——————————
Check out My Thoughts on FOG CITY STRANGLER by Gregg Messel, on our sister site, MyBookAddictionReviews,
http://mybookaddictionreviews.com/2014/03/20/review-fog-city-strangler-by-greg-messel/
—————————
How about you: Do you enjoy a bit of thriller and mystery with your romance? Inquiring minds want to know.
————————