~~MBA&M AND PUMP UP YOUR BOOK PRESENTS~~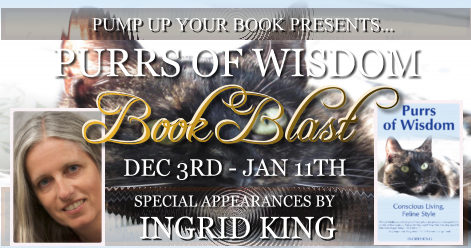 Join Ingrid King, author of the nonfiction pet book, Purrs of Wisdom: Conscious Living Feline Style, as she tours the blogosphere December 3 – January 11 ! Ingrid will be giving away a $25 Amazon GC, one autographed paperback copy and 3 electronic copies of her book!  To enter, fill out the Rafflecopter form below and good luck!
~~~~
ABOUT INGRID KING
Ingrid King is a former veterinary hospital manager turned award winning writer. Her popular blog, The Conscious Cat, a comprehensive resource for conscious living, health, and happiness for cats and their humans, has won multiple awards, including DogTime Media's  2012 Pettie for Best Cat Blog, 2011 Pettie for Best Overall Pet Blog, and About.com's 2012 Readers Choice Award for Best Website About Cats. Ingrid is the publisher of the online magazine News for You and Your Pet, which goes out to subscribers around the world. Her articles have been published in Cat Fancy, Animal Wellness Magazine, Urban Animal, NOVADog, and on miscellaneous websites. Ingrid lives in Northern Virginia with her tortoiseshell cats Allegra and Ruby.
Her latest book is Purrs of Wisdom: Conscious Living Feline Style.
Visit her website at www.ingridking.com.
Stalk Ingrid!
~~~
ABOUT PURRS OF WISDOM: CONSCIOUS LIVING FELINE STYLE
Purrs of Wisdom is a collection of essays featuring lessons in conscious living, inspired by the cats who have shared my life. From help with every day challenges to inspiration on living a joyful life, this compilation provides encouragement, guidance, and enlightenment, feline style. Whether it's creating balance, navigating turbulent times, or finding the magic in life's ordinary moments, there's something for everyone in this book.
Chapters include:
The Healing Power of the Purr
Making Time for Contemplation
Routine as the Key to Happiness
Purging Can Make You Purr
Healthy Cats, Healthy Human
The stories may remind readers of lessons their own cats have taught them, provide "aha" moments, or simply bring a smile.
PRAISE FOR Purrs of Wisdom
"Purrs of Wisdom, by Ingrid King, is a treat for anyone who is enchanted by all things feline! The book is an exploration of lessons on living a joyful and inspired life, learned from the many magical cats who have shared the author's journey.
I found gifts on every page, but the section titled Lessons from a Maple Tree especially touched my heart. The author talks about taking time out of her busy day to soak up the tree's magnificent colors when the leaves change in the fall. "Doing nothing without feeling guilty" is a lesson she learned from her cats. Ingrid's words were a gentle reminder to this fast-paced former New Yorker to look to my own kitties for guidance when my world seems to be spinning a bit too quickly.
Purrs of Wisdom is sure to be a treasured addition to any cat lover's library!"
– Christine Davis, Author of For Every Cat An Angel and Forever Paws
***
"Reading this collection of feline-inspired essays and life lessons gave me several AHA! moments. Purrs of Wisdom is a refreshing read that packs a deceptively powerful punch and provides helpful recipes for finding your bliss. Ingrid King writes with compassion for those who struggle along as "life happens." The gifted writer offers nearly poetic insight how to manage the angst, as well as to recognize the "why" behind such things. You'll want to savor each individual chapter and purr-haps bookmark and revisit those that strike a personal chord. And of course, read aloud to your favorite feline companion!"
– Amy Shojai, bestselling author of more than two-dozen pet books
***
"Purrs of Wisdom is the perfect book for anyone who loves cats – and has an interest in living life to the fullest, with a positive and peaceful outlook – just like a cat does! It spoke to me on several levels and is sure to become a well-thumbed volume as I continue on my life's journey."
– Ann Brightman, Managing Editor, Animal Wellness Magazine
***
"In this guide to living spiritually and creatively in a world that isn't always quite comfortable with either quality, King, a keenly intuitive writer, draws upon the lessons she has learned from her beloved feline friends, weaving them deftly together with her own experiences. "
– T.J. Banks, Author of Sketch People: Stories Along the Way and Catsong
BUY ONLINE

~ ~ ~ $25 AMAZON GIFT CARD + 1 PAPERBACK & 3 E-BOOK GIVEAWAY ~ ~ ~
Pump Up Your Book and Ingrid King are teaming up to give you a chance to win some fabulous prizes!
This promotion will run from December 3 – January 11. The winner will be chosen randomly by Rafflecopter, contacted by email and announced on January 12, 2013.
VISIT IN ORDER TO ENTER TO WIN!
  http://www.pumpupyourbook.com/2012/11/10/pump-up-your-book-presents-purrs-of-wisdom-book-blast/
~~~
Purrs of Wisdom Virtual Book Blast Schedule
Monday, December 3
Tuesday, December 4
Wednesday, December 5
Thursday, December 6
Friday, December 7
Monday, December 10
Tuesday, December 11
Wednesday, December 12
Thursday, December 13
Friday, December 14
Wednesday, January 2
Thursday, January 3
Friday, January 4
Monday, January 7
Parenting from a child's point of view
Tuesday, January 8
Wednesday, January 9
Satisfaction for Insatiable Readers
Thursday, January 10
Friday, January 11
~~~
We hope you will join in on the fun!
~~~
MERRY CHRISTMAS EVERYONE!!