WE AT MBA&M ARE PROUD TO SPOTLIGHT….
A CHILDREN'S BOOK…
ALPHABET ANATOMY:MEET THE CAPITAL LETTERS
BY
LINDA ANN JONES WITH ILLUSTRATOR BRANSON JONES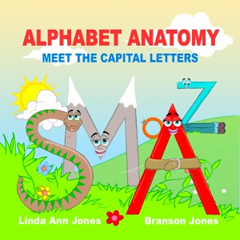 Paperback: 32 pages
Publisher: FriesenPress (August 27, 2012)
Language: English
ISBN-10: 1460200470
ISBN-13: 978-1460200476
Book Description(From Amazon)
Publication Date: August 27, 2012
Alphabet Anatomy's innovative rhyming verses and unique illustrations instruct on letter sound, recognition, AND how to write the letter, thus its anatomy. Thoroughly entertaining, each letter's heartwarming personality and characteristics will engage and delight children as they discover what the letters do behind the scenes when they're not busy making words. The letters know that the journey to reading is inherently complex, and mastery of these essential skills is absolutely vital for future success. In Alphabet Anatomy, the letters love to share their lives, and their highest aspiration is that each child who meets them will embrace this wondrous journey, and develop a life-long love for not only reading but writing as well. Alphabet Anatomy teaches full understanding of the alphabet, that is, the four inter-connected components: 1. Letter shape knowledge or recognition; 2. Letter name knowledge; 3. Letter sound knowledge; 4. Letter writing ability. In addition, Alphabet Anatomy utilizes the four core elements which extensive research has proven effectively teach reading and provide a solid and effective foundation for proficient reading in later years: 1. Phonological awareness; 2. Letter identification; 3. Vocabulary development; 4. Recall and retell sentences and stories. Soon to come: Meet The Lower Case Letters
Buy The Book!
Amazon Books
Barnes & Noble
Friesen Press__
For Free Stuff visit: http://alphabetanatomy.com/
ALL COMING SOON!
Coloring Book – Print & Enjoy
Teaching With Letters
FREE Audio Book
____
*Images and information from the author's website*
About the Author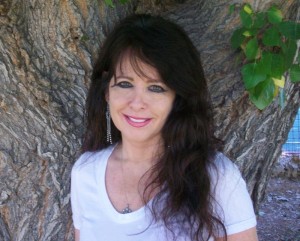 Linda was born in Albany, New York, moved to Arizona after high school graduation, and 3 years later met a handsome firefighter; together they have 4 very talented sons now ages 17 to 27. She began writing poetry in 1994, much of which was published and sold in the scrapbooking market, with popular titles such as "Forever My Little Boy," "Forever My Little Girl," and "Miracle of Love." Alphabet Anatomy is her first published children's book series.  Linda's favorite days are when all the boys are back home together, including the 2 family dogs, Zorro and Rocco, who joyfully add to the noise and chaos. She knows these words to be true: "Time sneaks up and ticks away the precious moments of each day. Before we know it, years have passed; my child will grow up way too fast…"
———–
About the Illustrator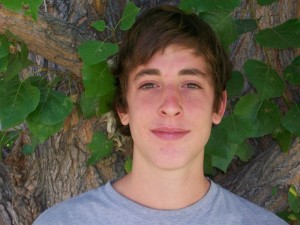 Branson Jones is the very artistically talented son of the author who brought Alphabet Anatomy's capital letters to life with his original  illustrations.  Branson began demonstrating his artistic ability at age 4 when he drew Huey, Dewey, and Louie (Donald Duck's nephews) on a napkin at the kitchen table.  Now 17, Branson still loves drawing — almost as much as he loves skateboarding.
Special thanks also to the very talented Toby Mikle for designing the book cover and enhancing the illustrations for publishing format.
_____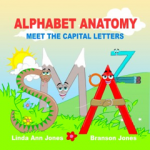 GIVEAWAY ALERT!
(Sponsored by the author)
We are offering 1 lucky commenter a print signed copy of  this title. Open to U.S. residents only! No P.O. Boxes,please. **All you have to do is leave a comment**
*Please leave a valid email address with your comment*
~Giveaway open from today February 20 until February 27,2013~
GOOD LUCK EVERYONE AND THANKS FOR STOPPING BY!