BUSTED AND OTHER DARK DELIGHTS
{Noir Short Story Collection}
FRANK DE BLASE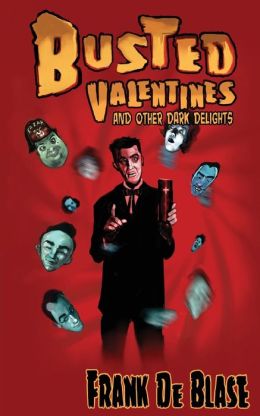 WELCOME, FRANK!!
We are excited to have you with us and our readers today. So without further ado…..we present Frank DeBlase!!
   FRANK: BUSTED VALENTIES AND OTHER DARK DELIGHTS is a collection of noir short stories. Some are brand new, some as old as five years old. Though I've shifted to novel-length endeavors, short stories are what I really like to write. Since my love of alliteration and antiquated parlance can get a bit intense sometimes it's easier for readers when dished out  in short, sharp doses.
FRANK:        My inspiration is perverse. I actually view my stories as vehicles for my sense of humor… the darker the tale, the looser the morals, the more depraved and twisted the characters are, the harder I laugh…hopefully not alone.
FRANK:      The book came together rather quick-like. I had a lot of the stories laying around looking for a good home.
FRANK:    I'm currently working on A COUGAR'S KISS, the follow up to PINE BOX FOR A PIN-UP starring Frankie valentine; crime scene photographer by day, pin-up photographer by night.
FRANK:       Both books are available through amazon or downandoutbooks.com. you can reach me directly at frankdeblase.com
We at MBA&M would like to wish you great success in your writing career and other endeavors!
Thank you for spending time with us and our readers!
___________
Paperback: 168 pages
Publisher: Down & Out Books (February 11, 2014)
Language: English
ISBN-10: 1937495701
ISBN-13: 978-1937495701
*Amazon*
Publication Date: February 13, 2014
13 sordid and salacious tales of hustlers, lovers and losers, killers and thrillers carousing in a charade of lust, love, luck, and murder… where shifty, shady types clamor to survive, when no way out seems to be the only way out…
"You read stuff like this and the top of your head comes off. This is pure dark, stark, powerful poetry." –Les Edgerton, author of The Bitch, The Rapist, The Genuine, Imitation, Plastic Kidnapping
"It's top shelf writing with a bloodshot eye for the gutter." –Charles Benoit, Edgar-nominated author of Relative Danger and You
"De Blase wields a big heart and a bigger knife for twisting." –Jack Getze, Spinetingler Magazine
 BUY LINK:
Amazon:
————————-
About the Author
Frank De Blase is an award-winning writer, photographer, ex-rockabilly crooner, social contrarian, and all-around troublemaker who always leaves room for desert. His writing and photography has been published in LEG SHOW, LEG WORLD, SWANK, ULTRA, TEMPTRESS, RETRO LOVELY TABOO, OL' SKOOL RODZ, CAR KULTURE DELUXE, REBEL INK, SKIN AND INK, URBAN INK, V MAGAZINE, DOWNBEAT, and CITY NEWSPAPER. De Blase lives in Rochester, New York with his wife, Deborah. http://www.frankdeblase.com/
———————-
Check out My Thoughts on our sister site, MyBookAddictionReviews coming soon!
——————-
HAPPY READING!!
HAPPY SPRING!! Finally, it seems spring has sprung for some of us in the South!!