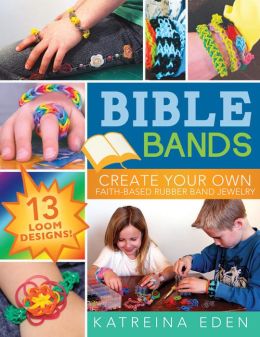 About the book:
Rubber band jewelry is the hottest new craze, and now you can try these designs! Based on scriptures from the Bible, these projects are easy to follow and fun to wear. Show your faith and inspire others with the uplifting jewelry found in "Bible Bands."
(Courtesy of Amazon)
Create fun, fashionable rubber band jewelry while strengthening and sharing your faith. Each design is associated with a Bible verse or story, such asA blue and white pattern to symbolize Christ's baptism
Circles of color to link families through geneaology
A heart design to remind you of God's love
Letters that spell CTR to remind you to choose the right
A multi-colored weave to match Joseph's coat of many colorsFun to make and wear, these bracelets, necklaces, earrings, and rings are a perfect project for your whole family to enjoy together. Wear them yourself or give them as gifts!
Print Length: 169 pages
Publisher: Cedar Fort, Inc. (September 7, 2014)
Language: English
ASIN: B00NF0OY22
ISBN-13:

9781462115051

Publisher:

Cedar Fort, Incorporated/CFI Distribution

Publication date:

9/9/2014
Pages: 64
Purchase your copy!
Amazon
Barnes & Nobles
http://www.barnesandnoble.com/w/bible-bands-katreina-eden/1119234411?ean=9781462115051
Also available to order are Bible Band charms.  What a fun craft for kids today!
---
---
About the author:
Katreina Eden grew up in the Midwest, eventually landing in California, where she went to law school and then ran her own law firm for a number of years. She currently works as the Executive Vice President of Cedar Fort, Inc., in Springville, Utah. Katreina also owns and operates Organiwic, LLC, an all-natural candle company, with her sister. She enjoys being out in nature and spending time with family. Aside from being published in various legal journals, this is Katreina's first trade publication.
---
---
"Bible Bands" blog tour schedule:
September 9: Connywithay • The Magical Slow Cooker • Deal Sharing Aunt
September 10: June McCary Jacobs • Queen of the Clan • Compass Book Ratings
September 11: Jen's Journey • Coffee for the Brain • Read For Your Future
September 12: Kaisy Daisy's Corner • My Devotional Thoughts
September 13: Baby Giveaways • Mormon Light • Live to Read • My Bookshelf
September 14: Begin to Craft • Misty Dawn Pulsipher
September 15: Pearls of Great Worth • Simply Sherryl • Mayra's Secret Bookcase
September 16: Storyweaver • Library of Clean Reads • LDS Women's Book Review
September 17: I Love to Read and Review Books • Shelli Proffitt Howells • Rachelle Writes
The Things I Love Most
September 18: Mom Loves 2 Read • Daybreak in Autumn • Inklings and Notions
September 19: Swinging on Small Hinges • Readalot • Well-Read Reviews
September 20: Getting Your Read On • Coffee, Books, and Me • The Book Blog Experience
My Book Addiction and More
September 21: Laura D. Bastian • Thoughts in Progress • Parsons' Posts
September 22: Wishful Endings • Sweetly Made
September 23: Literary Timeout • Someone in Mind • My Book a Day
Hosted by:
http://blog.cedarfort.com/
---
---
MY THOUGHTS:
Bible Bands: Rubber Band Jewelry by Katreina Eden is an interesting, fun Children's book/LDS/Craft book.  A fun, entertaining and educational craft  book for children. How to, especially for children. Did you know…a blue and white pattern symbolizes Christ's Baptism, you learn that plus so much more. Children and adults alike are sure to delight in this wonderful jewelry making book. While, rubber band jewelry is the hottest thing on the market at this time, children will also learn about scripture. My granddaughter, who is ten, made some awesome jewelry, using ideas from this book. She has enjoyed it tremulously. Easy,concise directions that is fun and entertaining. Very user friendly! I would highly recommend!
*Received for an honest review from the publisher*
RATING: 5
HEAT RATING: N/A
REVIEWED BY: AprilR, courtesy of My Book Addiction and More