Greg Messel will be touring June 3 – July 26 with his mystery/historical romance, San Francisco Secrets.

###
MEETING AMELIA RYAN
            My name is Amelia Ryan. I'm 26 years old and a stewardess for TWA.
            This is how most people identify me but there's much, much more to me.
            First of all, I've always dreamed of adventure–particularly flying. Maybe it's because I was born in 1932.
            In the year of my birth the biggest celebrity in America was Amelia Earhart.   She was not only an adventurer but she was a woman. That made her all the more extraordinary at the moment when I came into the world.
            It was my mother's admiration of the great aviator that prompted her to name me Amelia. It seemed to set a course for my own destiny.
            My mother likes to tell the story about me when I was just a little girl. I think was about six or seven when this happened.  I was outside playing and I saw an airplane flying overhead. I was transfixed. It was something magical to me to fly through the sky.
I went into the house and asked "Mommy, what's it like up in the sky?"
            I had to find out for myself.
            I'm the youngest child in a big Irish Catholic family who are native San Franciscans.  My family and my religion have always been important to me. My brothers each married good Catholic girls and my older sister, Lizzie, married a Catholic man. All of my brothers and sister and their spouses began having children, much to the delight of my parents, particularly my mother.
            As high school ended in 1950, there was a sweet boy named Phillip who had steadily dated me and was deeply in love with me. I loved him too but I wasn't ready to settle down and get married.
            There was a big world out there that I wanted to see. I wanted to fly, just like my namesake. The only option open to a young woman was becoming a stewardess.  I hungrily read the brochures about becoming a stewardess. I could not only fly but I could see the world. I could experience the glamor and meet the rich and famous. I could see things that other people only see pictures of in books or on postcards.
            My father was very supportive but my mother, who really liked Phillip, wanted me to get married and settle down. At one point in my life, before I met Phillip, my mother wanted me to become a nun. But I made my own decision to apply with TWA to become a stewardess.
            I spent weeks at the TWA facility in Kansas City training. Not all of the girls would make it. We went through hours of training about how to be charming and how to care for passengers.  The brochure said that girls needed to be pretty–"just under Hollywood standards."  I worried that they wouldn't find me to be pretty enough.
            The happiest day of my life is when I received the letter telling me that I had been chosen to become a TWA stewardess. It was everything I hoped it would be. It was the greatest experience of my life until the end of the summer of 1957 when the man of my dreams–Sam Slater–walked into my life.
            Sam's entry into my life was a precursor of things to come. He rescued me from some obnoxious drunks who were harassing me as I walked home in my stewardess uniform.   Sam and I were never apart since after that day.
            Sam was a big, strong, very handsome baseball player for the San Francisco Seals when I first met him. I had never had feelings about any man like I had for Sam.
When Sam takes me in his arms and kisses me I just melt. I love the way Sam looks at me. He's jealous of any other guys and is very protective of me.
            Sam has had a lot of chances to protect me since we first met. Sam is no longer a baseball player but took over his friend's private eye business.
            Now there are new adventures awaiting me. I love to help Sam as he works to solve his cases as a private eye. I never imagined that I would do such a thing but I love it.
I'm so lucky in my quest for adventure. I'm still flying, I am a part-time private eye and In the story in "San Francisco Secrets" I become Sam's wife.
###
San Francisco Secrets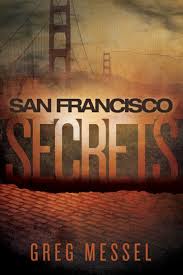 Noted novelist and newspaper editor Edgar Watson Howe once said, "A man who can keep a secret may be wise but he is not half as wise as a man with no secrets to keep"
As the spring of 1958 arrives in San Francisco, it seems that baseball player turned private eye, Sam Slater and his fiancée, TWA stewardess Amelia Ryan, are surrounded by people who have secrets.
A prominent doctor, John O'Dell is being blackmailed by someone who has discovered a dark secret from his past.  When the private investigator trying to catch the blackmailer is murdered, Dr. O'Dell hires Sam Slater to try to pick up the pieces. Someone is playing for keeps and will do anything to protect their own secrets.
Meanwhile, Amelia begins her new job as an international stewardess which takes her on adventures to New York City, London, Paris and Rome. In hot pursuit is a womanizing older pilot who has his sights set on Amelia.
Their lives get even more complicated when a mysterious woman from Sam's past returns.
Sam and Amelia's relationship will be tested as they work together to solve the mystery on the foggy streets of San Francisco.
Purchase your copy of San Francisco Secrets:
###
Greg Messel
Greg Messel grew up in the San Francisco Bay Area and now lives in Edmonds, Washington on the Puget Sound with his wife, Carol. San Francisco Secrets is his sixth novel and is the third in a new series of Sam Slater mystery novels. Greg has lived in Oregon, Washington, California, Wyoming and Utah and has always loved writing, including stints as a reporter, columnist and news editor for a daily newspaper.
Follow news about Messel's writings and books at www.gregmessel.com.
Connect & Socialize with Greg!

###
San Francisco Secrets Virtual Book Publicity Tour Schedule
Pump Up Your Book Presents San Francisco Secrets Virtual Book Publicity Tour
###
Thanks!