COMING SOON, MAY 12, 2015!!
BELLE MEADE PLANTATION SERIES, THE SECOND STANDALONE NOVEL!!
A gifted rider in a world where ladies never race, Maggie Linden is determined that her horse will become a champion. But the one man who could help her has vowed to stay away from thoroughbred racing forever.
 
An Irishman far from home, Cullen McGrath left a once prosperous life in England because of a horse racing scandal that nearly ruined him. He's come to Nashville for a fresh start, hoping to buy land and begin farming, all while determined to stay as far away from thoroughbred racing as possible. But starting over proves harder than he'd wagered, especially when Maggie Linden's father makes him an offer he shouldn't accept yet cannot possibly refuse.
Maggie is certain that her mare, Bourbon Belle, can take the top purse in the inaugural Peyton Stakes, the richest race ever run in America. Maggie only needs the chance to prove it. To give her that chance—and to save Linden Downs from being sold to the highest bidder—Maggie's father, aging, yet wily as ever, makes a barter. His agreement includes one tiny, troublesome detail—Maggie must marry a man she's never met. A man she never would have chosen for herself.
Series: A Belle Meade Plantation Novel
Paperback: 384 pages
Publisher: Zondervan (May 12, 2015)
Language: English
ISBN-10: 0310291070
ISBN-13: 978-0310291077
****
Meet Tamera Alexander….
Tamera Alexander is a USA Today bestselling novelist whose works have been awarded and nominated for numerous industry-leading honors, including the Christy Award, the RITA Award, the Carol Award, and Library Journal's top distinction, among others. After seventeen years in Colorado, Tamera and her husband have returned to their native South and live in Nashville, Tennessee, where they enjoy spending time with their two grown children, and a twelve pound Silky Terrier named Jack.
Go on location with Tamera Alexander to Belle Meade Plantation in Nashville, Tennessee, the backdrop for the history of this story. She's waiting for you there, mint julep in hand.
TameraAlexander.com/bellemeadeplantationnovels.html
Connect & Socialize!
Facebook: https://www.facebook.com/tamera.alexander?ref=ts&fref=ts
Twitter: https://twitter.com/tameraalexander
Pinterest: http://pinterest.com/tameraauthor
****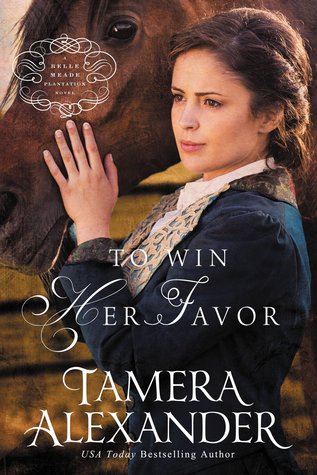 MY THOUGHTS:
TO WIN HER FAVOR by Tamera Alexander is another enticing Historical Romance by this author set during the post-Civil War era. "A Belle Meade Plantation Novel" Book 2, but can be read as a stand alone.
Meet, Maggie Linden, a gifted rider and Cullen McGrath, an Irishman from England and a horse named, "Bourbon Belle". A southern Lady and an Irishman, their attraction particularly, sizzles off the pages of "To Win Her Favor" with tension and passion.
Their story captures the tragedy and drama of life during the post-Civil War era. All the drama, tragedy, a marriage of convenience, an attraction between two head strong characters, faith, healing, scandal, racial discrimination, horses, romance, and the power of love.
A tale that is a heartwarming romance charged with tension and passion and so much more. Readers will not be able to put "To Win Her Favor" down. This story was a WOW moment for me! I love Ms. Alexander's epic Romance, and this was no exception. It was hard to put down. A mesmerizing tale of love, forgiveness, overcoming obstacles, horse racing and the power of faith and love. The writing was fantastic, with well developed, engaging and enduring characters. The storyline was well thought out, mesmerizing, and an absolute delight to read. Another hit for this author! A definite must read for anyone and all fans of Inspirational Historical Romance, horse racing, Post- Civil War era, and just an awesome Romance. Another WOW, moment!!
*Received for an honest review from the author*
Rating: 5
Heat rating: Sweet
Reviewed by: AprilR, courtesy of My Book Addiction and More