COMING SOON!
MAY 16, 2014 at a retailer near you or online……
TO TAME A HIGHLAND EARL
TARAH SCOTT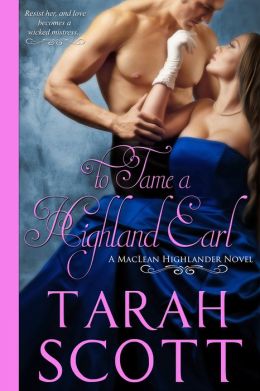 Website: http://www.tarahscott.com/#!coming-soon/c21jb
Facebook: https://www.facebook.com/TarahScottsRomanceNovels
Twitter:@TarahScott
Genre: Historical Romance
Series: Highland Lords series #3 (Scottish Romance),*A Maclean Highlander novel*
Source: Received for an honest review from the author.
BN ID:

2940045808477

Publisher:

Tarah Scott

Publication date:

5/16/2014

Sold by:

Smashwords
Format: eBook
*B&N*
Overview
A man torn between two worlds. Both need him… neither wants him.
Groomed for a life amongst the English aristocracy, Lord Erroll Rushton is unexpectedly thrust back into his father's Scottish world when the Englishwoman he compromises refuses to marry him.
No gentleman breaks into a lady's bedchamber…but then, no lady sleeps with a pistol under her pillow.
Miss Eve Crenshaw will marry for love or won't marry at all. When London's most notorious rakehell breaks into Eve's bedroom in the dead of night and compromises her beyond repair, she plans a daring elopement that shocks even the earl.
Add to your Goodreads list: https://www.goodreads.com/book/show/21840388-to-tame-a-highland-earl
Buy Links:
COMING MAY 16, 2014!!
Pre-order now!
To Tame a Highland Earl is now available for pre-order.
 During preorder, the book is on sale for $2.99.
______________
About the author:
Award winning published author Tarah Scott cut her teeth on authors such as Georgette Heyer, Zane Grey, and Amanda Quick. Her favorite book is A Tale of Two Cities, with Gone With the Wind as a close second. She writes classical romance, suspense, horror and mainstream.
Born in New Mexico, Tarah grew up in the Southwest. Fifteen years ago, she relocated to Westchester County, New York, where she and her daughter reside in a lakeside community. Don't be fooled by what sounds like a quiet life. The city that never sleeps is only an hour away, and this Texas girl and her New York bred daughter wouldn't have it any other way.
WEBSITE | BLOG | FACEBOOK | TWITTER
—————–
Check out My Thoughts, on our sister site, MyBookAddictionReviews
—————-
Have a wonderful day!!