WE ARE PROUD TO HAVE WITH US TODAY…..
"NEW YORK TIMES AND USA TODAY BESTSELLING AUTHOR"
~AMELIA GREY~
"THE ROGUE STEALS A BRIDE"
*All images and information from the author's website,with her express permission*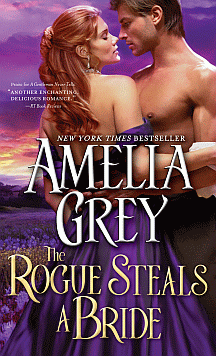 So without further ado, welcome, Amelia!!
Hello, Amelia and welcome to My Book Addiction and More, we are so honored to have you visit with us and our readers today….

AMELIA:

Thank you for having me. I'm very happy to be here.

MBA&M: Amelia, please give our readers some insight into Amelia Grey?

AMELIA:

The first thing I like to tell people is that I'm a girly-girl. I want my makeup on, my hair sprayed, and my nails polished.  I love to wear lace, pearls, and I love to pull my hair back with a jeweled hair clip.  I also love to watch sports. Baseball and football are my favorites but I'll watch basketball, too. I read the sports page every day. I love flowers but I don't want to have to plant them or water them.  I love to travel and no matter where I go I have a book with me to read.

MBA&M: What do you feel the appeal for historical romance is to readers is today?

AMELIA:

I'm sure it's that 'wouldn't it be wonderful if' fantasy.  There's just something intriguing about different time periods, including the future.  I think most of us readers enjoy thinking and dreaming about the unknown and historical and books help satisfy that curiosty.

MBA&M: How do you feel historical romance has changed through the years?
AMELIA: Actually, I think its changes quite a bit. I used to write American historicals as Gloria Dale Skinner and Charla Cameron. Years ago, editors wanted historicals to be big, meaty, and filled long passages of narrative with lots of historical detail. The average book was anywhere from one hundred to one hundred and twenty thousand words.  Today editors want a fast paced read with lots of dialogue, few details about clothing, decor, and history and not much more than ninety thousand words.   

MBA&M: Who would you credit your love of Historical Romance to and why?

 

AMELIA:

I started reading Harlequin series romances when I was in my early teens.  I must have been twenty when I read

The Wolf and The Dove by Kathleen Woodiwess and I've been hooked on historical romance ever since.

MBA&M: Where did the inspiration for "The Rogue Steals a Bride"?

AMELIA: The Rogue Steals A Bride is the sixth and final book in the Rogues' Dynasty Series. The previous book, A Gentleman Says "I Do" had the first twin in it so I knew the last book would have the second twin. I had already set up Matson's character traits so all I had to do was find the right heroine for him. I decided that the heroine needed to know all about twins so I gave Sophia twin spinster aunts as her chaperones. And by some early reviews I can see the readers are loving Matson and Sophia's story and the twin aunts, too.

MBA&M: An intriguing plot with Twin spinster aunts,a deathbed promise,a sworn hatred,an untitled gentleman and a woman about to lose her heart,what and how did you develop these characters into an alluring story?

AMELIA: Both Matson and Sophia have issues of from the past they have to deal with before they are free to love and have their happily ever after ending.  Publishers Weekly wrote this in their review: "Sophia plays a dangerous game, urging Mason to seduce her while looking elsewhere for marriage. Sophia's two aunts, Mae and June, and Sir Randolph Gibson himself are delightful, and series fans will cheer Matson and Sophia to their happy ending." 

MBA&M: "The Rogue Steals a Bride" is #6 in "The Rogues' Dynasty" do you feel readers should start at the beginning,"A Duke to Die For", or do you feel you can read one without the others?
AMELIA: These books do not have to be read in any order as each book stands alone. There are some characters like Sir Randolph Gibson who are in every book but no story line carries over from book to book.  I like to put it this way: Sir Randolph is a best friend to the heroes in the first three books and he is the enemy to the heroes in the last three books.  

MBA&M: How, let's have a little fun….

AMELIA: I am all for fun so let's go!

When you hear these words,what do you think of? Fiction or Nonfiction?

AMELIA: Romance 🙂

Romance,Mystery or Paranormal?

AMELIA: Romance

Chocolate,Coffee,or Tea?

AMELIA; Chocolate

Cake,Cookies or Pie?

AMELIA: Pie

 Real or fiction?

AMELIA: Fiction

Print or Digital?
AMELIA: Both
MBA&M: Amelia, please tell our readers how to connect with you and where they may purchase "The Rogue Steals a Bride"?
AMELIA: Thank you for having me today. I enjoyed answering the questions.  The Rogue Steals A Bride can be found at your favorite local or online bookstore.  If you go to my website ameliagrey.com you will find the links to 5 different online stores. You can follow me on Facebook.com/AmeliaGreybooks or email me at ameliagrey@comcast.net
*****
A BIT ABOUT THE AUTHOR:
Amelia Grey (aka Gloria Dale Skinner) grew up in a small town in the Florida Panhandle. She has been happily married to her high school sweetheart for over twenty-five years. She has lived in Alabama, Connecticut, New Hampshire and now lives in Florida.Amelia has won the coveted Romantic Times award for Love and Laughter, the prestigious Maggie award for best historical and Affaire de Coeur's best American historical award. She has been a finalist for the Golden Heart and the Holt Medallion awards which are given by Romance Writers of America and numerous other awards. Her books have been sold to many countries in Europe, Russia and China.Amelia likes flowers, candlelight, sweet smiles, gentle laughter and sunshine.
AUTHOR'S WEBSITE:http://ameliagrey.com/
****
Watch the book trailer for "The Rogue Steals a Bride":
***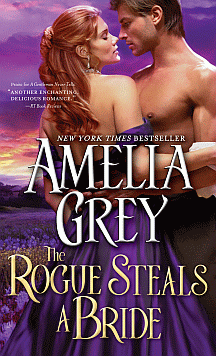 THE ROGUE STEALS A BRIDE
AMELIA GREY
THE ROGUE STEALS A BRIDE
The Rogues' Dynasty #6
Mass Market Paperback
Sourcebooks Casablanca
ISBN-10: 1402239777
ISBN-13: 978-1402239779
Matson Brentwood has finally met the woman of his dreams. The lovely, red-haired Sophia Hart heats his blood like no other lady. Her alluring countenance has stopped him dead in his tracks. But no matter how attracted he is to her, he can't give into his desire to possess her in every way because she is the ward of the man he's sworn to hate.

Newly arrived in London, Miss Sophia Hart is in need of a husband, but not for herself. She has twin, spinster aunts and one of them has decided she wants a man. Sophia agrees to help her aunt by allowing older gentlemen to call on her and then make sure Auntie spends more time in the gentleman's company than Sophia does. But when Sophia meets the darkly handsome and intriguing Mr. Matson Brentwood, she knows that for the first time, she in danger of losing her heart.

But there's more than just an adversarial guardian and a long list of beaus standing between Sophia and Matson. Sophia promised her dying father she would honor his lifelong plan for her as an heiress and marry a titled gentleman. Matson isn't titled so she must deny her love for him and make up to her father for costing him the love of his life.
PRE-ORDER NOW AT:







***
~GIVEAWAY ALERT~
(Sponsored by the author)
We are offering 1 lucky commenter either a print or digital,copy of a previous "Rogue Dynasty" title,if print copy the winner will receive a signed bookmark.

**YOU MUST tell us in your comment which title,and rather print or digital copy**
Here is the list:
A Duke To Die For A Rogue's Dynasty #1,A Marquis to Marry
A Rogue's Dynasty #2, An Earl To Enchant
The Rogues' Dynasty #3,A Gentleman Never Tells The Rogues' Dynasty #4, OR A Gentleman Says "I Do"The Rogues' Dynasty #5,
Giveaway will run from July 5 until July 12,2013.
GOOD LUCK EVERYONE AND HAPPY READING!
***
~My Thoughts~
http://mybookaddictionreviews.com/2013/07/02/review-the-rogue-steals-a-bride-by-amelia-grey/
***
Thank you everyone for spending time with us and our guest today! Please help spread the word!
HAVE A SAFE AND HAPPY 4TH OF JULY!