IT IS OUR GREAT PLEASURE TO HAVE TODAY'S GUEST WITH US……
ANNE BARTON
[Historical Romance]
~ONCE SHE WAS TEMPTED~
So without further ado, set back and enjoy your visit with Anne!!
WELCOME, ANNE!!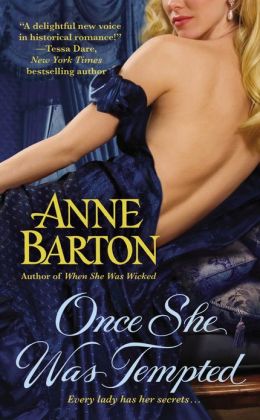 MBA&M: Good morning, Anne, and welcome to My Book Addiction and More and congratulations on your latest release, "Once She Was Tempted"! For those readers who do not know you, please tell us a little about Anne Barton?
AB: Good morning, and thanks so much for having me! My favorite pastimes are reading, dreaming, and writing.  Growing up, I read mostly fairytales, mythology, and fantasy, but when I discovered historical romance, I knew it was the genre for me. I live in a quiet suburb of Maryland with my husband and our three teenagers. Our house has no shortage of laundry or eye-rolling!
      MBA&M: What is your inspiration for writing Historical Romance during the Regency period?
AB: I remember reading Pride and Prejudice as freshman in high school and thinking that I never wanted to leave that world. Now I don't have to! I also spent a semester in and around London during college. All the quaint inns, majestic castles, and unique museums sold me on the Regency period even more.
  MBA&M: How many books will be in the "Honeycote" series?
AB: There are a total of four books planned, featuring the two sets of sisters. I'm working on the third book right now (which stars Olivia, the duke's sister) and I'm very excited about it! There's also a shorter, sexy Honeycote novella that released in September called TO ALL THE RAKES I'VE LOVED BEFORE.
    MBA&M: Which character in "Once She Was Tempted" was your favorite to write? Why?
AB: The hero, Ben, was so much fun. He's a a hot, tortured hero with a wry sense of humor. And he doesn't care what anybody thinks, so he'll say or do anything. He blurts out the things that most of us are thinking but are too polite to say. Did I mention he's hot?
MBA&M: The hero/heroine in "Once She Was Tempted" have secrets of their own, but what was your reasoning or inspiration behind writing a story where the heroine did something so outrageous as to pose nude, for not one but two portraits?
AB: Can I plead the fifth? Just kidding! The portraits Daphne posed for were very scandalous, but she's not entirely nude in them—much to Ben's regret. Also, she had an excellent reason for risking her reputation in that way.
I liked the idea because I think most of us can relate to the fear that something very personal might be made public. Especially now in the internet age—it seems public humiliation is only a mouse click away.
     MBA&M: Let's talk secondary characters, they so help to carry the story along, who was your favorite and will we ever see them with a story was their own?
AB: I adore Lady Olivia Sherbourne, the Duke's sister. She's loyal, dramatic, and daring to a fault. I've wanted to write her story for a while, and now I am. Let's just say that Olivia is always up for an adventure. (SCANDALOUS SUMMER NIGHTS will be out next summer!)
   MBA&M: Which character in "Once She Was Tempted" most represents your true character or is there one?
AB: I might be a little bit like Anabelle—she's Daphne's older sister, very protective and practical. She has lots of the typical first born character traits that I can relate to.
     MBA&M: Now inquiring minds what to know, what's next for you as a writer?
AB" For now, I'm happily at work on the next two books in the Honeycote series. And I had so much fun writing my first novella that I just might have to write another one. Each time I add a secondary character I start thinking that they should have their own story…
     MBA&M: Thank you for spending time with us today! Please tell our readers where they may connect with you and where they may purchase "Once She was Tempted"?
AB: Thank you! It's been lovely visiting with you! Here's where you can find me:
And here's where you can find ONCE SHE WAS TEMPTED (available in print and ebook):
Thank you, Anne, for spending time with us and our readers! What a wonderful series. "Every lady has her secrets……"
  —————-

ONCE SHE WAS TEMPTED
ANNE BARTON
A Honeycote Novel, Book 2
Forever • October 29, 2013
ISBN-13: 9781455513307 • ISBN-10: 145551330X
A PORTRAIT OF A LADY
…or is it? The risqué painting
owned by Benjamin Elliot, the earl of Foxburn, features a stunning beauty with sapphire eyes, golden hair, and creamy skin. Ben recognizes this particular English rose the instant he meets her—though she's wearing considerably more clothing. In person, the demure debutante is even more irresistible . . .
In desperate need of money for her sick mother, Daphne Honeycote had posed for two scandalous portraits. Now she must hide her secret to save the Honeycote family name. Ben's possession of one painting
makes him an insufferable thorn in her side—and yet he may be her best chance at finding the canvas's companion. As she becomes drawn to the dark-tempered earl, can Daphne risk laying bare the secrets of her heart?
ORder Paperback
• Amazon •• Barnes & Noble •• B-A-M •
• Chapters •• IndieBound •
• Powell's •• The Book Depository •
—————————
~GIVEAWAY ALERT~
(Sponsored by the publisher)
*We are not responsible for lost or not received prizes*
Thanks to Fareeda, at HBGUS we are offering 1 lucky commenter a chance to win a print copy of "Once She Was Tempted" by Anne Barton. *Open to US residents only,sorry!* Giveaway will run from October 29 until November 5,2013.
*Please leave a valid email address with your comments*
THANK YOU AND GOOD LUCK EVERYONE!
HAPPY READING AND HAPPY FALL HARVEST!!
——————-
~My Thoughts~
http://mybookaddictionreviews.com/2013/10/29/review-once-she-was-tempted-by-anne-barton/
——————-
Thank you everyone for stopping by today and spreading the word! We appreciate all your support.