MBA&M ARE EXCITED TO PRESENT……
 YA, AUTHOR….
~~PRESTON NORTON AND HIS "BLÜD AND MAGICK"~~
WE HOPE YOU WILL ENJOY OUR BOOK SPOTLIGHT AND GIVEAWAY
__________
ABOUT THE BOOK:
Blud and Magick

"Uncle Ed, I . . . I did that to them," she stammered.

Edwin cocked an eyebrow. "Did what?"

She pointed to the two bodies, impaled by ice.

"You did?" His eyes became wide with concern.

Darla nodded, biting her lip. "Uncle Ed . . . what am I?"
Darla Summer was born from the ashes of the dead Shadow Lord, Remmus Alrad. This left the Seven Sages to deliberate what was to be done with her. Darius, the Sage who slew the Shadow Lord, wants her dead. Another Sage, Edwin, believes she deserves a chance to live. Edwin is granted permission to raise her in the human world under the condition that her true identity not be revealed until an appointed time.
Fourteen years later, Darla has no idea of her magical beginnings or her dark heritage. But when she meets Ash and Cirrus—teenage brothers who are not so human themselves—her world is turned upside down. An organization known as the Shadow Risers is out to collect her, claiming that she is the vessel of their Master, and Darla is forced to fight back. But how do you fight your greatest enemy when he's living inside you?
Product Details
Title: Blud and Magick
Author: Preston Norton
Format: Paperback
Page Count: 264
Dimensions: 5.5 x 8.25
ISBN: 9781462110889
Vendor: Cedar Fort, Inc.
Imprint: Sweetwater
Release Date: 2013-01-08
Price: $16.99
WATCH THE BOOK TRAILER: http://youtu.be/yNss7wV3JSQ
______
Meet the Author:
Preston Norton was born in California, raised in Texas, and is currently a student at Brigham Young University – Idaho, seeking a degree in English Education. He enjoys sushi, rock concerts, and scary movies.
To find out more on Blüd and Magick and author Preston Norton, visit prestonnorton.com
__________
To Follow the tour:
Visit~~ http://www.cedarfortbooks.com/blog-tour-blud-and-magick/
______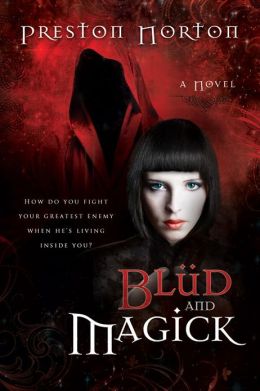 GIVEAWAY ALERT!
(Sponsored by the publisher/author)
We are offering 1 lucky commenter an e-book copy of this title. Giveaway will run from today February 3 until February 10,2013.
GOOD LUCK EVERYONE!