IT IS OUR GREAT PLEASURE TO WELCOME,STELLA CAMERON TODAY!
~DARKNESS BRED~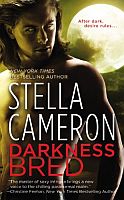 MBA&M: Please give our readers some insight into the life and mind of Stella Cameron?
STELLA: Hi:
Born in England but more glad to be American than I can explain, this country means so much to me and I have never regretted the decision to make my home here.
Married to Jerry with three children, two biological and one adopted, and five grandchildren, one dog and one cat (at the moment!).  My family and friends are the glue that keep me together.  Writing is like breathing to me, I need to write.  I need to tell the stories that crowd my mind, sometimes to the annoyance of my poor family.  Conversations with Stella can turn out to be pretty one-sided…
But I love parties.  Parties are the best story fodder there is–just look around, and listen, and let your mind do it's thing!
I'm passionate about justice, and simple kindness-don't understand malice, and don't tolerate nastiness.  We are all on a journey and part of our travels involve helping companions make the trip, too.
Animals should be given far more respect than they sometimes get.  I only wish I could have many more than is possible!
MBA&M: What do you feel is the allure of Paranormal Romance,shapeshifters in particular, with todays' readers?
STELLA: Haven't we moved into a grown up version of myths, legends, or just lovely fairytales?  And why wouldn't we be fascinated by stories that take us away from a world that can be a bit grim?  Our paranormal heroes and heroines are often the good witches and warlocks of those early tales, with even more fantastic magic thrown in and the irresistible lure of enough strength to overcome evil.  Of course, love with a magnificent creature can't be bad either, can it?

MBA&M: What was your inspiration in writing the "Chimney Rock" series?
STELLA: Whidbey is a beautiful island, mysterious, surrounded by clear waters that run over perfectly smooth stones and sandy beaches, and incredible forests where, naturally, amazing things happen.  For me Whidbey came together with the deep undersea activity that happens in the Pacific Northwest, to create the mystical source of power that makes the women of Chimney Rock so powerful, desirable–and in such danger.

MBA&M: In "Darkness Bred" we follow Elin who escaped to Whidbey Island, what made you decide to have her and werehound Sean Black connect? Was this a natural event or did you have to work to put them together in this story?
STELLA: We first saw Elin in the first book, Darkness Bound.  As shapeshifter cat and friend of Leigh, the heroine in that story, she became my natural choice for Darkness Bred, particularly since this slinky, sinuous cat, Skillywidden, was so enamored of Blue, the giant wolfhound who apparently belonged to Leigh's love, Niles:)  Of course, in human form they are spectacular, just look at the cover of Darkness Bred to see Blue as he really is–that is our Sean.

MBA&M: "Darkness Bred" is the second in the "Chimney Rock" series,why this setting,why werehounds,and do you feel the reader should read "Darkness Bound" first, or can this series be read as stand alones?
STELLA: I've already explained the setting and would only add that I hope many of you will have a chance to see Whidbey for yourselves.  The books are complete and can stand alone, but (and I could be biased) I do think it's fun, and the tension mounts even more, if they are read in order.

MBA&M: What was the most challenging part of writing "Darkness Bound",and where do you find research on Paranormal events?
STELLA: I had already written The Court of Angels trilogy and my understanding of the paranormal was fairly wide.  Research should be my middle name.  Between my extensive library on the subject and my trust in the Internet (and my patience) I feel well grounded.  Some years ago I wrote a series called Mayfair Square.  These are historical books with a paranormal twist and that gave me an appetite originally.  Hm–still think I have a story or two in me from that series.

MBA&M: What is next in the "Chimney Rock" series, inquiring minds what to know? We will keep it a secret,I promise,although,some of us may not be able too
STELLA: Ri-ight!  You obviously don't believe in "have computer, will travel and talk."  Right now I'm deep in a book called COLD, the first Alex Duggins Book set in England's Cotswold Hills.  A very mysterious, very titillating story I shall soon finish.  As for Chimney Rock–does the name, Saul, sound familiar?  I don't think I'll say much more than that but when you have a chance, see if you can summon up a mental picture of Saul with  his black eyes and hair, his pale skin and the long, flowing coat he wears.  That's where I'll be going.

MBA&M: Now, Stella, please tell our readers where they may find you and where to purchase "Darkness Bred"?
STELLA: I hope your readers will come to see me at:
http://www.stellacameron.com
http://www.facebook.com/stellacameron
https://twitter.com/StellaCameronA
Thank you so much for such a tantalizing conversation. How could we not enjoy "Darkness Bred"!
—————————–
—————————————————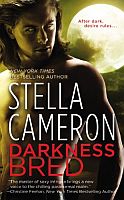 DARKNESS BRED
Chimney Rock #2
Mass Market Paperback, 384 pp.
ISBN-10: 1455500143
ISBN-13: 978-1455500147
Publisher: Grand Central Publishing Forever
On Sale Date: June 2013 (05-28-13)THE DARK SIDE OF THE MOONEver since shapeshifter Elin escaped to Whidbey Island, danger has stalked her every move. Her human traits, combined with her unique supernatural gifts, make her a prized being to be possessed . . . or destroyed. It is only the passionate attraction she shares with werehound Sean Black that gives her hope for her future—if she can elude the lethal predators who are hot on her scent.

HIDES DANGER AND DESIRE

Sean knows that Elin, with her delicate beauty and seductive powers, is his one perfect mate. The woman who can restore his humanity and make him stronger than ever. He'll need that strength and more to protect her from those who wish to destroy him and everything he desires. For Sean carries a secret that binds him to an enemy from the past and to a darker, deadlier force—a malignant evil that is hunting the women of Whidbey Island . . .

————————————————————————————-
About Stella
Stella Cameron is the New York Times best selling author of the acclaimed Court of Angels Series, the Bayou Books and many others. There are fourteen million copies of her books in circulation worldwide. She is the recipient of the Pacific Northwest Achievement Award for distinguished professional achievement and for enhancing the stature of the Northwest Literary community. She lives in Washington State.

www.facebook.com/StellaCameron

—————————————————————————

~GIVEAWAY ALERT~

(Sponsored by the publisher)

Thanks to,Jessica,at Grand Central Publishing, we are offering 1 lucky commenter a print copy of "Darkness Bred" by Stella Cameron. Sorry,but this giveaway is open to U.S. residents only and NO P.O. Boxes,please. Giveaway will run from May 31 until June 8,2013.

*Please leave a valid email address,for notification purposes only*

GOOD LUCK AND HAPPY READING!

—————————————————————————-

~STAY TUNED FOR ~

"My Thoughts" on "Darkness Bred" by Stella Cameron.

———————————————————————————

As always, we hope you will see fit to spread the word!

Thank you for stopping by and spending time with our wonderful,talented guest today!