AVAILABLE NOW!
HALFWAY TO NOWHERE
[Women's Fiction/Contemporary Ficton]
STEENA HOLMES AND ELENA AITKEN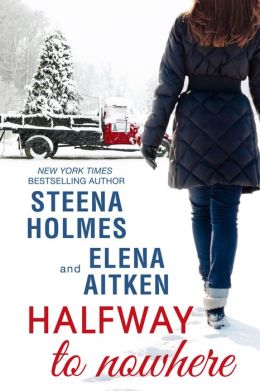 *From  Amazon*
Publication Date: December 12, 2013
By USA Today Bestselling Author Steena Holmes and Elena Aitken comes their latest story sure to tug at the heartstrings of those who understand the depth of a mother's love.
Nikki Landon walked away from her small town, Halfway, Montana, ten years ago, with no intentions of setting foot there again. But, when her mother dies unexpectedly, Nikki has no choice but to return, and this time with the child she was trying to hide—ten year old, Ryan.
Becky Jennings is living her happily-ever-after. She's married to the man of her dreams and even though that means being the wife of a Christmas tree farmer, she's happy. There's only one thing missing from her fairy-tale life: a child to hold in her arms. After countless miscarriages, she's struggling to accept that might be one dream that will never come true.
As teenagers, Nikki would have done anything to protect her best friend, Becky from heartache, which is why she left. But ten years later, there's nowhere to hide in a small town where everyone can see the truth of the secret she can no longer keep.
Could Nikki's son be the child Becky has always longed for? And if he is, can the already fragile bond between the two friends, withstand the heartache?
Publisher: Sista' Books; 1.1 edition (December 12, 2013)
Sold by: Amazon Digital Services, Inc.
Language: English
ASIN: B00HAO0BUS
+++
Visit their websites:
www.steenaholmes.com
www.elenaaitken.com
+++
About Steena….
Now a USA Today Bestseller!
Growing up as a small town Canadian girl, there wasn't much to do but ride your bike, hang out with friends on the beach and daydream. I always wanted to write but never dreamed it was something I could do as a career. I love to travel and fell in love with the sheep covered hillside, old castles and romantic history of Scotland and England. I dream about waking up in Tuscany and touring small town shops in the south of France with my husband, of placing my toes in the ocean and experiencing history first hand. As a mother with three daughters, I'm learning that teaching them to pursue their dreams is a lasting legacy. I love to wake up to the Rocky Mountains, will forever enjoy the taste of coffee and chocolate and can't imagine the day when a story doesn't unfold in my heart. Living a life with passion and pursuing dreams is a life well lived.
UPCOMING RELEASE: The Memory Child – available March 18, 2014 ~ "New mother Diane can't imagine life without her angelic baby daughter, Grace–but her family's dark past collides with her present in this surreal family saga."
DON'T MISS: The Finding Emma Series: Finding Emma, Dear Jack, Emma's Secret & Dottie's Memories.
CONNECT & SOCIALIZE!!
Website: www.steenaholmes.com
Facebook: https://www.facebook.com/SteenaHolmes.Author
+++
About Elena Atkins….
Like a lot of my readers, I'm a busy mom. It often feels like life is pulling us in a million different directions, which is why I love to write romance!
There's nothing better than knowing you have an escape waiting for you at the end of a long day in the form of a good book.
I'm lucky enough to live in the shadow of the Canadian Rocky Mountains in the foothills of Alberta, where I can write the stories I love. Whenever I get the chance, I escape into those amazing mountains and I can usually be found sitting with my feet in the lake, working on my next book.
As well as sweet contemporary romance novels, I also like to write women's fiction and my collection of stand alone novels are all part of the Escape Collection. I'm always trying something new, so stay tuned to see what's next!
I LOVE to hear from my readers! Please sign up for my newsletter at www.elenaaitken.com (link on website) so you can stay up to date on my latest releases. Plus there's a link to an exclusive free short story!
CONNECT & SOCIALIZE!!
Website: www.elenaaitken.com
 Facebook: https://www.facebook.com/elenaaitken.author
Twitter: @elenaaitken
+++
Thanks everyone! Please stop by and say "Hello" to each of these amazing authors!