IT IS OUR PLEASURE TO HAVE WITH US TODAY……
CHILDREN'S AUTHOR……
TERRY S. BRADLEY
~HOW BEES CAME TO MAKE CHILI~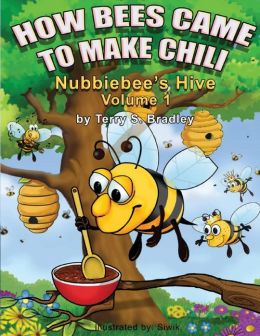 ———————-
**Nubbiebees was founded for The Megan L Bradley Foundation."**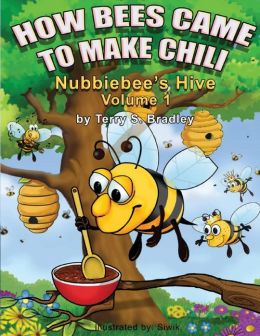 Series: Nubbiebee's Hive #1
Paperback: 26 pages
Publisher: KG Books Publishing (June 18, 2013)
Language: English
ISBN-10: 0989188213
ISBN-13: 978-0989188210
Book Description(Amazon)
How Bees Came To Make Chili is a children's book that you don't want to miss. It is just so cute that kids, parents and grandparents love it. Lots of life lessons to educate your young reader. It shows children that when life throws them a curve, they can still succeed! Life is ever-changing and the lessons learned can change the way we all see each other. Inspirational message about what we can do with the hope and belief of a better tomorrow. It instills a motto of "Dream Big".
Available at:
Amazon: http://www.amazon.com/How-Bees-Came-Make-Chili/dp/0989188213/ref=tmm_pap_title_0
Barnes & Nobles: http://www.barnesandnoble.com/w/how-bees-came-to-make-chili-terry-bradley/1115804810?ean=9780989188210
And other fine retailers!
——————
A bit about the author and Nubbiebee's…..
My name is Terry S. Bradley, and I am the Creator and Founder of Nubbiebee's. I have achieved being a 2012 Award Winning Poet, Author, Inventor, and Entrepreneur, Though I am not charismatic, I am indeed (Cazsmatic) in my ability to overcome by the grace of God;  Also living by a simple motto of 'Dream Big, Hope and Belief  Equals The
Power
to Overcome!' I am neither special nor deserving of the many blessings that I have received. But I can tell you that  ill regardless of your life's path, you hold the keys in finding your way even if you're the only one that believes in yourself.
Your greatest  gift will be in helping others, if only to believe in them!  And so with that thought we at Nubbiebee's hope to achieve many great things. Our main goal is to
start
the Megan L Bradley Foundation in the future and that unto itself will be a great accomplishment. We welcome all to give us input on all aspects of this site and look forward to growing and to offer even more products and services in a safe and friendly environment for all who visit or want to be a part of Nubbiebee's.
To learn more about The Megan L. Bradley Foundation please visit the author's website!!
Website: http://www.nubbiebees.com/
—————–
~My Thoughts~
http://mybookaddictionreviews.com/2013/09/26/review-how-bees-came-to-make-chili-by-terry-s-bradley/
—————–
~GIVEAWAY ALERT~
(Sponsored by the site(MBA&M)
As a special, we are offering 1 lucky commenter a chance to win a digital copy(gifted from Amazon) of "How Bees Came to Make Chili" by Terry S. Bradley. Giveaway will run from September 29 until October 6,2013.
Thanks everyone!
———————————
Please spread the word on this delightful tale of Bees and dreams!!