MBA&M IS PROUD TO HAVE JODI THMOSA,NY TIMES AND USA TODAY BESTSELLING AUTHOR…..
~WELCOME,JODI~
I love stepping into Harmony, Texas.  I've been there enough to know the town and most of the people.  In CAN'T STOP BELIEVING, I wrote about some old friends and a few new ones who live in Harmony.  I hope all my readers will come along with me in this visit and feel like they are coming home.
Like a real town, lives flow around one another, changing, influencing, and sometimes helping.   Ronny, a quiet woman who works at the post office, is asked to open her heart and forgive the only man she's ever loved when he returns.  Martha Q muddles her way through trying to write and accidentally stumbles into a chance for love and Tyler Wright holds to his Kate, his love that came late to his life.
Cord McMillan stopped my heart when I first saw him.  He was a man trying to stand tall even after life had done its best to knock him down.  He doesn't think he has a friend in the world and every time someone shows him a kindness, he pays it back double.  He can't believe it when his rich, spoiled neighbor offers a bargain he can't turn down.  He offers her the one thing she can't buy, honesty.
CAN'T STOP BELIEVING will warm your heart.  The people of Harmony will stay with you long after you finish reading.  Come along with me into a story that will make you laugh and cry and fall in love for the first time, for the last time, forever.
Enjoy the book,
Jodi Thomas
www.facebook.com/JodiThomasAuthor
  +++

NY Times and USA Today bestselling author Jodi
Thomas takes us back to Harmony, Texas, in CAN'T STOP
BELIEVING. The sixth book in her popular Harmony
series presents a story where big dreams are brewing—
and anything and everything is possible…
Cord McMillan gave up his freedom at eighteen
when he went to jail for a crime he didn't commit. Now,
ten years later, he's about to give it up again for a piece of
land. Nevada Britain, his neighbor, has just made him an
offer he can't refuse: If he'll marry her, she'll sign over a
section of property that their families have been fighting
over for a hundred years. Nevada refuses to ex-plain why,
but Cord knows the bargain is in his favor.
He just has one condition–she has to sleep in his
bed every night as long as their doomed marriage lasts.
Nevada only wants to maintain her family's legacy–and
redeem herself for a wrong she did Cord years ago. But as
she spends more time with her husband by necessity, she
discovers something unexpected–a love so deep it takes
her breath away.
"Another winner…Fans will be delighted."
-Publishers Weekly (starred review)
AVAILABLE AT:
AMAZON:
BARNES & NOBLES:
http://www.barnesandnoble.com/w/cant-stop-believing-jodi-thomas/1112826100?ean=9780425250679
INDIE-BOUND:
http://www.indiebound.org/book/9780425250679
+++
"Compelling and beautifully written."
-Debbie Macomber, #1 New York TImes Bestselling author
CAN'T STOP BELIEVING
Release date: June 4, 2013
Publisher: Berkley
ISBN: 978-0425250679
Retail price: USA $ 7.99
Jodi Thomas is the NY Times and
USA Today bestselling author of
37 novels and 11 short story collections.
In June 2011, WELCOME
TO HARMONY, the first book in
the Harmony series, won a RITA,
the highest award for women's
fiction. Jodi currently serves as the
Writer in Residence at West Texas
A&M University in Canyon, Texas.
www.jodithomas.com
Twitter.com/jodithomas
www.facebook.com/
JodiThomasAuthor
Jodi Thomas, NY Times and USA Today Bestselling Author
++++
STAY TUNED……
 "My Thoughts" on this title
++++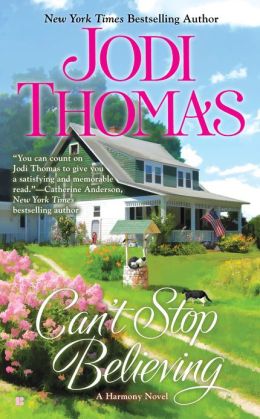 ~GIVEAWAY ALERT~
(Sponsored by the publicist and/or publisher)
*Prize will be mailed directly to the winner*
We are offering 1 lucky commenter a print copy of "Can't Stop Believing" by Jodi Thomas. Open to US residents only. Giveaway will run from June 11 until June 17,2013.
*Please leave a valid email address for notification purposes only*
GOOD LUCK EVERYONE!
++++
Please be sure to tell your social network friends and family.