LAUNCH DAY!
CONGRATULATIONS, JILL!!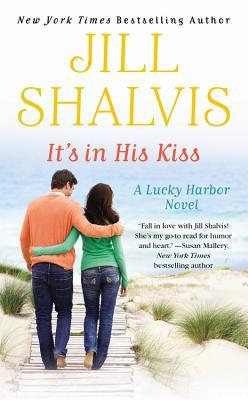 Book Summary:
For Olivia Bentley, Lucky Harbor is more than the town where she runs her new vintage shop. It's the place where folks are friendly to strangers-and nobody knows her real name. Olivia does a good job of keeping her past buried, not getting too cozy with anyone . . . until she sees a man drowning. Suddenly she's rushing into the surf, getting up close and personal with the hottest guy she's ever laid hands on.
Charter boat captain Cole Donovan has no problem with a gorgeous woman throwing her arms around his neck in an effort to "save" him. In fact, he'd like to spend a lot more time skin-to-skin with Olivia. He's just not expecting that real trouble is about to come her way. Will it bring her deeper into Cole's heart, or will it be the end of Olivia's days in little Lucky Harbor? 
---
---
New York Times bestselling author Jill Shalvis lives in a small town in the Sierras full of quirky characters. Any resemblance to the quirky characters in her books is, um, mostly coincidental. Look for Jill's bestselling, award-winning books wherever romances are sold and visit her website for a complete book list and daily blog detailing her city-girl-living-in-the-mountains adventures.
You can learn more about Jill at:
JillShalvis.com
Twitter @jillshalvis
Facebook.com/jillshalvis
***
~Giveaway for a print copy of HE'S SO FINE~
***
HE'S SO FINE is available in mass market paperback
, ebook and audio book formats wherever books are sold if you'd like to include retailers links in your post. 
Barnes & Noble: http://bit.ly/1B0Lc5P
iBooks: http://bit.ly/1p1HaDH
IndieBound: http://bit.ly/1qL9GMO
Kobo: http://bit.ly/1n3cobU
Google Play: http://bit.ly/1vUlsVJ
Amazon: http://amzn.to/1lkIft2
---
MY THOUGHTS:
IT'S IN HIS KISS by Jill Shalvis is an entertaining Contemporary Romance.  #10 Lucky Harbor Novel, but can be read as a stand alone. Although, I would suggest reading the others in this series, especially, "Once in a Lifetime".  Can one kiss last forever? You must read this tale to romance to find out the answer.
A fast paced tale that is warm, tender and light-hearted with familiar characters set in Lucky Harbor, Washington State.  Sam  Broady, a boatbuilder and investment genius, who just happens to be a sexy, hunky surfer meets, Becca Thorpe, who is escaping her city life. Love blossoms. But when her brother comes to town, trouble follows. A fun tale of romance, family and other possibilities. Sizzling heat is noted as well as a bit of suspense. Ms. Shalvis blends the right mixture of suspense, mystery and romance together to create an honest, tender love story. A wonderful read for any Contemporary Romance fan!
*Received for an honest review from the publisher*
Rating: 4.5
Heat rating: mild
Reviewed by: AprilR, courtesy of My Book Addiction and More