MARTA PERRY
{Inspirational Fiction/Amish}
~SUSANNA'S DREAM~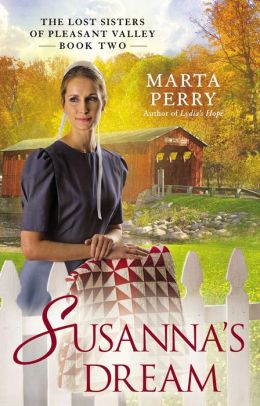 Berkeley
February 2014
Miniseries: The Lost Sisters of Pleasant Valley, Book Two
*Amazon*
Publication Date: February 4, 2014
As young girls, three Amish sisters were separated and told nothing about each other. When the long-held secret of their parentage came to light many years later, two of the grown women reconnected. Now they reach out to the third…
Susanna Bitler's life is in complete turmoil. Still reeling from the death of her mother, she is further disheartened when her business partner hints that she is going to quit the gift shop they run together in a town near Pleasant Valley. But the biggest revelation is yet to come.
Grateful for their own hard-won relationship, Lydia Beachy and Chloe Wentworth are eager to reveal themselves to Susanna as her long-lost sisters. But their news utterly distresses Susanna, who is heartbroken to learn that the woman she's been mourning was not actually her mother. Despite Lydia and Chloe's best efforts to make amends, Susanna resolves to keep them at arm's length. It may take a force of nature to sweep away her fears. Will that storm demolish all that the three women most value…or unite them in bonds of deep and abiding affection?
_______________
About Marta Perry….
A lifetime spent in rural Pennsylvania and her own Pennsylvania Dutch roots led Marta Perry to write about the Plain People who add to the rich heritage of her home state. She is the author of more than fifty inspirational romance novels, including the Lost Sisters of Pleasant Valley: Lydia's Hope; and the Pleasant Valley series: Naomi's Christmas, Hannah's Joy, Katie's Way, Sarah's Gift, Anna's Return, Rachel's Garden, and Leah's Choice. She lives with her husband in a century-old farmhouse.
CONNECT & SOCIALIZE!
Website: http://www.martaperry.com/
Blog: http://www.booksbymartaperry.blogspot.com/
Facebook: https://www.facebook.com/MartaPerryBooks
Penguin: http://www.us.penguingroup.com/
___________
Check out My Thoughts on SUSANNA'S DREAM by Marta Perry, on our sister site, http://mybookaddictionreviews.com/2014/03/18/review-susannas-dream-by-marta-perry/
_________________
Thanks everyone and please help us spread the word!!