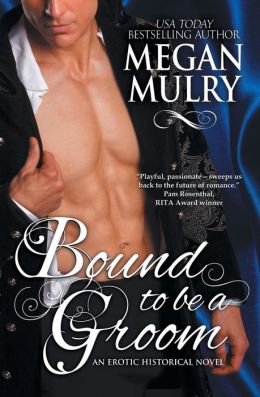 I am thrilled to be touring around the blogosphere introducing everyone to my new book Bound to Be a Groom! I loved researching and writing this steamy story and can't wait for readers to get their hands on it.
 GIVEAWAY
*18+only, mature content*
"GIVEAWAY: After a funny exchange on Twitter, one reader suggested the best thing to give along with this book, was a personal massager that wouldn't run out of batteries. So…here you go! The one and only HITACHI HV250R MAGIC WAND MASSAGER. This priceless (okay, it's about $75) item will go to ONE lucky winner. The 2nd place winner will receive a $10 gift card from Riptide Publishing, and the 3rdplace winner can choose any book from my backlist (excluding Bound to be a Groom). Entries close at midnight, Eastern Time, on April 25, and winners will be chosen on April 27. Contest is valid worldwide. Good luck and thanks for being a part of the blog tour!"
What's your favorite quote?
Too many to pick only one, but I just found this one recently and I love it: "Finish each day and be done with it. You have done what you could. Some blunders and absurdities no doubt crept in; forget them as soon as you can. Tomorrow is a new day. You shall begin it serenely and with too high a spirit to be encumbered with your old nonsense."―Ralph Waldo Emerson
What was the most surprising thing you learned about yourself while writing Bound to be a Groom?
That the range of my sexual proclivities is far more extensive than I had ever realized.
Which of your books was the hardest or easiest to write?
They all tend to follow the same pattern: fast draft is easy; revisions are hard…or at least more painstaking.
Which of your characters is your favorite and why?
I like them all for different reasons (Anna's confidence; Pia's loyalty; Farleigh's concealed tenderness) but most of all I love Sebastian because he is so much kinder than I will ever be. I admire his willingness to do and say what he truly believes, but always with a sweet gentleness.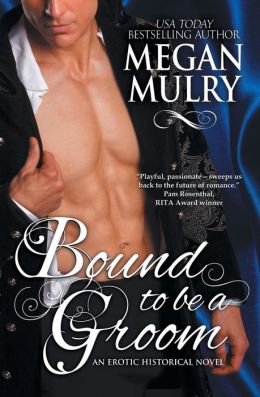 About Bound to be a Groom
Sometimes our wildest dreams come true.
In the tumultuous summer of 1808, Spain and England are close to war and four young lovers are close to ecstasy.
To carve out an independent life with the woman she loves, ANNA knows she must leave her quiet Spanish convent to become a courtesan. To gain experience, she sets her sights on . . .
SEBASTIAN, whose powerful, aristocratic confidence suits Anna's mercenary goals. But his arrogance masks a craving for submission that Anna instinctively satisfies. Sebastian soon begs for her hand in marriage, even if it means sharing her with . . .
PIA, who trusts Anna completely—with her body and her future—until she learns of Anna's hasty marriage. Pia questions their commitment to each other as they leave for London to meet . . .
FARLEIGH, the seemingly feckless duke who thinks he's over Sebastian, the potent Spanish soldier he bedded two years ago.
What begins as a series of erotic escapades soon evolves into a deep, unbreakable bond. Two men and two women who yearn to explore are about to make their wildest dreams come true.
About the Author
 *Photo* 
© Wheaton Mahoney
Megan Mulry writes sexy, stylish, romantic fiction. Her first book, A Royal Pain, was an NPR Best Book of 2012 and USA Today bestseller. Before discovering her passion for romance novels, she worked in magazine publishing and finance. After many years in New York, Boston, London, and Chicago, she now lives with her family in Florida.
Facebook – Twitter – Website – Pinterest
Presented by Riptide Publishing:
Bound to be a Groom (A Regency Reimagined Story)
###
Coming soon!
Check out My Thoughts on our sister site, MyBookAddictionReviews coming soon!!
###
Have a wonderful week! And if you get the chance please spread the word, BOUND TO BE A GROOM is coming or as landed at a retailer, only a click away!!