HURRY!! FOR A LIMITED TIME!!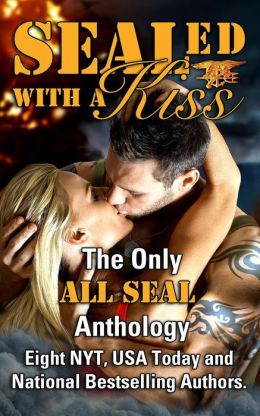 What's Better than a Box of Chocolates?
Valentine's Day is upon us. You're looking for a special gift this year from your sweetheart, and while that box of assorted chocolates looks appealing, you know you'll regret consuming it later. Here's an idea:  Ask for a boxed set of eight Navy SEAL novellas, instead. SEALED WITH A KISS is an anthology available the week of Valentine's Day for just .99 cents. And it features eight novella-length stories written by the following talented authors:
Marliss Melton—Code of Silence:
Navy SEAL Vinny DeInnocentis has no idea his news reporter wife is keeping secrets. With her hard-won reputation for rooting out corruption, Ophelia can't let a little thing like her unexpected pregnancy get in the way of exposing Pennsylvania's lieutenant governor for the liar he is. But will her quest to publicize the truth — and her shocking discovery that her target is far more dangerous than she imagined — cost her more than she ever thought she'd lose?
Gennita Low—Warrior: 
On a covert operation with his SEAL team, Lucas Branson bumps into his love interest, Kit Ling Harrison, who is overseas with her media team interviewing victims of war. Things get interesting when he and Kit end up on an unexpected road trip. Chasing vehicles, avoiding RPGs, singing silly songs, and falling in love ensue.


Sharon Hamilton—SEAL My Destiny
Back from a horrible tour, Navy SEAL Luke Paulsen has a chance encounter with a woman who begins to unthaw his troubled soul. Deciding he's too damaged, he begs off further entanglement, but then meets her again a month later at a family wedding, where the unavoidable attraction pulls them together as never before. Will their love be enough to heal them both for a chance at a Happily Ever After?
Elle James—SEALs DESIRE
Back from deployment, Navy SEAL Remy LaDue's planned Valentine's Day date with NCIS agent Mitchell Sanders runs amuck when he finds her undercover as a sexy stripper at a local lounge. Remy and his team join forces with Mitchell to find a missing woman and discover a human trafficking organization in the darkest heart of Virginia Beach
JM Madden—SEAL's Lost Dream:
Former Navy SEAL K9 handler Joe Flynn lost his dog in the war and doesn't want anything to do with animals, but every stray in Denver seems to head his way. Luckily for him, the luscious veterinarian Willow James doesn't mind taking care of everything he finds. She even seems willing to take him on with all his ghosts, but is he ready to let them go for her?
Teresa Reasor—Breaking Free
When her brother Brett is attacked and left for dead, Zoe Weaver and Lieutenant Adam 'Hawk' Yazzie work together to discover if one of his SEAL teammates is responsible for his injuries. But will loyalties forged on the battlefield prove more binding than the truth? Or their love?
Stephanie Tyler—Holding On
Jamie Michaels is an FBI Agent, married to a Navy SEAL…and about to give birth while her husband's deployed.
Navy SEAL Chris Waldron's been on some impossible missions before, but getting home in time for the birth of his son might prove to be the toughest–and most rewarding mission of all.
Delilah Devlin—Mutiny's Bounty
Interested only in experiencing an adrenaline-packed adventure first-hand to give her credo when she books her clients' adventure vacations, Lace McElhannon finds more excitement than she can handle when she meets and falls into bed with ex-SEAL Dex Haygood. Fresh from protecting transport ships from Somali pirates, Dex figures his latest job will be a cakewalk, until he finds himself in deep water, swimming with sharks and trying to protect Lace when the yacht they're sailing on is taken.
Buy your E-book copy today at:
For Kindle: http://www.amazon.com/SEALed-With-Kiss-Heroes-Heart-ebook/dp/B00ICC4CH0/ref=sr_1_cc_1?s=aps&ie=UTF8&qid=1392008242&sr=1-1-catcorr&keywords=sealed+with+a+kiss+madden
For Nook: http://www.barnesandnoble.com/w/sealed-with-a-kiss-a-specopsauthors-production/1118598826?ean=2940148155096&itm=1&usri=2940148155096
For Kobo: http://store.kobobooks.com/en-US/ebook/sealed-with-a-kiss-20

Visit our Facebook page at https://www.facebook.com/KissingSEALs to discuss the anthology.
Buy your copy right now at Amazon, B&N, Kobo, and iTunes. Available in E-format only.
###
I just brought this, what a thrill….for a limited time!
Count them, eight Navy Seals novellas for only 99 cents!!!!
Great for Valentine's!!
Buy one for yourself and one for a friend!!!