SOFTLY FALLING
{Western Historical Romance}
CARLA KELLY
Coming November 11, 2014…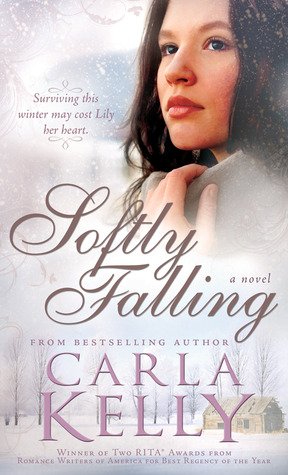 About the book:
Beautiful Lily Branson learns that her wayward father has lost his Wyoming cattle ranch in a card game to handsome cowboy Jack Sinclair, no less! When a series of deadly winter storms sets in, Lily and Jack must work together to save the cattle—as well as their hearts.
SBN-13: 9781462113958
Publisher: Cedar Fort, Incorporated/CFI Distribution
Publication date: 11/11/2014
Pages: 288
Pre-Order
About the author:
Carla Kelly is a veteran of the New York and international publishing world. The author of more than thirty novels and novellas for Donald I. Fine Co., Signet, and Harlequin, Carla is the recipient of two Rita Awards (think Oscars for romance writing) from Romance Writers of America and two Spur Awards (think Oscars for western fiction) from Western Writers of America. She is also a recipient of a Whitney Award for Borrowed Light and My Loving Vigil Keeping.
http://www.carlakellyauthor.com/books_westerns_softlyfalling.html
---
"Softly Falling" blog tour schedule:
November 2: Deal Sharing Aunt • Jorie Love a Story • The Reader's Cove
November 3: A Book a Day • Batch of Books • Fire and Ice
November 4: Getting Your Read On
November 5: Christina Dymock
November 6: Bookworm Lisa • Books and Benches
November 7: Readalot
November 8: Babs Book Bistro • Mom Loves 2 Read
November 9: Kindle and Me • My Book Addiction and More
November 10: Julie Coulter Bellon • Wishful Endings • Kindle Light Reading
November 11: Mel's Shelves
November 12: Reader Girls
November 13: Katie's Clean Book Collection • I am a Reader
November 14: Manga Maniac Cafe
November 15: Read For Your Future • WV Stitcher
November 16: Geolibrarian
November 17: EmmyMom • My Life One Story at a Time
November 18: Canda's InkBlast
November 19: Bloggin' 'bout Books • The Things I Love Most
November 20: Wondrous Reviews
November 21: A Room Without Books is Empty • Fire and Ice Reads
November 22: My Devotional Thoughts • For the Love of Books
MY THOUGHTS:
SOFTLY FALLING by Carla Kelly is a wonderful inspirational Western Historical Romance set in Wyoming. Fast paced and filled with emotional turmoil, harsh winters, faith, hope, healing and love. Meet, Lily Branson and Jack Sinclair.  Lily's father loses his Wyoming cattle ranch in a card game to none other than, the handsome gambler, cowboy, Jack Sinclair.
I enjoyed how Jack and Lily worked together to save the cattle, battle the elements and find love. Well written with an intriguing storyline. The characters are engaging as well as interesting. Once again, Ms. Kelly has written a tale of passion, and the power of love. She shows her readers how flawed characters can find their HEA. A must read! An enjoyable and satisfying read! Well done!
*Received for an honest review from the publisher*
Rating: 4
Heat rating: Sweet
Reviewed by: AprilR, courtesy of My Book Addiction and More