COMING SOON!!
November 26,2013!
~THE PIECES WE KEEP~
[Women's Fiction/Contemporary with Historical Fiction]
KRISTINA MCMORRIS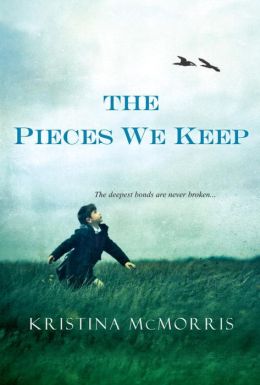 ISBN-13:

9780758281166

Publisher:

Kensington Publishing Corporation

Publication date:

11/26/2013

Pages:

464
*Author's website*
Two years have done little to ease veterinarian Audra Hughes's grief over her husband's untimely death. Eager for a fresh start, Audra plans to leave Portland for a new job in Philadelphia. Her seven-year-old son, Jack, seems apprehensive about flying – but it's just the beginning of an anxiety that grows to consume him.

As Jack's fears continue to surface in recurring and violent nightmares, Audra hardly recognizes the introverted boy he has become. Desperate, she traces snippets of information unearthed in Jack's dreams, leading her to Sean Malloy, a struggling US Army veteran wounded in Afghanistan. Together they unravel a mystery dating back to World War II, and uncover old family secrets that still have the strength to wound – and perhaps, at last, to heal.
Watch the video on You tube: http://youtu.be/mxPflLPEuy8
~~~~~~
A bit about the author…..
For more, visit http://KristinaMcMorris.com
~~~~~
Coming soon!!
~~~~~~~
(Sponsored by the author)
Thanks to Kristina, we are offering 1 lucky commenter a signed ARC of "The Pieces We Keep" by Kristina McMorris.  Sorry open to US and Canada residents only! Giveaway will run from October 20 until October 27,2013. Be one of the first to receive a copy of this inspiring,captivating story of the deepest bonds.
Please leave a valid email address with your comment!
THANK YOU AND GOOD LUCK EVERYONE!!
~~~~~
Thank you for your support of our site and our guests!!