MBA&M IS PROUD TO SPOTLIGHT!
MYSTERY/THRILLER/SUSPENSE AUTHOR…
P.J. PARRISH
"HEART OF ICE" A LOUIS KINCAID NOVEL
__________
Meet P.J.
*All images and information from the author's website*
P.J. Parrish is the New York Times bestselling author of ten Louis Kincaid and Joe Frye thrillers. The author is actually two sisters, Kristy Montee and Kelly Nichols. Their books have appeared on both the New York Times and USA Today best seller lists. The series has garnered 11 major crime-fiction awards, and an Edgar® nomination. Parrish has won two Shamus awards, one Anthony and one International Thriller competition. Her books have been published throughout Europe and Asia.
Parrish's short stories have also appeared in many anthologies, including two published by Mystery Writers of America, edited by Harlan Coben and the late Stuart Kaminsky. Their stories have also appeared in Akashic Books acclaimed Detroit Noir, and in Ellery Queen Magazine. Most recently, they contributed an essay to a special edition of Edgar Allan Poe's works edited by Michael Connelly.
Before turning to writing full time, Kristy Montee was a newspaper editor and dance critic for the Sun-Sentinel in Fort Lauderdale. Nichols previously was a blackjack dealer and then a human resources specialist in the casino industry. Montee lives in Fort Lauderdale and Nichols resides in Houghton Lake, Michigan.
The sisters were writers as kids, albeit with different styles: Kelly's first attempt at fiction at age 11 was titled The Kill. Kristy's at 13 was The Cat Who Understood. Not much has changed: Kelly now tends to handle the gory stuff and Kristy the character development. But the collaboration is a smooth one, thanks to lots of ego suppression, good wine, and marathon phone calls via Skype.
The first ten books in the series, in order, are: Dark of the Moon, Dead of Winter, Paint it Black, Thicker than Water, Island of Bones, A Killing Rain, An Unquiet Grave, A Thousand Bones, South of Hell and The Little Death.
Visit their website for more information: http://www.pjparrish.com/
Mass Market Paperback: 432 pages
Publisher: Pocket Books (February 26, 2013)
Language: English
ISBN-10: 1439189374
ISBN-13: 978-1439189375
*From the author's website*
Florida PI Louis Kincaid wants to wear a badge again. But before he can, he must return home to Michigan—and some unfinished business. He wants to bond with 10-year-old Lily, the daughter he recently learned existed, and reunited with his lover Joe Frye. But new clues to an unsolved murder put his plans on ice. A trip with Lily to enchanting Mackinac Island turns grim when the child falls on a pile of old bones. The dangerous discovery reopens the cold case of Julie Chapman, a teenager from one of the wealthy summer families, who vanished two decades ago. And when Louis is forced to cooperate with a tough state investigator who once worked with Joe, tensions skyrocket. Now, what was supposed to be a time of building lasting ties, splinters into disturbing fragments, personally and professionally, as Louis pursues a mystery entangled in dark family secrets and twists even he can't predict.
BUY THE BOOK:

Amazon

Barnes & Noble

IndieBound
_______________________________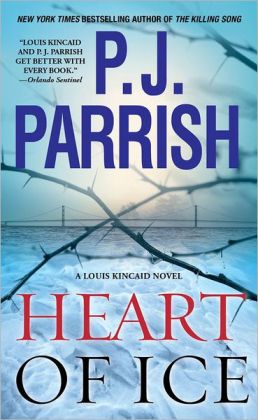 GIVEAWAY ALERT!
(Sponsored by the site)
We are offering 1 lucky commenter a print copy of "HEART OF ICE". SORRY,Open to U.S. residents only! No P.O. Boxes,please. **You MUST make a comment here and on the review site for this title AND leave a valid email address for notification purposes only**
GOOD LUCK EVERYONE AND HAPPY READING!
______________________________
Please check out "Our Thoughts" on this title…
_______________________________
Thanks for stopping by everyone!