TODAY'S SPOTLIGHT…
~THE AFTERLIFE OF A RESTLESS SOUL: BUT IS GOD REALLY A WOMAN?~
{Non-Fiction/Religion}
BY
JOHN F. BRINSTER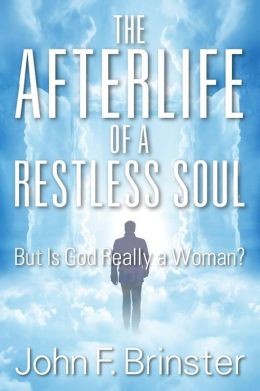 ****
About the book…..
The Cackelry Stories… All humans must eventually die and afterlife is of universal concern. The imaginative mind looks to its best interest. Religion can guide men's souls but simple belief is not for everyone. Professor Jeremiah B Cackelry III, a brilliant Einsteinian scientist, intent on saving the world, was introduced in The Man Who Created God (Xlibris). A confirmed atheist, he married his young assistant and met death by Viagra complications. In The Abduction (Authorhouse) his widow, Anne Duchin, married to a banker, Jeremiah B Cackelry IV, became involved in a search for a controversial writing hidden in the Great China Wall. The first Chinese ambassador made an arduous trek westward for alliances with Romans against Mongolian hordes. A chance stay at a Bethlehem farm and the Messianic Prophesy caused him to substitute his twin infant for Jesus in the manger. His second twin, assisting in burial following crucifixion, was mistaken for resurrection. This new Cackelry book The Afterlife of a Restless Soul (Outskirts) follows his spirit into the afterlife where, finding no god, he reorganizes heaven. Disillusioned by ideal existence he returns to the planet plagued by fear that a god might exist and is likely to be a woman. The author, a noted contributor in science and philosophy, is a phi beta kappa, magna cum laude graduate of Princeton University. His other popular books include The Precarious Human Role in a Mechanistic Universe (Xlibris), a nonfiction analysis of the trend toward atheism.
Paperback: 290 pages
Publisher: Outskirts Press (April 6, 2013)
Language: English
ISBN-10: 147870876X
ISBN-13: 978-1478708766
BUY LINKS:
Barnes & Nobles:
http://www.barnesandnoble.com/w/the-afterlife-of-a-restless-soul-john-f-brinster/1115085758?ean=9781478708766
Amazon:
And other online retailers!
****
A bit about the author….
John F Brinster graduated magna cum laude from Princeton University in 1943 with a degree in physics. His Princeton education was supplemented by a special interest in psychology and neuroscience in the subfield of learning and memory.
John was elected to Phi Bet Kappa, and awarded membership in the Sigma Xi scientific honor society. He benefited by the presence of gifted colleagues such as Albert Einstein, Wolfgang Pauli, Richard Feynman, John Wheeler, Eugene Wigner, Robert Oppenheimer and he worked with Wehrner Von Braun in space vehicle development and testing for the United States.
He subsequently founded and managed several hi-tech companies following which he contributed to the expansion of mind study at Princeton University and is now retired.
John is a member of the Author's League, the New York Academy of Science, the American Association for the Advancement of Science, and an active supporter of the Princeton Institute for Advanced Study.
Website: http://brinsterblackbook.com/
***
~GIVEAWAY ALERT~
(Sponsored by publicist)
Thanks to Stephanie, at Outskirts Marketing we are offering either a print or digital copy of " THE AFTERLIFE OF A RESTLESS SOUL" BY JOHN F. BRINSTER. No restrictions! Giveaway will run from September 16, until September 19,2013
GOOD LUCK!!
Thanks everyone for stopping by today!!