THE TROUBLEMAKER NEXT DOOR
MARIE HARTE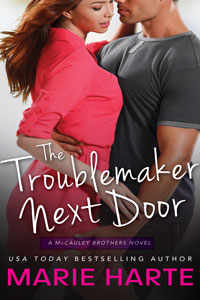 ---
WELCOME, MARIE!!
We are so excited to have with us today, Marie Harte and her TROUBLEMAKER NEXT DOOR series! So set back and enjoy your visit with our guest!
Drumroll, please…..
The Troublemaker Next Door by Marie Harte
MBA&M: Why write a tale of four bachelor men and the women who love them?
MH: I'm a sucker for hot, sexy brothers. A tight-knit family adds an element of loving strength that only makes the heroes that much more endearing. And girlfriends living next door to big brother Mike? LOVE that close connection.
MBA&M:  A little background on the McCauley family?
MH: Beth and James are the matriarch and patriarch of the tight-knit clan. And they're not without their own foibles. Then, from first book to last, there's:
Flynn—The dark haired lothario, middle brother and wise-ass. He's a sexy plumber with a head for business and a heart—and body—the ladies love. He knows how to treat a woman, but he's holding out for that special someone, to capture in a relationship what his parents have.
Brody Singer—The blond McCauley, Flynn's "twin" and business partner. Unofficially adopted at a young age, he's spent his life as part of the family. He's sexy and charming, but he's got some issues stemming from trauma in his past. Sometimes scars run deep that don't show, and he's got a bellyful.
Cameron—The white-collared youngest in a manly, blue-collar family. Cam's a financial genius who likes the finer things in life and isn't afraid to be in touch with his emotions. He's the lone head of reason in a family of knuckle-dragging bozos, or so he likes to think. He loves his brothers, but they're always on his case. And then there's his father… Talk about a headache.
Mike—The oldest of the four, mature, rational, and built like a pro-wrestler who eats giants for breakfast. He works with his father in their construction business. He loved and lost and has the kid to prove it. His life is good. He has his family, his adorable son, and if he's a little lonely, so what? McCauleys love only once, and he lost his soul mate long ago. He's never getting married again. Now if he could just convince his scamming kid and nosy family of that fact…
MBA&M:  A list of five things readers may not know about Marie Harte?
1. I have big feet. Size 10, and I love them.
2. Nothing embarrasses me…except for that one time a few weeks ago when I blushed trying to find my son an athletic cup at Dick's—of all places. (Irony, no?) The guy trying to help me out was so friggin' good looking. I write erotic romance, for heaven's sake! Yet my face was on fire. I'm still baffled…
3. I drink close to a pot of coffee daily.
4. I have read the dictionary for fun. (And sometimes still do.)
5. I know how to commit the perfect murder. Muhuhahaha
MBA&M:  Lessons learned as an author?
MH: I never give up. Ever. No matter how many times I've been told no, I just keep writing. Because I know that sometime, somehow, someone's gotta say yes.
Thanks for having me!
Marie
You are so welcome! Thank you, Marie, for spending time with us and our readers!! And never, ever give up 🙂
---
Product Warnings
When a woman wronged tangles with a sexy plumber, his three hot brothers, and his conniving nephew, shenanigans ensue. Not to mention the man clearly has no concept of the what the word "casual" means.
Series: The McCauley Brothers (Book 1)
Mass Market Paperback: 352 pages
Publisher: Sourcebooks Casablanca (June 3, 2014)
Language: English
ISBN-10: 1402287348
ISBN-13: 978-1402287343
---
About the author…
USA Today bestselling author Marie Harte writes erotic romance and has over ninety titles in print and digital format. A caffeine addict, boy referee, and romance aficionado, Marie is a confessed bibliophile and devotee of action movies. She served in the U.S. Marine Corps and worked for Fortune 500 companies before becoming a full time writer. Whether hiking in Central Oregon, biking around town, or hanging at the local tea shop, she's constantly plotting to give everyone a happily ever after. She lives with her family in the Pacific Northwest. Visit www.marieharte.com and fall in love.
CONNECT & SOCIALIZE!

Website: marieharte.com
Facebook: Facebook.com/MarieHarteAuthorpage
Twitter: Twitter.com/MHarte_Author
---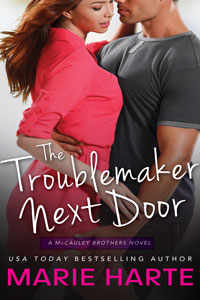 ~GIVEAWAY ALERT~
(Sponsored by the publisher)
Thanks to Sourcebooks, we are offering 1 lucky commenter a print copy of THE TROUBLEMAKER NEXT DOOR by Marie Harte.
Sorry, open to U.S. and Canada residents only! No P.O. Boxes, please!
Giveaway will run from June 17, 2014 until June 20, 2014.
GOOD LUCK!
---
Authors enjoy hearing from their readers, if you get the chance, connect & socialize with the author.