~MBA& M IS PROUD TO HAVE  MADCAP REGENCY ROMANCE AUTHOR,WITH US TODAY~
SO WITHOUT FURTHER ADO,PLEASE WELCOME…
~~~ANYA WYLDE,"PENELOPE"~~~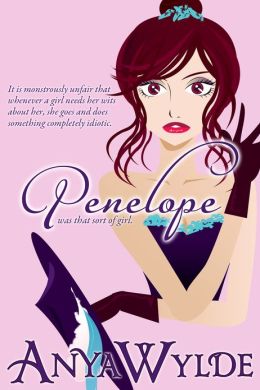 MBA&M: Anya,please give our readers some insight into yourself?
ANYA: I am an author and I live in Ireland. I spend half my time trying to write and the other half thinking up schemes of how to get my lazy poodle to run around a bit and get some exercise.
MBA&M: What made you decide to write historical romance?
ANYA: Pride and Prejudice introduced me to the Regency era and it was the first romance I ever read. I loved it and ever since I have associated romance with history. Hence when I decided to write my novel it was naturally a historical one.
MBA&M: What was your inspiration behind writing "Penelope"?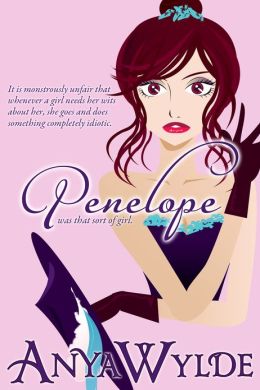 ANYA: I think it was a little bit of 'My fair lady', and a Wodehouse book I was reading at the time called 'Damsel in Distress.'
MBA&M: Who was your favorite character,who was your least favorite?Why?
ANYA: I love Madame Bellafraunde because of how complex she is. My least favorite was the dowager. She is sweet but bland. I should have have given her a squint or something to spice her up.
MBA&M: What makes you want to write witty,madcap Regency romance? 
ANYA: I cannot write a serious romance. It has to be a comedy. The characters come to me first and then they take off on an adventure that I can scarcely control. I don't try and write. It is more like I am compelled to write by some outside force. I always imagine a grumpy old man with a wonderful sense of humour dictating the story to me.
MBA&M: What is the charm of such stories, to readers,do you think?
ANYA: I think such stories are lighthearted and a form of escapism.
MBA&M: What is your favorite scene in "Penelope"? Why?
ANYA: The end is the best scene because it is a happily ever after.
MBA&M: Please tell our readers, a little about the secondary characters, everyone talks about the hero/heroine but not the secondary characters. Who was your favorite, will any of them have a book of their own?
ANYA: Yes, I am going to bring Madame Bellafraunde back. She will have a role in a few of my upcoming books. She is a secondary character in my book, and yet from the response I have got she is the most loved.
MBA&M: What is next for you?
ANYA: I am currently writing a follow up of Penelope where Penelope's sister arrives in London to find love.
MBA&M: If you could walk into a book,which one and why?
ANYA: I would love to walk into Harry potter or any of the Wheel of Time books or perhaps 'The Faraway tree' just to see which land is on top.
MBA&M: Three words to describe your writing other than witty,madcap,and adventurous?
ANYA: I think it is light hearted, silly and fun.
MBA&M: Anya, how do you fill your days?
By trying to write.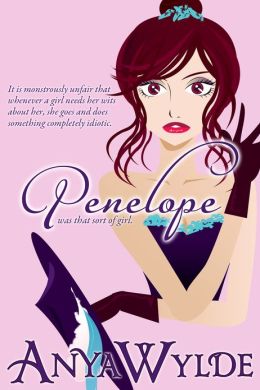 MBA&M: Please, Anya, tell our readers where to connect with you and where we can purchase "Penelope"?
Penelope can be purchased here http://www.amazon.com/dp/B00B1XVBI0
I can be contacted on Facebook , Twitter, Google+,   Goodreads or Pinterest.
ANYA: Thanks so much for having me on your blog.
 ~You are so welcome and thank you for spending you Easter Monday and April Fool's Day with us and our readers~
_______________________________________________________________________________________
 PENELOPE
ANYA WYLDE
(A MADCAP REGENCY  ROMANCE)
BN ID: 2940044257528
Publisher: Anya Wylde
Publication date: 1/17/2013
Sold by: Smashwords
Book Description(Amazon)
Publication Date: January 16, 2013
Leaving behind the rural charms of Finnshire, Miss Penelope Fairweather arrives in London with hope in her heart and a dream in her eye. The dowager, no less, has invited her for a season in London, where she will attempt to catch a husband.
Thus begins our heroine's tale as she attempts to tackle the London season with all her rustic finesse. Unfortunately, her rustic finesse turns out to be as delicate as a fat bear trying to rip apart a honeycomb infested with buzzing bees.
What follows is a series of misadventures, love affairs, moonlit balls, fancy clothes, fake moustaches, highwaymen, sneering beauties, pickpockets, and the wrath of a devilishly handsome duke.
---
~GIVEAWAY ALERT~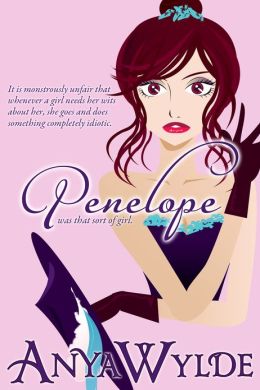 (Sponsored by the author)
Thanks to Anya, we are offering 1 lucky commenter an e-book copy of "Penelope". Giveaway will run from today April 1 until April 8,2013.
*Please leave a valid email address,for notification purposes only*
THANK YOU EVERYONE!
______________________________________________________________________________________
Please check out "My Thoughts" on this title….
http://mybookaddictionreviews.com/2013/03/07/review-penelope-by-anya-wilde/
______________________________________________________________________________________