SPECIAL ANNOUNCEMENT!!
Buy a Book & Support Alzheimer's Research!
Elaine Pereira, author of the award winning memoir I Will Never Forget-A Daughter's Story of Her Mother's Arduous and Humorous Journey Through Dementia is donating to Alzheimer's research via book sales, speaking engagements and workshop fees.  Together we can fund research and stop this horrific disease that robs us of our loved ones.
VISIT HER WEBSITE: www.IWillNeverForgetBook.com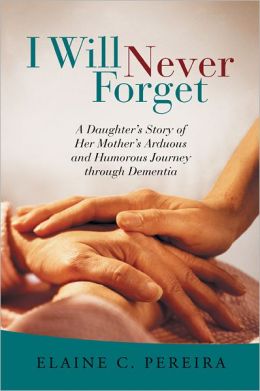 Book Description(From Amazon)
Publication Date: May 3, 2012
Finalist in the Best New Non-Fiction category of the 2012 USA Book Award; USABookNews.com
Honorable Mention Finalist in Non-Fiction in the 2012 Hollywood Book Festival
It is extremely difficult to watch a loved one decline as dementia ravages his or her mind, robbing him or her of memory, thinking abilities, and judgment. In her touching memoir, I Will Never Forget, Elaine C. Pereira shares the sometimes heartbreaking and occasionally humorous story of her mother's journey through dementia, as seen through the eyes of her little girl.
Pereira begins by offering entertaining glimpses into her own childhood and feisty teenage years. Through it all, Pereira shares how her mom's unconditional love and creative parenting style helped mold an opinionated young woman into a resourceful adult who eventually would move mountains on her mother's behalf. As Betty Ward slowly begins to wander down the dark and narrow corridors of Alzheimer's, Pereira details her mother's amazing ability to mask the truth until something as innocuous as a drapery rod suddenly launches a waterfall of events. As their roles shift and a new paradigm forms, Pereira transforms into a caregiver who blindly navigates dementia's unpredictable haze while her mother orchestrates Houdini-like disappearances and surprisingly rallies to take charge of her own destiny.
I Will Never Forget shares a powerful, emotional story that can help people affected by dementia take comfort in knowing that they are not alone.
_________________________
What a great cause! Please help!
Thank you Elaine for supporting this cause! As a retired nurse, I can tell you, it effects nearly everyone in one way or another. What a devastating illness!
_________________________
Check out "Our Thoughts" on this title and please spread the word!