HARCOURT'S MOUNTAIN
ELAINE DODGE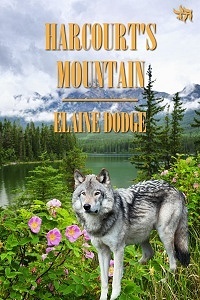 Print Length: 345 pages
Publisher: Tirgearr Publishing (November 10, 2013)
Language: English
ASIN: B00EK0V2Y4
*Courtesy of Amazon*
Book Description
** LIMITED AUTOGRAPHED EDITION **
Spring, 1867
The western frontier of British Columbia hardly seems a likely place for romance. Filthy, terrified and confused, Hope Booker is waiting to be sold off the 'bride' ship. Luke Harcourt happens upon the sale. It's not love at first sight, but he feels compelled to save her from a life of slavery and prostitution. To allay her fears of being raped by him, Luke promises never to touch her. Being a man of his word, this is a pledge he quickly finds almost impossible to keep.
Battling their growing attraction to each other, they must learn to live together in the forests of the wild and almost unexplored mountains. They face white water, Indians, wolves, as well as a dangerous man from Hope's past.
No longer able to deny their feelings, their 'happy-ever-after' is shattered when a corrupt land baron forces Luke's hand. Enraged at the man's actions, Luke rides into town—and disappears.
Alone and pregnant, Hope faces the prospect of the worst winter in ten years. The trauma of fighting off a hungry grizzly brings on labor, but the baby is stuck. Luke meanwhile wakes up on a ship bound for South America, captained by a revengeful sadist who plans to murder him. Luke's chances of survival are slim. Can he stay alive and make it back to Hope in time?
---
---
---
About the author…
Elaine was born in Zambia, grew up in Zimbabwe and currently lives in South Africa. Books have filled her life from the very beginning. She trained as a designer, worked in that industry for years, even running her own company for a while. A long stint in advertising followed. In the last few years, she's been toiling away in the TV industry, winning an odd international award. But that wasn't enough. She wanted to "tell stories". She is passionate about it. She feels most alive when she's writing, and delights in letting her imagination run riot. In November 2011, she finally took the plunge and decided to "wrestle the Rottweiler" and started putting all those stories on paper.
Readers can connect with Elaine on her blog, or on Facebook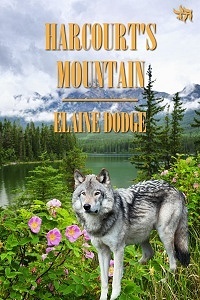 MY THOUGHTS:
HARCOURT'S MOUNTAIN by Elaine Dodge is an Historical Historical Romantic Suspense set in British Columbia in 1867 in what's now known as Canada. The characters who are engaging as well as captivating. A family saga to be sure!
Fast paced tale of complexity and life in the rugged frontier. This is Luke Harcourt and Hope Booker's tale, their story of struggle, desperation, sacrifice, and love. From a marriage of convenience to a marriage of desperation to finding love. Many emotions are on display, while these two come to terms with their life. "Harcourt's Mountain" is an intriguing story. The author is new to me but has written a tale that will leave readers turning pages and hoping all will end well for the young couple. The author has a unique writing style, and understanding of 1800 Canada.  A wonderful read!
*Received for an honest review from the author*
Rating: 4
Heat rating: Mild
Reviewed by: AprilR,  courtesy of My Book Addiction and More