MBA&M AND ENTANGLED PUBLISHING PROUDLY PRESENTS….
ROMANTIC SUSPENSE AUTHOR CARIDAD PINEIRO!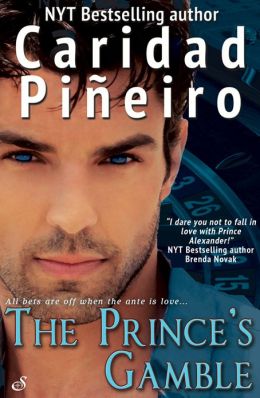 Now without  further ado,sit back and enjoy our visit with Caridad…..
MBA&M: Caridad, please tell those readers who may not know you a little about yourself?
First of all, thanks for having me here at your wonderful blog!  As for me, I love to write and have been published for about a decade.  I write paranormals and romantic suspense, but started out writing contemporary romances. I'm also a mom and wife!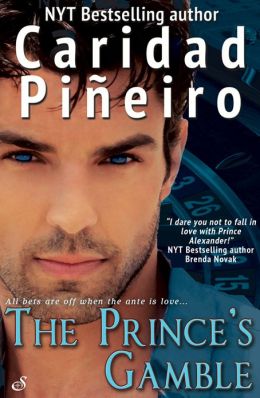 MBA&M: What was your inspiration behind writing "The Prince's Gamble"?
THE PRINCE'S GAMBLE was inspired by a dare from some writing friends during a visit to Las Vegas.  We were there to get some intensive writing time, but also took time to relax and check out the sights and activities in Las Vegas.  As we did that, I started getting ideas for how to include some of those things, like a visit to a spa and a pole dancing class, in a story. My friends didn't think I could do it and dared me and the result was THE PRINCE'S GAMBLE.  Unfortunately, I didn't meet anyone as sexy as Prince Alexander in Las Vegas!

MBA&M: What made you write about white slavery,the Russian mafia and where did you find research for these topics? What a difficult topic white slavery must have been.
After the dare, I started researching the kinds of crimes that go on in and around casinos. Money laundering was a recurring activity.  Did you know that the 9-11 terrorists spend time in Las Vegas, probably to get the money for their activities?  Additional research revealed that in addition to prostitution, young women are sometimes taken and sold into slavery.  Because I wanted to get the message across about women being empowered to help themselves and others, I decided to include white slavery in the story line.
MBA&M: What was the hardest part about writing this title?
The hardest part was portraying Prince Alexander as something besides an entitled and perfect royal.  I wanted him to have depth and be three-dimensional.  I wanted him to have a complex personality beneath that perfect face and body and I hope that I accomplished that.  I know that I fell in love with him as I discovered more about him, his caring and the weaknesses that only made him that much stronger by the end of the story.
MBA&M: Who was your favorite character and your hardest character to write about?
LOL!  I guess I answered this one already!  But since I love the prince so much, let me tell you a little more about him and what we have in common.  The prince is very concerned with having freedom and in large part that comes from having survived part of his  life in a Communist regime.  My family escaped Castro and his dictatorship, so I could understand the prince's desire to be free to control his own life.
MBA&M: Tell us a little about the secondary characters,who was the most difficult to write about,and who will have a possible story of their own one day?
I loved including sexy Detective Peter Roman, who is a local police officer who helps out the heroine, FBI Agent Kathleen Martinez with information about the local Russian gangsters.  It was lots of fun to have him in the story, but not let you know too much about him.  I wanted to give you just enough to whet your appetite about Peter and his friendship with Prince Alexander and his "relationship" of sorts with the prince's younger sister, Tatiana.  What's next for Peter and Tatiana?  Their story will be out in summer 2013 and it'll be a story about an arranged marriage, a deception and a cat burglar who has targeted customers at one of the Ivanov casinos.

MBA&M: What's next?  
Besides Peter and Tatiana's story, THE CALLING vampire series will be back in 2013 and retitled as THE REBORN vampire series.  The first book, BORN TO SERVE, brings fans more in the love story between Diana Reyes and Southern vampire Ryder Latimer.  Also look for THE SHATTERED, the next book in the SIN HUNTER series, in the summer of 2013.  You've asked for Ryan and Sammie's story and I'm very excited to bring it to you!
MBA&M: Please tell our readers where to find you and where to purchase their copy of "The Prince's  Gamble"?
THE PRINCE'S GAMBLE is available at all the various online retailers and at 2.99, it's an affordable addition to your library, plus you'll be helping out a worthy cause as I'll be donating my share of proceeds from the sales to the Hurricane Sandy NJ Relief Fund so that my home state can help rebuild and repair the damage done by Hurricane Sandy.

We understand you are giving your proceeds from this title to the victims of Hurricane Sandy,New Jersey Relief Fund, we would like to say a big THANK YOU!
Thank you for letting me visit and help spread the word about my campaign to try and help others!
For more information on Caridad,please visit her at
http://www.caridad.com/
Thank you,Caridad for spending time with us and our readers today! As always,what a pleasure to have you visit with us!
****
THE PRINCE'S GAMBLE
CARIDAD PINEIRO
Title: A Prince's Gamble
Author: Caridad Piñeiro
Genre: Romantic Suspense
Length: 219 pages
Release Date: November 2012
ISBN: 978-1-62266-800-7
Imprint: Dead Sexy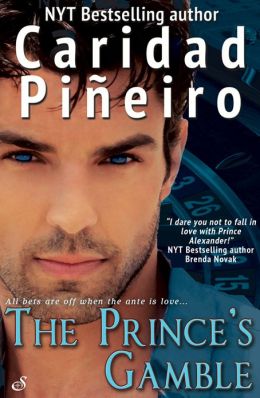 Book Description(from the publisher)
Publication Date: November 13, 2012
Prince Alexander Ivanov is scrambling to save his reputation and his livelihood. One of the Russian Nights Casino's hostesses has disappeared, and his business is suddenly under investigation by the FBI for associations with the mob and money laundering.Special Agent Kathleen Martinez has no patience with rich, entitled aristocrats, especially one like Alexander Ivanov whom she believes is involved in the vicious human trafficking ring which she'd tried—and failed—to shut down two years earlier. With a second chance to bring him to justice, she goes undercover in the casino, but instead of facing the villain she expected, she finds herself battling a sizzling attraction to the man.Now, forced to work together to trace the source of the illegal activities, the danger—and the passion between them—grows out of control, and they slowly begin to realize the biggest danger isn't to the casino, it's to their lives…and to their hearts.
Available at:
Amazon
http://www.amazon.com/The-Princes-Gamble-ebook/dp/B00A9XN2LC/ref=sr_1_1?s=digital-text&ie=UTF8&qid=1356619870&sr=1-1&keywords=the+prince%27s+gamble
B&N
http://www.barnesandnoble.com/w/the-princes-gamble-caridad-pineiro/1112131025?ean=2940015728798
****
GIVEAWAY ALERT!
(Sponsored by MBA&M)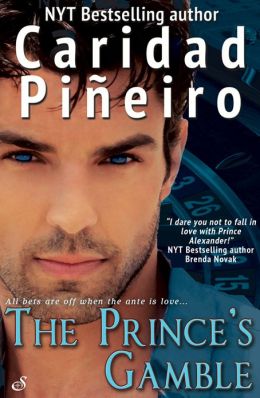 We are offering 1 e-book copy to one lucky commenter. Please leave a valid email address.
Also, tell us who your Prince is,we would love to hear
. Giveaway will run from today December 28 until January 4,2013.
GOOD LUCK EVERYONE AND HAPPY NEW YEAR!
****
Check out "Our Thoughts" on "The Prince's Gamble" by Caridad Pineiro!
****
As always, thank you for spending time with us and our guest today!