WELCOME,ROGER, TO MY BOOK ADDICTION AND MORE TODAY…
WELCOME ROGER STOKES,AUTHOR OF THE GOOD MAN'S DAUGHTER!!
Good morning,Roger! What a pleasure to have you with us today……
MBA: Roger tell our readers a little about yourself?
Roger Stokes: I'm a war baby, (born 1944), starting life in a world of free milk,free orange juice and free cod liver oil; maybe the reason why us baby – boomers enjoy good health now. Educated at St. Nicholas Grammar School for Boys, where I enjoyed english, history and sport but did not enjoy maths and
science. Represented the school at rugby and cricket. I started working life as an insurance underwriter but swiftly moved into the world of advertising. I progressed from copywriter to account director and worked in a number of small, large and multi-national agencies in the UK and New Zealand over the next
30 years. On leaving advertising I decided more fresh air was needed so began my own gardening business.
I have been married twice and have two beautiful daughters and too many grandchildren – six to date and seventh on the way! Now retired with partner Bridget and living by the sea in Devon,southwest england, where I write, play golf and support the Exeter Chiefs rugby team.
MBA: Tell our readers why you chose this setting and this issue,please?
RS:  I think the setting and the issue probably chose me.When I retired I wanted to try writing a story but didn't have a good idea. On a trip with friends to the Languedoc I was intrigued by the story of the Cathars and tried to find out more about this little known episode in French history. It wasn't until I returned
home that the idea came to me – I could see how I could make the myth of the Cathar treasure into a human drama.
MBA: Roger, how hard is it to get published in the U.S today and what was some of the problems you incurred?
RS:  This is my first book but I imagine it is just as difficult to get published in the USA as it is in the UK. It seems to me that writing a book is far less difficult than getting one published. I tried all the usual channels – writing to over 50 literary agents and publishers, but with the usual 'thanks but no thanks' reply. Unless you're a celebrity with a book to sell it seems publishers are only interested if you are already published,  kind of Catch-22 situation for new authors.

My most useful tool was the Writers' and Artists' Year Book. It contains a huge amount of information, including a chapter on Self Publishing. I decided this was the way to go, as I really believed in my story. The people at Matador were very friendly and professional and offered me all kinds of useful advice, including
editing and marketing. It was exciting being part of the process and I was really pleased when I chose the image to be used on the cover. It seems to me that in this age of MySpace, YouTube, Facebook and websites like My Book Addiction there are so many opportunities for people to get exposure for their work and reach their potential audience.
MBA: In "The Good Man's Daughter" ,you write about the violence of the Crusades,what made you decide,if anything that this was a story that should be told?
RS:  As mentioned above, the story of the Cathars had been lost to history until Rene Nelli wrote about it in his book La Vie Quotidenne des Cathares in the 19th century. Because the Cathars left no books or records they remained an enigma, including the myth of their treasure. The events of the Crusade against the Cathars at the beginning of the 13th century, the only religious crusade on European soil, has been well documented (I include a reading list at the end of my book). It was bloody and violent with thousands of believers killed, leaving a handful of survivors to retreat to the foothills of the Pyrenees.I tried to imagine what life would have been like a generation after the crusade and how my main character, Elouise, would face the choices she had to make between love and faith.
MBA: If you could go back in time,where would you return,why,and what would you
change?
      RS:  Gosh, a really difficult question. Having visited the 1st World War cemeteries in northern France I
think I would have liked to have changed that chapter in our history. To see such massive loss of life, young people sacrificed on the bungling tactics of the armies of both sides, is a humbling and shocking experience.
MBA: Roger, give our readers a few tidbits about future project(s)?
     RS:  At the moment I am enjoying seeing my book published and dealing with questions like yours. It's giving me a huge amount of pleasure to get a positive feedback from readers. But, my mind is ticking over and I do have an idea for another novel. This time it will be a much more modern story, following a group of people between the 1960's and the present day. A baby boomer story you might say!
MBA: Now,Roger, tell our readers how to find you and where to find your books
RS:  My book is published by Matador, an imprint of Troubador, and is available in the USA. You can also find it at Amazon. For more information visit my website – www.thegoodmansdaughter.co.uk
Thanks,Roger,for taking the time out of your busy schedule to visit with us today….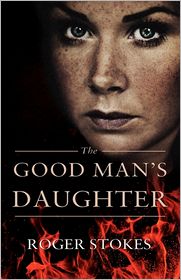 THE GOOD MAN'S DAUGHTER
ROGER STOKES
Pub. Date: September 2011
Publisher: Troubador Publishing
ISBN: 1848766661
SOURCE: Received from Authoright PR for review
Product Description
1244. Why would two hundred men and women walk joyfully towards the flames that will consume them? And what was the treasure they left behind..?
Set in medieval France after the bloody persecution of the Cathars by the Catholic church, The Good Man's Daughter is the story of Elouise and her love for the three men in her life; her father, Jean, a Cathar preacher; Michel, a shepherd and life long friend; and Guillaume, the young knight who becomes her lover.
The story unfolds a generation after the destroying army has left the region and the few remaining Cathars are living in peace amongst the hills and valleys of the Languedoc. But their lives change when an corrupt priest begins a new campaign of persecution against the heretics. Jean is captured and imprisoned and Elouise must seek sanctuary at the Chateau Roc. Torn between her faith and her feelings she must decide whether survival is reason enough for living. As events lead to a dramatic climax at the Chateau the secret of the Cathar treasure is revealed.
This debut novel by Roger Stokes is a masterful blend of authentic history and human drama, and will appeal to fans of historical fiction, who enjoy a great human story set against a background of dramatic and accurate historical events.
***GIVEAWAY**
Thanks to the author we are offering 1 lucky commenter a signed print copy of "THE GOOD MAN'S DAUGHTER" by Roger Stokes. This giveaway is opened to US, Canada, or any other English speaking country resident. No P.O. Boxes,please. Giveaway is will run from today October 24 until November 1, 2011.
GOOD LUCK EVERYONE!!
MY THOUGHTS:
 THE GOOD MAN'S DAUGHTER by Roger Stokes  is an interesting historical fiction set in 1244 Languedoc at the Chateau Roc. It is a compelling story of the the bloody persecution of the Cathar religion. It is the story of Elouise,her father,Jean,(a Cathar preacher),Michel,(a sheperd)and Elouise's long time friend,and Guillaume,the young Knight who loved Elouise and became her lover. It is the story of corruption,a new crusade against the Cathar,the families of those who practiced the Cathar faith,their sacrifice,their survival,their horrors,the sacrifice,fear, loss and Elouise's battle between her faith and her heart. This is a compelling story that is heartfelt,but not for the faint at heart. While, Elouise, Michel,and Guillaume battle not only the persecution,and corruption of a priest,Elouise and Guillaume battle their attraction for each other. Elouise must choose between her faith,her heart and her life. A must read for any historical,romance,the Crusades,the Cathars and Religious readers. A great read. Received for review from the author and Authoright. Details can be found at Metador an imprint of Troubador Publishing Ltd. and My Book Addiction and More.
**From THE GOOD MAN'S DAUGHTER,page 283″
"Whilst my story is fiction it has been based on fact."" In March 1244 the 400 occupants of the chateau were burnt."
RATING: 4.5
REVIEWED BY: April Renn