IT IS OUR PLEASURE TO WELCOME TODAY…
CHILDREN'S BOOKS AUTHOR—
~KIMBERLY SENTEK~
OH BROTHER! A NICO AND TUGGER TALE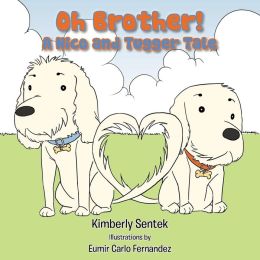 August 14th is National Creamsicle Day!
My grandparents grew up during the Depression. Gram was raised on a farm. There were many days that they ate what she named "Depression Soup," which consisted of noodles, onions, and baked beans. Food played a big part in their lives, and subsequently ours, until they died. Not a week went by without having at least one family meal at Gram and Gramps's house. Gram went food shopping three to four times a week. She believed she needed to keep the pantries stocked as if she ran a supermarket. One could actually shop at their house, but my grandparent's generosity in giving away food was a common practice. 
So, where do creamsicles come in? As a grandchild, I fondly remember that in their basement stood "The Freezer." As kids, if we heard we could get something from "the freezer" it was likened to someone winning the lottery. It was always stocked with ice cream (many times by the gallon), sherbet, ice cream sandwiches, every popsicle that you can imagine, fudgesicles, and CREAMSICLES, my favorite. Gram had a sweet tooth (in fact she told us that Gramps "wooed" her with fudgesicles); it is not just coincidence that her grandchildren inherited that sweet tooth.
Grandparenting, at least in the eyes of us grandchildren, was all about the provision of sweet treats. If you skinned your knee, a popsicle would heal the scrape quicker. If you swallowed water in the pool, you got a fudgesicle when you got out. When it was time to listen to a story about growing up on a farm—you grabbed an ice cream sandwich to eat while you listened. It was Thursday—a perfect day some ice cream? There was no reason not to share treats with us.
For me, my reward for behaving or a bribe to stop crying was a creamsicle, as both of my grandparents knew creamsicles were my favorite. I was stung by a bee—got a creamsicle. I showed them a great report card from school—celebrated with a creamsicle. I lost my Barbie's shoe—a creamsicle made it better. I finished my lunch—got a creamsicle. I didn't finish my lunch—got a creamsicle. I know it may sound crazy, but I felt like they offered me a bit of love every time they made sure they had them on hand for me. They knew what would make me smile, brighten my day, or get me to stop pouting by simply using my favorite treat.
As an adult, I realize how much they wanted to make us happy and how they knew it was the "little things" that would do so. To this day, I cannot eat a creamsicle without thinking of them and/or sharing the sweet memories of why creamsicles hold a special place in my heart and on my tongue.
My grandmother died in 1986; my grandfather died in 1995. Not a day goes by without wishing they were still here today, to tell me about life on a farm, how fudgesicles helped convince Gram that Gramps was the one for her, to share some creamsicles with me…
Celebrate National Creamsicle Day with me!
Do you have a "creamsicle" story to share?
Thank you, Kimberly for sharing your amazing story with us! For Creamsicle lovers everywhere,make sure to get yourself a Creamsicle today!!
###
Kimberly Sentek has spent her entire life telling stories—so much so that her parents swear she was born talking. A lifelong resident of New Jersey, Kimberly received a bachelor's degree in English Liberal Arts from Trenton State College (now The College of New Jersey). She has worked in publishing and market research, and now works for local government.
Kimberly is owned by two cockapoos, Nico and Tugger. Her first book, Oh Brother!: A Nico and Tugger Tale, is the story of how her two "boys" became brothers. She hopes to continue writing a series of books about her two furry children where both main characters tell their sides of the same story.
You can learn more about her (and Nico and Tugger) at KimberlySentek.com.
Where to connect with Kimberly Sentek:
www.kimberlysentek.com
@kimberlysentek on Twitter
https://www.facebook.com/pages/Kimberly-Sentek-Author-Page/365737483515252?ref=hl

BE SURE TO CHECK OUT THE AUTHOR'S WEBSITE FOR THE FOLLOWING:
(On my site I am going to put recipes for creamsicle pie and possibly a creamsicle martini.)
###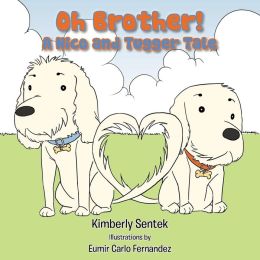 OH BROTHER! A NICO AND TUGGER TALE
KIMBERLY SENTEK
Genre: Children's Book
Paperback: 28 pages
Publisher: Trafford (October 3, 2012)
Language: English
ISBN-10: 1466942878
ISBN-13: 978-1466942875
Book Description(Amazon)

Buy the book at:
http://www.amazon.com/Oh-Brother-Nico-Tugger-Tale/dp/1466942878/ref=sr_1_1_bnp_1_pap?ie=UTF8&qid=1370221425&sr=8-1&keywords=kimberly+sentek
http://www.barnesandnoble.com/w/oh-brother-kimberly-sentek/1113130704?ean=9781466942875
iTunes interactive app of the book: https://itunes.apple.com/us/app/oh-brother!/id639108492?ls=1&mt=8
###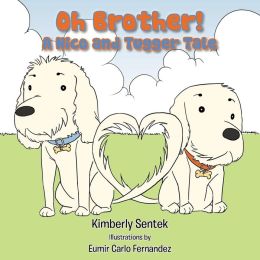 ~GIVEAWAY ALERT~

(Sponsored by the author)
Thanks to the author we are offering 2 print copies as well as 2 digital copies of this title. Yes, 4 winners. YOU MUST tell us rather you prefer print or digital in your comment AND answer the following question: Do you have a "creamsicle" story to share?
Giveaway is open internationally! Giveaway will run from  August 14 until August 21, 2013.
GOOD LUCK EVERYONE!
###
For "My Thoughts" on this title, visit…
http://mybookaddictionreviews.com/2013/05/28/oh-brother-a-nico-and-tugger-tale-by-kimberly-sentek-review/
###
Thanks everyone, please spread the word on this delightful Children's Book!