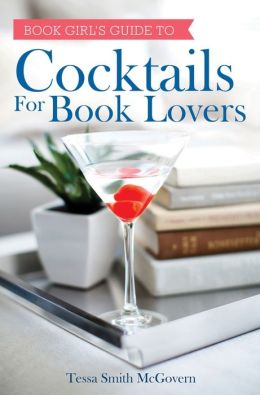 Book Girl's Guide to
COCKTAILS FOR BOOK LOVERS
TESSA SMITH MCGOVERN
http://www.bookgirl.tv/about-tessa-smith-mcgovern/
Genre: Drinks/Cocktails
Source: Received for an honest review from the publisher.
Hardcover: 144 pages
Publisher: Sourcebooks (July 1, 2014)
Language: English
ISBN-10: 1402293402
ISBN-13: 978-1402293405
(From Amazon)
The perfect pairing for anyone with a literary thirst!
From Jane Austen's little-known fondness for wine to Hemingway's beloved mojitos, literature and libations go hand in hand. Cocktails for Book Lovers blends these in a delectable book that will delight both readers and cocktail enthusiasts alike. This irresistible collection features 50 original and classic cocktail recipes based on works of famous authors and popular drinks of their eras, including Orange Champagne Punch, Salted Caramel and Bourbon Milkshakes, and even Zombie Cola. So dip in, pick your favorite author or book, and take a sip—or start at the beginning and work your way through. Cheers!
Cocktails inspired by your favorite authors:
• Charlotte Bronte
• Dani Shapiro
• Dorothy Parker
• Ernest Hemingway
• F. Scott Fitzgerald
• Flannery O'Connor
• Jhumpa Lahiri
• Junot Diaz
• Virginia Woolf
• Wally Lamb
• And 40 more!
Purchase your copy!
Amazon
For My Thoughts visit:
http://mybookaddictionreviews.com/2014/07/08/review-cocktails-for-book-lovers-by-tessa-smith-mcgovern/
---
~GIVEAWAY ALERT~
(Sponsored by the publisher)
Thanks to Juliet, we are offering 1 lucky comments a chance to win a print copy of COCKTAILS FOR BOOK LOVERS. Open to U.S. residents only!
Giveaway will run from July 16 until July 18, 2014.
GOOD LUCK!
*Please note, you MUST re-visit the site for winner announcement*