WE ARE SO EXCITED TO HAVE WITH US TODAY….
Diane T. Ashley
and
Aaron McCarver
authors of: "The Song of the River" series
~JASMINE~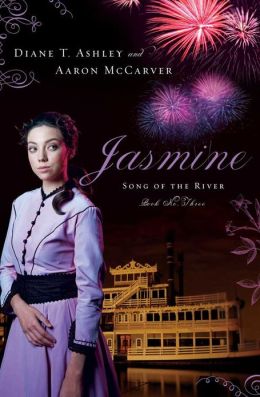 So without further ado, welcome Diane and Aaron!
———–
MBA&M: Please tell our readers a little about yourselves?
Aaron was born in Dunlap, Tennessee, which is about 40 miles northwest of Chattanooga. He grew up in the nearby mountain community of Cagle, attending the Sequatchie County school system in Dunlap. He came to Mississippi in 1983 to attend Wesley College, which was located in Florence, Mississippi, and never left. He received a master's degree in English from Mississippi College in 1990. He is an English professor at Belhaven University in Jackson, Mississippi.
Diane grew up in a small town half an hour north of Jackson. Many, many years ago she graduated from Canton Academy. She went on to earn a Bachelor of Arts from the University of Southern Mississippi, followed several years later by a Master of Arts from Mississippi State University. She recently retired from the Mississippi House of Representatives after 28 years of service and now plans to write full time.
They are the co-authors of six historical novels with Heartsong, as well as a recently completed three-book historical series, Song of the River, with Barbour Publishing. Their historical novella in the bestselling collection, A Biltmore Christmas, won the 2012 Carol Award.
MBA&M:What was your inspiration behind "The Song of the River" series?
For many years Aaron has had the idea to write a series of stories that captured the heyday of steamboats in the United States. In God's timing the idea, plots and interested publishers came together. The result is The Song of the River series.

MBA&M: Do you feel readers should read this series in order,with "Jasmine" being the third in the series? Or are they stand alone titles?
Although several of the characters appear in all three of the books, each book stands alone. However, if you want to read about the history of steamboats chronologically, you'll want to start with Lily in the years prior to the Civil War. Then you can read about Camellia's trials during the Civil War years and finally finish with Jasmine in the days after the war.

MBA&M: In "Jasmine" we see, Jasmine runs away from so many things. What was your inspiration for her singing on a Showboat?
Each of the Anderson girls is headstrong but Jasmine was always interested in drama. She fell in love with the stage during a childhood visit to New Orleans and grew up wanting to experience the glamor and excitement of that lifestyle for herself.

MBA&M: What compelled you to use Mississippi as your story setting?
The Mississippi River is a setting that has fascinated both of us, especially during the years of steamboat travel. We wanted our readers to experience the opulence, magnificence and hardships of life on the mighty Mississippi.

MBA&M: Where either of you fascainted my Riverboats as a child,or just your imaginations working to write this story of "Jasmine"?
Who wasn't captivated by Mark Twain's stories of life on the Mississippi or the musical Showboat? Of course we do a lot of research before writing our books and even while we are writing to double-check our historical facts. By the time we finish a three-book series we know a great deal about the time period.

MBA&M: If you could pick a character from out of "The Song of the River" series, which character and why?
One of the things we wanted to show is how Christians deal with living in this world while still following Jesus. Jasmine has a dream to become a famous actress. We wanted her to realize that dream and use her dramatic talents to accomplish God's purpose for her life.

MBA&M: Who was your least favorite character to write about and what where in  challenges in writing this story?
Writing children in a way that is appropriate for their ages is always difficult, especially since neither of us has children.

MBA&M: How challenging is it to write with another author?
We find it very easy to write together and wonder how other authors manage alone.

MBA&M: Let's talk about secondary characters, they are usually neglected,but help carry the story. Please tell us a little about at least of the your secondary characters in "Jasmine"?
One of our favorite characters is Clementine, a young woman who is the seamstress on the showboat. She is so practical, ethical and warm-hearted although she is not a Christian. We would love to write a book in the future in which she is the heroine.

MBA&M: What was your favorite scene in  "Jasmine" and why?
One of our favorite scenes has to do with the issue of abortion, a subject near to our hearts. We felt it was God's inspiration that led us to find a way to deal with it during the 1870s.

MBA&M: Please tell our readers how to connect with you and where they may purchase "Jasmine"?
You can contact us through the wonderful people at Barbour Publishing. The address is P.O. Box 719,
1810 Barbour Drive, Uhrichsville, OH 44683.
Their website is www.barbourbooks.com

MBA&M:Do either of you have anything you would wish to add today?
Thanks so much for having us, April. We're working hard on our next historical series and hope to have exciting news about it soon.
 How exciting for the both of you! Thank you both for taking us on your grand adventure during the heyday of steamboats and beyone!

———————-
 Diane T. Ashley, a "town girl" born and raised in Mississippi, has worked more than twenty years for the House of Representatives. She rediscovered a thirst for writing, was led to a class taught by Aaron McCarver, and became a founding member of the Bards of Faith.
Aaron McCarver is a transplanted Mississippian who was raised in the mountains near Dunlap, Tennessee. He loves his jobs of teaching at Belhaven University and editing for Barbour Publishing and Summerside Press. A member of ACFW, he is coauthor with Gilbert Morris of the bestselling series The Spirit of Appalachia. He now coauthors with Diane T. Ashley on several historical series.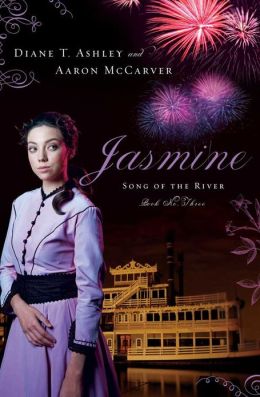 JASMINE
DIANE T. ASHLEY & AARON MCCARVER
Final Book of the Enthralling Song of the River Series
Uhrichsville, OH — This July, return to Mississippi where riverboat maiden Jasmine Anderson forsakes her past in search of fame in Jasmine, book three of the Song of the River series by Diane T. Ashley and Aaron McCarver. 
Jasmine Anderson runs away from her riverboat home and the faith and love of her past to pursue a life of fame. She flees to a showboat where she gains small roles and attracts the seductive attention of the lead actor and the bitter jealousy of a veteran actress. Then a great tragedy sets off a chain of events that creates promising new opportunities but also grave danger for Jasmine—and ultimately the chance to discover a dream truly worth living and sacrificing for.
 Jasmine by Diane T. Ashley & Aaron McCarver / Song of the River Series Book Three
July 2013 / $12.99 / 320 Pages / Paperback
Also Available in the Series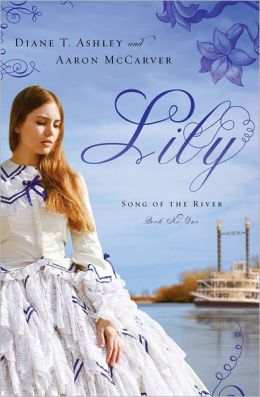 Lily by Diane T. Ashley & Aaron McCarver / Song of the River Series Book One
June 2012 / $12.99 / 320 Pages / Paperback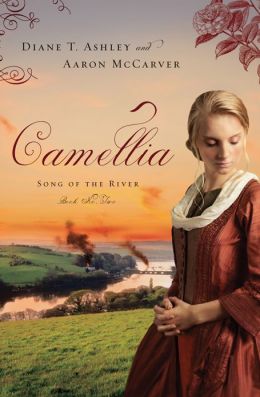 Camellia by Diane T. Ashley & Aaron McCarver / Song of the River Series Book Two
December 2012 / $12.99 / 320 Pages / Paperback
ISBN: 978-1-61626-543-4
What gorgeous covers!
 ———————–
For "My Thoughts" on "Jasmine" please visit our sister site at: www.mybookaddictionreviews.com
———————–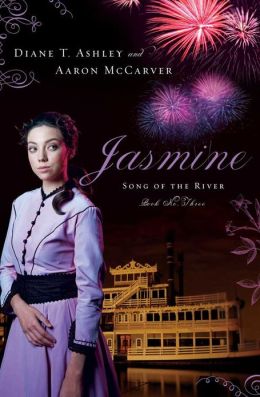 ~GIVEAWAY ALERT~
(Sponsored by the publisher)
Thanks to Kelsey at Barbour Books we are offering 5 lucky commenters. Yes 5 lucky winners. A print copy of "Jasmine". Sorry, open to US residents only. Giveaway will run from August 11 until August 18,2013.
*Please leave a valid email address*
GOOD LUCK!
We hope you have enjoyed our guest today as much as we have. Thank you for stopping by today, everyone!
Please spread the word!