ANOTHER SPOTLIGHT FOR TODAY…..
SUSAN MALLERY
[Contemporary Holiday Romance]
~CHRISTMAS ON 4TH STREET~
CHRISTMAS ON 4TH STREET is here!!!
Fool's Gold Book 12.5
September 24, 2013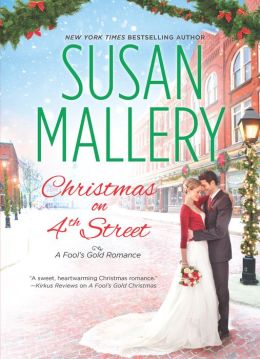 *From the author's website*
There's nowhere better to spend the holidays than with New York Times bestselling author Susan Mallery in the town of Fool's Gold, where love is always waiting to be unwrapped…

Noelle Perkins just got a second chance at life, and she intends to make the most of every minute. That's why she ditched a frustrating legal career to open her own store in Fool's Gold, California. The Christmas Attic celebrates everything that's magical about her favorite season. Business is booming, and as a bonus, gorgeous army doctor Gabriel Boylan has offered to help out during the holiday rush.
Gabriel's memories of Christmas past contain more sour grapes than sugar plums, thanks to a drill sergeant father who ran his home like a boot camp. Spending the holidays with his family while he recuperates from injury sounds as appetizing as last year's eggnog. Still, there are some enjoyable distractions in town, including sunny, sexy Noelle…and the red-hot mistletoe kisses they can't stop sharing.
Gabriel didn't think he was made for happily-ever-afters. But when fate hands you a love as sweet and surprising as this, only a fool could refuse…..
Christmas in Fool's Gold will work its magic on these two, as it always does… CHRISTMAS ON 4TH STREET is beautifully packaged as a gift-sized hardcover and is also available in ebook and audio. This will make a wonderful gift for the romance readers on your list!
Click here to read an excerpt!
++++
A bit about the author…..
With more than 25 million books sold worldwide, New York Times bestselling author Susan Mallery is known for creating characters who feel as real as the folks next door, and for putting them into emotional, often funny situations readers recognize from their own lives. Susan's books have made Booklist's Top 10 Romances list in four out of five consecutive years. RT Book Reviews says, "When it comes to heartfelt contemporary romance, Mallery is in a class by herself." With her popular, ongoing Fool's Gold series, Susan has reached new heights on the bestsellers lists and has won the hearts of countless new fans.
Susan grew up in southern California, moved so many times that her friends stopped writing her address in pen, and now has settled in Seattle with her husband and the most delightfully spoiled little dog who ever lived. Visit Susan online at www.SusanMallery.com.
Twitter: @SusanMallery
++++
~GIVEAWAY ALERT~
(Sponsored by the site)
We are offering 1 lucky commenter a digital copy of one of Susan Mallery's holiday titles. Please visit her website to get a list of her holiday titles at www.SusanMallery.com 
She has several holiday titles, it CAN NOT be her current release(Christmas on 4th Street)however,sorry!!
**Please tell us your title in your comment**
*Gifted from Amazon* Giveaway will run from September 25 until October 2,2013.
Please answer the following question:
Is not the holiday season a romantic time of year?
*You MUST tell us one of your favorite holiday romantic memories or a favorite holiday memory*
Have a wonderful day and good luck on the giveaway!!
If you get the chance please spread the word!!
+++
~Stayed Tuned~
My Thoughts coming soon on "Christmas on 4th Street" by Susan Mallery
++++
Thanks for stopping by today!!