ASCOT MEDIA AND MY BOOK ADDICTION AND MORE PROUDLY PRESENTS:
AUTHOR, M.J. ROSE!
*Image from the author's website*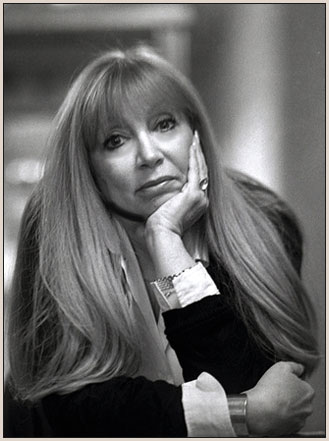 MBA&M: Please tell our readers, who may not know you a few tidbits about M.J. Rose?
Getting published has been an adventure. I self-published Lip Service in 1998 before it was fashionable to self publish.  Several traditional publishers had turned it down. Editors had loved it, but didn't know how to position it or market it since it didn't fit into any one genre.
Frustrated, but curious and because of my advertising background (I worked in Mad Men territory for most of my life) I was convinced that there was a readership for my work, I set up a web site where readers could download my book for $9.95 and began to seriously market the novel on the Internet.
After selling over 2500 copies (in both electronic and trade paper format) Lip Service became the first e-book and the first self-published novel chosen by the LiteraryGuild/Doubleday Book Club as well as being the first e-book to go on to be published by a mainstream New York publishing house.
I've written 11 novels since then and have been profiled in Time magazine, Forbes, The New York Times, Newsweek and New York Magazine, appeared on The Today Show, Fox News, CNN and The Jim Lehrer NewsHour.
I was left back in 7th grade and am dyslexic.  I was the Creative Director of Rosenfeld Sirowitz and Lawson and have a commercial in the Museum of Modern Art in NYC.
MBA&M: What inspired you to write " The Book of Lost Fragrances"?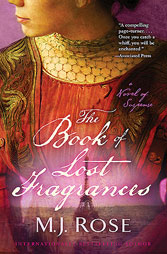 About three years ago I was reading a book about Cleopatra (69 BCE to 30BCE), who was the last pharaoh of Ancient Egypt, and found out she was fascinated with and some say obsessed by scent. Marc Anthony built her a fragrance factory where he planted now extinct flora and fauna including groves of balsam trees  (important in the creation of perfume at the time) confiscated from Herod.
In the 1980s a team of Italian and Israeli archaeologists believe they unearthed the factory at the south end of the Dead Sea, 30 km from Ein Gedi. Residues of ancient perfumes along with seats where customers received beauty treatments were found there.
Cleopatra was said to have kept a recipe book for her perfumes, entitled Cleopatra gynaeciarum libri. The book has been described in writings by historians Dioscorides, Homer and Pliny the Elder. No known copy of the book exists today.
When I read about that book, I knew I had the idea for a new novel.
MBA&M: What research and challenges where there in writing this title?
The book takes place in Paris in the present and during the French revolution. Also we travel back to Ancient Egypt during Cleopatra's time. I love doing research and find it enormously exciting and creatively challenging to write about other those eras. I love getting out of my own head and my own time. But having to do so much research for one title was a bit daunting.
MBA&M: Which character in "The Book Of Lost Fragrances" do you  identify with most?Why?
I'm not sure there's one I relate to the most – but there's one I have a soft spot for – Robbie L'Etoile – the main character's brother.
 The hardest was the main character Jac L'Etoile. I usually find the main character the most difficult. They're always the most elusive – playing hide and seek with me it seems.
MBA&M: What is something that scares the "heck" out of you and why?
Someone I love being seriously ill… and I guess for pretty obvious reasons.
MBA&M: What is the first book you remember reading and what genre do you enjoy reading?

The Secret Garden and I was enchanted. I like reading historical fiction, historical suspense and historical suspense with a paranormal element.
MBA&M: Do you get lost in a book rather
reading,or writing said book?

Both equally.
MBA&M: How did the characters present themselves to you,all at once,in increments,or as you wrote their story?
Some all at once – some in increments.
MBA&M: Please tell our readers where to find you and where "The Book of Lost Fragrances" is available?
You can find out everything at http://mjrose.com/fragrances/
And yes, I'd like to tell you about the fragrance created for the book.
                           M.J. is there anything else you would like to add today?
And yes, I'd like to tell you about the fragrance created for the book.
While writing THE BOOK OF LOST FRAGRANCES, to keep in the world of scent, I burned candles. When I was finished, I searched out the perfumer who'd created the candles that had inspired me the most, Frederick Bouchardy owner of Joya Studios, and gave him a copy of the manuscript as a thank you.
Bouchardy was instantly intrigued by the book—first, as a reader, he said he was taken with the mystery and romance of the story.  In my tale, scent plays a strong role as it pertains to memory. Bouchardy, who creates using oils and other classic ingredients, said this notion spoke to him as a designer and producer of fragrances, and thus the idea to create this beautiful fragrance was born.
When he told me he was going to create his version of that scent I started to cry. He asked me what I'd like to name it.
The ancient fictional fragrance at the heart of the novel is called Âmes Sœurs, which means "Soul Mates" in French.  That's what I suggested and indeed what Bouchardy named his version: Âmes Sœurs, The Scent of Soul Mates.
I can't imagine what it will be like this May when it goes on sale at Henri Bendel in NYC and at http://joyastudio.com/– amazing!
What a great pleasure to have you visit with  us and our readers today! Thank you!!
 —
THE BOOK OF FRAGRANCES
M.J. ROSE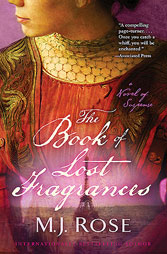 Hardcover:384 pages
Publisher:Atria Books (March 13, 2012)
Language:English
ISBN-10:1451621302
ISBN-13: 978-1451621303
Book Description(from Amazon)
Publication Date: March 13, 2012
A sweeping and suspenseful tale of secrets, intrigue, and lovers separated by time, all connected through the mystical qualities of a perfume created in the days of Cleopatra–and lost for 2,000 years.
Jac L'Etoile has always been haunted by the past, her memories infused with the exotic scents that she grew up surrounded by as the heir to a storied French perfume company. In order to flee the pain of those remembrances–and of her mother's suicide–she moved to America. Now, fourteen years later she and her brother have inherited the company along with it's financial problems. But when Robbie hints at an earth-shattering discovery in the family archives and then suddenly goes missing–leaving a dead body in his wake–Jac is plunged into a world she thought she'd left behind. Back in Paris to investigate her brother's disappearance, Jac becomes haunted by the legend the House of L'Etoile has been espousing since 1799. Is there a scent that can unlock the mystery of reincarnation – or is it just another dream infused perfume?
The Book of Lost Fragrances
fuses
history
, passion, and suspense, moving from Cleopatra's Egypt and the terrors of revolutionary France to Tibet's battle with China and the glamour of modern-day Paris. Jac's quest for the ancient perfume someone is willing to kill for becomes the key to understanding her own troubled past.
Available at:
Watch the book trailer:
—
Check out our "Thoughts" on 'THE BOOK OF LOST FRAGRANCES" by M.J. Rose!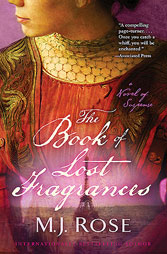 —-
PLEASE SPREAD THE WORD!
—-
HAPPY READING!