A BEAUTIFUL DISTRACTION
{Contemporary Romance}
KELSIE LEVERICH
From a New York Times bestselling author, a brand new sexy contemporary romance featuring military bad boys: A BEAUTIFUL DISTRACTION by Kelsie Leverich.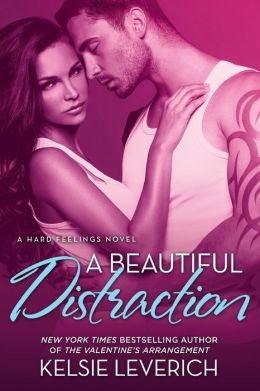 Nothing's more dangerous than a bad boy with a broken heart…
First Sergeant Rafe Murano did everything to the extreme. He trained harder, he fought harder, and unfortunately, he loved harder. But he fell for the wrong woman and it nearly destroyed him.
Back home from a deployment, with no mission to consume him, Murano's ravaged by memories of his past. So he drinks until he's numb and drowns himself in meaningless one night stands. But they only take the edge off…
Until he meets Fallon.
Fallon Kelly learned the hard way not to take risks with her heart, But she sees something  irresistible in the tatted-up bad boy one more punch away from a ride in the back of a squad car. She offers a distraction. And he quickly becomes an addiction. Little does she know, this bad boy could love so hard it could break her…
About the Author:
Kelsie Leverich lives with her husband, two children, and their three pets. She loves sPinterest:tories that can sweep you off your feet, make you fall in love, break your heart, and heal your soul.
CONNECT & SOCIALIZE!
Website: http://www.kelsieleverich.com/
Facebook: http://www.facebook.com/authorkelsieleverich
Twitter: @KelsieLev
Google+: https://plus.google.com/+kelsieleverich
Pinterest:  http://www.pinterest.com/kelsieleverich
————————
~GIVEAWAY ALERT~
(Sponsored by the publisher)
Thanks to Landi, at Berkley/NAL, Penguin Group USA, we are offering 1 lucky commenter a print copy of A BEAUTIFUL DISTRACTION by Kelsie Leverich.
Sorry, open to US residents only!!
*All you have to do is leave a comment*
Giveaway will run from May 2 until May 9, 2014.
GOOD LUCK!
————————
MY THOUGHTS:
A BEAUTIFUL DISTRACTION by Kelsie Leverich is an interesting contemporary romance. #3 in the "Hard Feelings" series, but can be read as a stand alone. See, "The Valentine's Arrangement", "Pretending She's His (A Hard Feelings Novella)",and Feel The Rush". This was my first time reading anything by this author and I have to say, I enjoyed "A BEAUTIFUL DISTRACTION". I didn't feel you had to read the others in the series, to keep up with the storyline.

Meet, First Sergeant Rafe Murano and Fallon Kelly. Follow them on a journey to romance, passion, broken hearts, ravaged by war memories, and finding something other than just sex,possibly, love.
Fallon, learned not to give her heart away, for it could be broken again, easily. Murano plays hard, drinks hard, fights harder, and loved harder, which nearly destroyed him. Enter, Fallon….
What a lovely distraction each finds in the other. A tattered bad boy meets a Ballet dancer, Fallon. Sparks fly…..Murano, is used to one night stands, drinking to distraction and meaningless sex. Fallon, is part owner and dancer of Velour, a gentleman's club, but she has her own secrets and memories.
This is an emotional, powerful tale of a military man and a dancer. Looking for love in all the wrong places. But can they finally find the love of their lives? A great read, with lots of hot sensual encounters. If you enjoy emotional characters, with baggage,sensual encounters, and so much more than you are in for a treat with A BEAUTIFUL DISTRACTION.  Received for an honest review from the publisher.
RATING: 4
HEAT RATING: HOT
REVIEWED BY: AprilR, courtesy of My Book Addiction and More