TODAY'S GUEST: DEBUT AUTHOR…..
BARBARA DAVIS
[Women's Fiction/Mystery]
~THE SECRETS SHE CARRIED~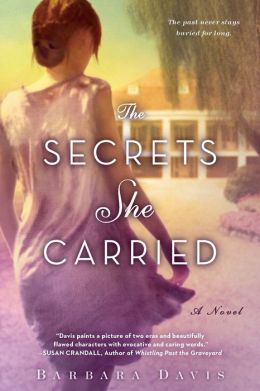 MBA&M: Good morning, Barbara! Please tell our readers a little about yourself?
Good morning, and thanks so much for giving me a chance to talk about The Secrets She Carried. It really has been the most amazing and rewarding journey that I almost have to pinch myself. Fourteen years ago, my fiancé, Tom, and I moved to North Carolina. At the time I was a V.P. with a national jewelry chain, but about four years ago I was laid off from my job. At the time, it felt like the end of the world, particularly since it was the second time in five years. Then I realized I hadn't been paying attention to the messages the Universe was sending me. Finally, with tons of encouragement from my fiancé, I saw that it was time to pursue my lifelong dream. I'd been simmering on the idea for SECRETS for several years, and suddenly I had no excuse not to follow it through. It took a good six months to find my voice again, after so many years in the corporate world, but I finally did, and I've never looked back. I've been so very blessed. I found the love of my life, and am living the life of my dreams. Like I said… pinch me.      
 MBA&M: What was your inspiration behind writing "The Secrets She Carried"?
One day I was waiting in the car for Tom when I noticed a single gravestone on the side of the road. Now, in North Carolina, this isn't really unusual. They're everywhere, along the sides of the road, in the middle of cornfields, even in a mall parking lot in Greenville, because back in the day that's what people did. Loved ones were buried on family farms. But now those farms are gone, roads have been built—the landscape has changed, and yet these graves, these lost loved-ones, remain. And as I sat there I found myself wondering who was buried in that particular grave, and how long they'd been there. It all felt very sad to me, very lonely. I wondered if there were family members looking for that person, and what story that departed loved one might have to tell so many years later. And just like that Adele Laveau was born. In what felt like minutes, her story came to life in my head and refused to go away.
MBA&M: What made you decide to write a story about a Southern Plantation and its secrets?
Peak Plantation, the setting for Secrets, evolved fairly naturally from Adele's story. Living in Carolina, where tobacco was once such a huge part of the heritage and history of the state, it was hard to imagine that tobacco in some form wouldn't be part of Adele's story. I also liked the fish-out-of-water contrast a plantation setting would offer to Adele's more humble beginnings. Plus, I'd be lying if I said Gone With the Wind wasn't one of my favorite books of all time, so there's that "romantic south" image that's always been with me. 
MBA&M: What were some of the challenges you found while writing "The Secrets She Carried"?
I think finding and maintaining Adele's voice was one of the largest challenges, but I also have to say it was also one of my favorites. When I started the novel, Adele Laveau played a much smaller role in the writing. She was more a memory around which the story revolved than an active participant in the story. Gradually, though, that changed, as she began to come to life refused to be quiet. Eventually, my editor encouraged me to expand her role and make her more the focal point of the story. This required some pretty major re-writes, which, as a new writer, I found pretty terrifying. You worry that if you start plucking at the treads of your story it will all unravel and you'll never be able to put it back together again. Luckily, in this case I did put it back together, and the book is much stronger for those rewrites.  


MBA&M: Inquiring minds want to know, or me anyway: Is the Peak Plantation real or fiction? If real, where did you find the research to begin your project?
Some of my ancestors come from Georgia, they owned a Plantation there, can't remember the name of it, sad really, but do remember how it looked. I was only a child where they tore it down for farmland. So this is a fascinating and intriguing story to me….
Peak Plantation, as well as the town of Gavin, is purely fictional, although I think all writers tend to create composites of a lot of the places they've seen and researched over the years. Over time, those places wind up blending together into a kind of ideal and have a way of finding their way onto the page. Peak is that for me, a place I'd love to visit, timeless and grand and romantic; the kind of place you can't imagine not standing forever. It's my own version of Tara, I suppose.

MBA&M: Which character in "The Secrets She Carried" was the most difficult or most challenging to write and why?
Aside from Adele, I think Jimmy Nichols, Leslie's hard-drinking, con-man of a father, presented the largest challenge, because at the start of the book he needed to be intimidating enough to present a credible threat, but also needed to be redeemable by the end. So, there's a line you have to walk there, one you can't cross if you hope to salvage him later on. You have to keep that in mind as you write, and find ways to leave that door open. Funny story: at one time early in the writing, I was considering killing him off, but wasn't sure how to do it. Tom and I were sitting at a bar one day, discussing my options… gun shot, stabbing, pushed off a cliff… and we noticed the bartenders whispering and giving us the eye. I had to explain that I wasn't plotting a real murder, just one on paper. To this day, I'm not sure they believed me.  
MBA&M: Which scene was the most difficult to write and why?
Well, I don't want to give anything away here, but I'd have to say the scene with Adele in the woodshed was by far the toughest to write for me. There are things that happen in life, terrible things that are hard to stomach, but when they happen to someone you care about, and you're the one actually making those things happen, you can find yourself getting emotional, and even second guessing yourself.   
MBA&M: What you do your for enjoyment in your daily activity?
Would you believe, write? I really do love what I do, and I spend the vast majority of everyday on my laptop, making stuff up for a living. But when I'm not writing, I love to read, cook, travel, and am an avid college football fan. I also run a Facebook Page called The Sunshine Page, which is near and dear to my heart. The page has a about 35,000 followers and embraces a positive living philosophy of love and gratitude, which is something I feel very strongly about. 
MBA&M: We live in Eastern North Carolina, I see you live in North Carolina also, so do you enjoy the Mountains or the Beach?
Seriously, you're going to make me pick? Wow, that's really hard. North Carolina has so much to offer that I can't truly say one way or the other. What I will admit is that we tend to get to the beach side of the state more often than the mountains, simply because it's a little closer. Tom and I have no qualms about deciding at four o'clock in the afternoon that we'd like to have dinner at the beach, and off we go. Two hours later, we're sharing a glass of wine and looking out over the Atlantic from our favorite Wrightsville Beach restaurant. In the fall and winter, though, I absolutely want the mountains. Luckily, in Carolina, you have the best of both worlds.     

MBA&M: Please tell our readers where to find you and where they may purchase "The Secrets She Carried"?
My Facebook author page is: https://www.facebook.com/barbaradavisauthor?ref=hl
My author website is: https://www.facebook.com/barbaradavisauthor?ref=hl
The Secrets She Carried is available where ever books are sold, including:
http://www.amazon.com/The-Secrets-Carried-Barbara-Davis/dp/0451418778
http://www.barnesandnoble.com/w/the-secrets-she-carried-barbara-davis/1115916938?ean=9780451418777
Thank you so much for taking time to spend with us and our readers today! As I have read "The Secrets She Carried" I would highly recommend this amazing story!
 ________________
THE SECRETS SHE CARRIED
BARBARA DAVIS
*from the publisher*
THE SECRETS SHE CARRIED (NAL Accent Trade Paperback Original; October 1, 2013; 978-0-451-41877-7; $15.00), a stunning story about a woman journey of discovery into her family's journey of discovery into her family's long-buried past.
For Leslie Nichols, Peak Plantation doesn't have a happy place in her memory.  She is plagued by the death of her mother, her father's disgrace, and an unhappy childhood.  When Leslie's grandmother Maggie dies, Leslie isn't the only one who was left with the property.  Jay Davenport also has claim to Peak Plantation as the caretaker. 
Before Maggie died, she told Jay about a terrible secret that haunted him about a mysterious lady named Adele who came to the plantation in the 1930's and died there.  When Leslie finds a cryptically marked grave on the property, both she and Jay are about to discover shocking secrets that have the power to change Leslie's life forever.
Amazon:

Barnes & Noble:
http://www.barnesandnoble.com/w/the-secrets-she-carried-barbara-davis/1115916938?ean=9780451418777
~GIVEAWAY ALERT~
(Sponsored by the publisher)
Thanks to Kayleigh, we are offering 1 lucky commenter a print copy of "The Secrets She Carried". Sorry, open to U.S. residents only! Giveaway will run from
December 5 until December 12, 2013
.
GOOD LUCK!
______________
MY THOUGHTS:
______________
Thank you everyone for stopping by today and spending a few moments with our guest, Literary Debut author, Barbara Davis.
_____________
If you feel so inclined, please help us spread the word on this talented new author!
_______________
We at MBA&M wish each and everyone a safe and happy Holiday Season!