NEWMAN COMMUNICATIONS AND MY BOOK ADDICTION PROUDLY PRESENTS…..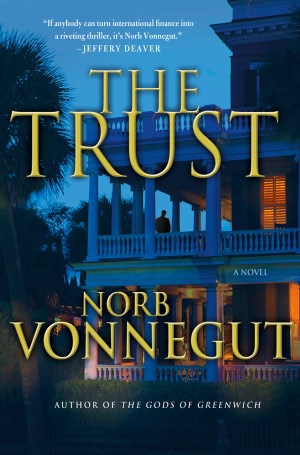 NORB VONNEGUT!
MBA&M: Please tell our readers a little about yourself?
        In my next life, I want to return as a ten-time winner of the Tour de France. But for now, I'm writing about Wall Street and the world of big money from my home in Narragansett, Rhode Island—a place where you find "quahogs," "big hairs," and other eccentric slices of America that will no doubt find their way into my future novels.
        Living the life of an author is something of a relief. I spent twenty years on Wall Street, both as a banker and as a stockbroker where diplomacy was a key factor for success. It was important to be truthful and honest, but careful above all in the delivery of opinions.
Now, I get to call them as I see them. It's an entirely liberating experience to snap off the one-liners, the casual if irreverent observations about everyday behavior that make a good story so much better.
In The Trust, for example, Palmer Kincaid is alone on a boat, sailing at night, brooding about a big mistake, and drinking way too much. He thinks to himself, Alcohol is Advil for stupidity. See what I mean about the casual observations?
Right now, I'm writing my first non-fiction book. My co-author went to jail for two years, and his story is a modern day version of Cain and Abel. Only this time, the men run afoul of the Department of Justice. Talk about an emphasis on truth and telling it like it is. When our book comes out, you will never think about Law and Order reruns the same way.
MBA&M: What was the inspiration behind writing "The Trust"?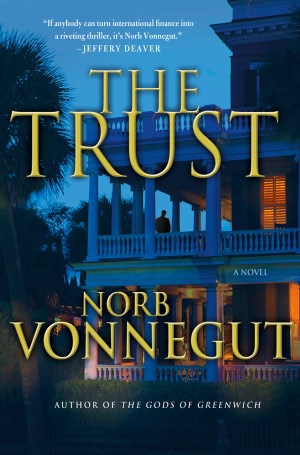 Actually, it's "who," and the answer is Pablo Escobar's first cousin.
For years I worked at Morgan Stanley as a stockbroker. Before Google became part of our day-to-day life, my firm kept a "bad guys list." There may have been a more formal name, but that's what we called it in the trenches. Our compliance officers spent hours compiling the list and identifying people to avoid at all costs.
Sometime during the 90s, a man called my team—there were five of us—and told one of my partners that he wanted to open a $50 million account. "More to follow if you do a good job."
Nobody in the brokerage business ever gets a call like that from a legitimate source. Believe me, I know. Stockbrokers chase money. Not the other way around. The prospect was roughly the same age as one of my partners, and they went to the same business school a few years apart. But they didn't know anyone in common. Something didn't smell right.
We submitted the man's name to our legal department—in those days I regarded Morgan Stanley as a law firm with a very large financial subsidiary—and sure enoughour $50 million prospectwas on the bad guy's list. He was Pablo Escobar's first cousin. Needless to say, we cut off all contact.
So what does this story have to do with The Trust? My job as a stockbroker was to ask one question on behalf of my clients: What can go wrong? My team managed about $2 billion in assets for very wealthy individuals, some of whom maintained philanthropic foundations. The charities did plenty of good work, but they always ran on a shoestring budget. No lawyers. No compliance department. No bad guys list. It occurred to me that financial criminals would gravitate toward organizations that are vulnerable.
The Trust is a story about a savvy international criminal who infiltrates a small community foundation and hides behind the First Amendment, specifically freedom of religion. I owe this novel to my time on Wall Street.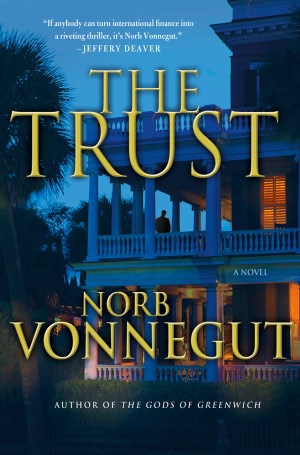 MBA&M: Give our readers a little background on "The Trust"?
It's better to read what Kirkus Reviewswrote. They do a great job describingThe Trust:
"Mommas, don't let your sons grow up to be Manhattan brokers or board members of charitable foundations. They'd never survive the combination of criminal plots and personal threats.
When Grove O'Rourke takes a call from Palmer Kincaid, his old mentor and his biggest client, he can tell that the old man is more than worried.But he doesn't catch the next plane to Kincaid's home in Charleston,S.C. As a result, he has to make the trip anyway for Palmer's funeral after he's killed in a convenient one-person boating accident. Smarting with guilt, Grove agrees to join Palmer's daughter Claire, 33, and hissecond wife JoJo, 39, on the board of the Palmetto Foundation, which Palmer launched and headed. Another mistake. Katy Anders, Grove's bossat Sachs, Kidder and Carnegie, is anything but supportive. And the very first item of business before the Foundation, a transfer of $65 million donated by the Catholic Fund to the Foundation for relief work in then Philippines, raises Grove's hackles. He's taken aback by dogged Fayetteville lawyer Biscuit Hughes' revelation that the Catholic Fundowns Highly Intimate Pleasures, an adult novelty superstore, and he doesn't trust Father Frederick Ricardo, the fast-talking Maryknollpriest who's pressing for the transfer. Just to keep the pressure up,Grove learns that Morgan Stanley Dean Witter is poised to purchase his division at SKC and that Isabelle Torres of the FBI is dogging his everymove and demanding he spill everything he knows about the Foundation.And that's all before JoJo is kidnapped by someone demanding $200million-virtually all the Foundation's assets-for her safe return.
A fast and furious novel from Vonnegut (The Gods of Greenwich, 2011,etc.) and a guaranteed good time."
MBA&M: What made you decide to write a thriller set in North Carolina?
During my book tour for Top Producer, an independent bookseller in North Carolina told me that Fayetteville is equidistant between the drug lords in New York City and the ones in Miami. Fayetteville serves, therefore, as a convenient meeting spot for the drug trade—which is an important part of the backstory in The Trust.
In addition, my recurring hero, Grove O'Rourke, has strong military ties. So with his financial acumen and pro-military leanings, Fayetteville (home to Fort Bragg and Pope Army Airfield) was a must-have location.
For the record, most of the book takes place in Charleston, SC—the place where I grew up.
MBA&M: What were some challenges in writing a thriller?
        Getting dispensation from our family priest was the biggest one. You're probably thinking, Whoa! Where does that come from?
        In The Trust there's a 20,000 square-foot adult superstore—named Highly Intimate Pleasures—that opens up just off I-95, near exit 55 in Fayetteville, North Carolina. That store is about the worst thing that could happen to the community, where there were fifty-four churches in the surrounding area when I did my research.
        The community hires Biscuit Hughes, a big, lumbering real estate attorney with a proven track record. During a tense meeting, in a room packed with angry neighbors, he tells the crowd that the "Catholic Fund" owns the adult superstore. You can imagine what happens from there and why I needed to talk things over with our family priest.
MBA&M: What where some interesting facts you found while researching "The Trust"?
        It's no secret that the Turks and Caicos ("TCI") is a haven for money launderers. I could never understand, though, how the bad guys got away with their crimes. The international scrutiny is intense. Surely, somebody would catch criminals in the act, right?
        While researching and writing The Trust, I learned several ways that real-life villains disguise their crimes. Apologies in advance. I can't explain how they get away with their crimes in TCI, not here anyway. The revelations would give away one of the more satisfying elements of my story. But I will say that the foundation for the crime I discovered is elegant, remarkable in its simplicity, and it works because computers can't think for themselves.
MB&AM: What was the first book you remember reading?
Remember those book clubs by mail?When One Fish Two Fish Red Fish Blue Fish arrived at my house, I was the happiest kid on the block.
MBA&M: What author do you feel most influenced your writing?
Okay, I know this answer will sound trite. The truth is I love everything Earnest Hemingway wrote. I'm not a big fan of oysters. But whenever I read the following passage, I feel like driving down to Matunuck Oyster Bar to re-live the experience he describes below:
"As I ate the oysters with their strong taste of the sea and their faint metallic taste that the cold white wine washed away, leaving only the sea taste and the succulent texture, and as I drank their cold liquid from each shell and washed it down with the crisp taste of the wine, I lost the empty feeling and began to be happy and to make plans."
These days, I gravitate toward Southern writers. They often write about people who are gentle on the outside. But their characters are messy on the inside and live complicated lives. The mix makes for great fiction.
If you ask me, Southern jargon is a gift to the English language. Where else does anybody say, "I'm happy as a dog with two tails?" And when there's conflict, the dialogue is like cyanide served with syrup. It's still lethal, right?
I'll read anything by Pat Conroy. James Lee Burke does a great job painting scenes where you can smell the magnolia, feel the damp, clingy heat, and hear the song of cicadas at night. I'm a huge fan of his Dave Robicheaux series.
MBA&M: What is in your to be read pile?
I'm reading The Help now. I know how it ends but can't wait to get there. The next book is Last Lawyer Standing by Doug Corleone. He's written a terrific legal thriller series with Kevin Corvelli as his quirky hero, a defense attorney based in Hawaii. Corvelli's world reminds me of Body Heat, where William Hurt plays the lawyer opposite Kathleen Turner.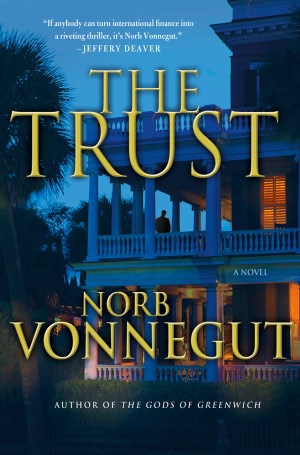 MBA&M: Please tell our readers where to find you and where "The Trust" can be found?
At five o'clock most afternoons, you can find me on a bicycle somewhere between Wickford, RI and our home in Narragansett. I suppose you're referring to my website, though which is: http://norbvonnegut.com/.
Here's the link to a preview of The Trust on my Facebook Page, where you can order my novel from most of your favorite bookstores:Norb Vonnegut Books.
~~~~~~
THE TRUST
NORB VONNEGUT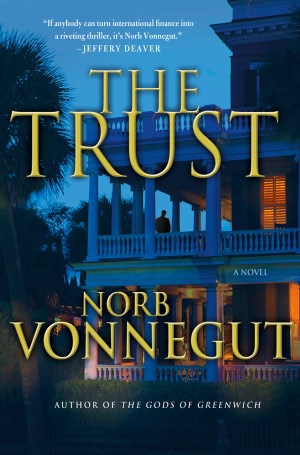 ISBN-13: 9781250003898
Publisher: St. Martin's Press
Publication date: 7/17/2012
Edition description: First Edition
Edition number: 1
Pages: 320
Overview(from Barnes and Nobles)
"The Trust is great fun.  Reels you in fast … then goes like lightning." –Stephen Frey, New York Times bestselling author of Heaven's Fury
Norb Vonnegut lends his unique insider's perspective and his darkly humorous writing to a fast-talking suspense thriller that takes readers inside the high-rolling world of global finance
One sultry morning in Charleston, South Carolina, real estate magnate Palmer Kincaid's body washes ashore, the apparent victim of accidental drowning. Palmer's daughter calls Grove O'Rourke, stockbroker and hero of Top Producer, for help getting her family's affairs in order. Palmer was Grove's mentor and client, the guy who opened doors to a world beyond Charleston. Grove steps in as the interim head of the Palmetto Foundation, an organization Palmer created to encourage philanthropy.
Community foundations, like the Palmetto Foundation, are conduits. Philanthropists gift money to them and propose the ultimate beneficiaries. But in exchange for miscellaneous benefits—anonymity, investment services, and favorable tax treatment—donors lose absolute control. Once funds arrive, community foundations can do whatever they decide.
For years Palmer showed great sensitivity to his donors, honoring their wishes to funnel funds into the charities of their choice—his unspoken pledge—and it was this largesse which made him a respected pillar of the Charleston community. But after Grove authorizes a $25 million transfer requested by a priest from the Catholic Fund, he discovers something is terribly wrong. He gets a call from Biscuit Hughes, a lawyer representing the people of Fayetteville, North Carolina, against a new sex superstore in their town. Biscuit has traced the store's funding to a most unlikely source: the Catholic Fund.
Together, Grove and Biscuit launch an investigation into the fund, but the deeper they dig, the more evidence they find that the fund's money isn't being used to support the impoverished—it's going somewhere much more sinister. When someone close to him disappears and the FBI starts breathing down his neck, Grove knows he has to figure out who's pulling all the strings before the shadowy figure who will stop at nothing to keep the fund a secret gets to him.
~~~~
Please check back with us later for our "Thoughts" on "The Trust" by Norb Vonnegut!
~~~~~
As always,we hope you have enjoyed our guest today as much as we have. Please spread the word on your social networks and anywhere else you can!
~~~~~
HAPPY READING!!