MBA&M PROUDLY PRESENTS…
JODI THOMAS AND "CHANCE OF A LIFETIME"….
Welcome, JODI!
It is always such a pleasure to have you visit with us and our readers….
Welcome to my town, Harmony, Texas.  I thought readers might like to start the new year with a book set in a small town called CHANCE OF A LIFETIME.  Once in a while everything comes together in a story that makes it fun to write. I think you'll love the visit where secrets whisper of old love affairs and kindness to others warms your heart.
In this visit to Harmony, you'll see people from the town that you've met in other books, but the plot begins with a quiet librarian, Emily and her former childhood friend, Tannon Parker.  While he's grown cold and hard over the years, she's become afraid of the world.  He comes to the library every Friday night because he knows she's afraid of the dark and though they barely speak as he walks her out, he thinks his heart only beats when she's near.  For Tannon and Emily this may be their last CHANCE OF A LIFETIME.
Writing the story of Harmony in CHANCE OF A LIFETIME has been a pure joy for me.  I grew up in a small town and understand how the people's life stories blend together and how everyone bands together when trouble comes.  So come along with me this cold night in January on an adventure that will make you smile and keep you reading long into the  night.
Jodi Thomas
www.facebook.com/JodiThomasAuthor
As always, thanks Jodi for visiting with us and our readers today!
 ~~~~~
CHANCE OF A LIFETIME
JODI THOMAS
Reading level: Ages 18 and up
Mass Market Paperback: 336 pages
Publisher: Berkley (December 31, 2012)
Language: English
ISBN-10: 0425250520
ISBN-13: 978-0425250525
Book Description(From Amazon)
Release Date: December 31, 2012 | Series: Harmony
The Harmony novels are "Jodi Thomas all the way—super characters [and] lots of riveting subplots."* Now the New York Times bestselling author takes us back to Harmony, Texas, where big dreams are brewing—and anything and everything is possible…
Emily, the local librarian, has started a writing group, but as the group stumbles through both the fiction and reality of their lives, they're learning much more than how to write. But Emily suddenly has other things on her mind when a friend from her past shows up in Harmony's library. Now she must deal with a secret she's kept for fifteen years—a secret that changed her life and threatens to shatter her future.
Meanwhile, new lawyer Rick Matheson thinks he's in charge of his world until accidents start happening all around him. Just when he realizes someone is trying to kill him, he meets a beautiful U.S. Marshal named Trace Adam. Now that the marshal has given him an even stronger reason to go on living, he must learn to take a chance on life to dream bigger—and love better—than he ever has before…
*Romance Reviews Today
***
*from author*
Review of CHANCE OF A LIFETIME
From December 2012 LIBRARY JOURNAL
Adding another chapter to her ongoing series set in idyllic Harmony, TX, Thomas sensitively details the lives of more of the townsfolk and the part that chance often plays in these stories that feature not only romance but a mystery. New characters are introduced and old ones are reprised in this well-crafted novel that seamlessly interweaves the various tales. Once again Harmony spring to life as the town librarian reconnects with an estranged friend when he asks her to visit his ailing mother; a criminal defense lawyer aligns with a lively Harley-riding U.S. marshal when he figures out that someone is out to kill him; and a young musician wants a girl who will live him for himself. VERDICT: Tender, realistic, and insightful, Thomas's latest title deals with issues that will strike an emotional chord with many readers and will appeal to fans of Debbie Macomber and Sherryl Woods. Thomas (Just Down the Road) lives in Texas.
~~~~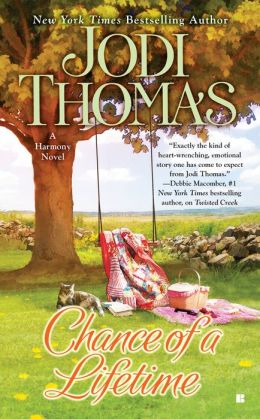 GIVEAWAY ALERT!
(Sponsored by this site)
We are offering 1 e-book copy(gifted copy) of  "Chance of a Lifetime" by Jodi Thomas to 1 lucky commenter. **Please tell us your favorite Jodi Thomas read or if this is a new author to you* Giveaway will run from today January 4 until January 11, 2013.
GOOD LUCK EVERYONE!
~~~
Please check out "Our Thoughts" on "CHANCE OF A LIFETIME" by Jodi Thomas. Remember to spread the word!
~~~
Thank you for visiting with us and our guest today! Please come again.