Please welcome today's guest: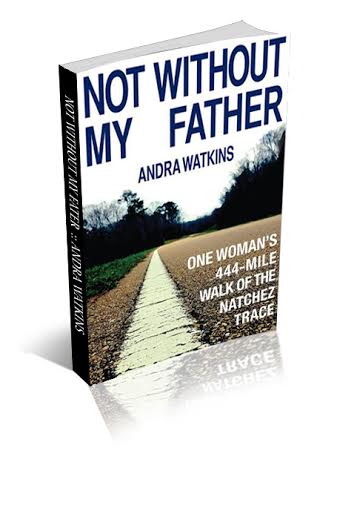 HOW I ALMOST KILLED MY FATHER
I never really liked my father. He was the classic 1960s dad: worked hard; came home and let everyone wait on him; let Mom handle all things kid-related; never talked to me.
When I turned thirteen, he decided to change his approach. He believed he hadn't taught me anything. His every sentence to thirteen-year-old me started with, "Andra, you need to learn….."
What thirteen-year-old girl would bond with that?
We shouted down my teens, harangued through my twenties and seethed away my thirties. I rolled my eyes every time I saw Dad's number on my caller ID. I couldn't send him to voicemail fast enough. He drove me MAD.
Then his appendix ruptured. He was seventy-seven. He died on the operating table. I only found out I almost lost him when I went to the hospital three days after they revived him. I was busy, after all. Chasing the mid-life dollar at the peak of my income potential. I didn't have time to drive two hours and sit in a dreary hospital room, couldn't afford to scrap a planned client trip. When I found out he almost died, I panicked.
I didn't know my father. At all.
Still, I couldn't imagine how we could fix our relationship. The pattern of dysfunctional communication was ingrained. Intense. Unalterable. He was almost eighty. Almost gone. I didn't know what to do, but spending time with him didn't change our dynamic.
When I decided to walk the 10,000-year-old Natchez Trace to launch my debut novel To Live Forever: An Afterlife Journey of Meriwether Lewis, Dad was the last person I wanted as wingman. Things between us were still off. I couldn't imagine living with my father for five weeks. I mean, I was forty-three years old. I lived on my own for more than two decades.
Sharing a hotel room with my eighty-year-old father? For five weeks? HELL ON EARTH.
His gas was legendary. He called it 'the paper mill.' He scratched himself all night while a sleep apnea machine breathed for him, and he wasn't fond of wearing clothes to cover his almost three-hundred-pound frame. Strangers loved his stories, but I plugged my ears through the five billionth telling.
For some reason, he agreed to accompany me on my journey. While I walked fifteen miles a day on the Natchez Trace, he explored tiny southern towns and regaled everyone with The Roy Show. Usually, he picked me up and dragged me to meet someone, forced me to sign books with sausage fingers and stand even longer on feet that looked like they'd been through a meat grinder. When he got so carried away with his own mystique that he forgot to pick me up, I hated him even more.
Spending five weeks with my dad was the stupidest idea I ever had.
Until it wasn't.
I wrote Not Without My Father: One Woman's 444-Mile Walk of the Natchez Trace to encourage everyone, everywhere, to Make a Memory. We all have family members we love to hate, but we'll still miss them when they're gone. They're family. They're part of us.
That's important.
It's never too late to Make a Memory……..until it's too late. Think about someone who matters to you. What have you been meaning to do with them? How long have you been putting it off? Won't you regret it when all you can say is "I wish I had?"
Turn "I wish I had" into "I'm glad I did." Read Not Without My Father and be inspired to Make a Memory. Right now. Today. Because the memories you make are the pieces you'll have to cherish when that person is gone.
Thank you, Andra, for stopping by today! What an awe-inspiring adventure!!
 *****
Not Without My Father by Andra Watkins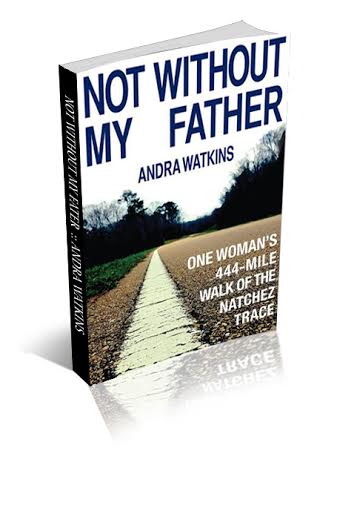 Title: Not Without My Father: One Woman's 444 Mile Walk of the Natchez Trace
Author: Andra Watkins
Publisher: Word Hermit Press
Pages: 240
Genre: Memoir
Format: Paperback/Kindle
Can an epic adventure succeed without a hero?
Andra Watkins needed a wingman to help her become the first living person to walk the historic 444-mile Natchez Trace as the pioneers did. She planned to walk fifteen miles a day. For thirty-four days.
After striking out with everyone in her life, she was left with her disinterested eighty-year-old father. And his gas. The sleep apnea machine and self-scratching. Sharing a bathroom with a man whose gut obliterated his aim.
As Watkins trudged America's forgotten highway, she lost herself in despair and pain. Nothing happened according to plan, and her tenuous connection to her father started to unravel. Through arguments and laughter, tears and fried chicken, they fought to rebuild their relationship before it was too late. In Not Without My Father: One Woman's 444-Mile Walk of the Natchez Trace, Watkins invites readers to join her dysfunctional family adventure in a humorous and heartbreaking memoir that asks if one can really turn I wish I had into I'm glad I did.
For More Information
Not Without My Father: One Woman's 444 Mile Walk of the Natchez Trace is available at Amazon.
Discuss this book at PUYB Virtual Book Club at Goodreads.
******
---
About the author…
Presented by: