MBA&M PROUDLY PRESENTS A FEATURE AND REVIEW OF…..
"THE SONG REMAINS THE SAME" BY ALLISON WINN SCOTCH!
About Me(from the author's website)
I was born in the '70s at 3:43 AM in Charlottesville, VA. After my mother assured my father that yes, he could take that business trip to Montreal because, no, there was no chance that I would be making my appearance while he was gone, out I popped. Which my parents now like to use as a frequent analogy about my general attitude and overall take on life.
Er, not the kind of biographical information you were looking for? Okay, here are the more pertinent details:
After dabbling my toe in the PR, marketing and internet worlds, I discovered that there's nothing finer than a) working for yourself, b) working from home and c) getting paid to write full-time. To that end, I earned my keep for eight years as a freelance magazine scribe for every title you could think of, from Glamour to Self to Shape to Redbook to Men's Health to Women's Health to Family Circle to InStyle Weddings to Bride's to Cooking Light to Parents to American Baby. You get the idea. These days, I primarily focus on celebrity interviews and profiles, which indulges my pop culture obsession and gives me an excuse to read junky magazines and watch lots of tv. For examples of some of these articles, check out this page, which is chock full of past pieces.
Of course, while all of the above is wonderful and fabulous and allowed my heart to swell each time I walked by a newsstand, what I'm really most proud of is the publication of my novels, The One That I Want, Time of My Life, and The Department of Lost and Found.
It goes without saying that all three books make excellent Christmas/Hanukkah/Kwanza/Mother's Day/Birthday/Arbor Day/Secretary Day/Columbus Day/Monday-Sunday gifts for all of your loved ones. For more info, check out the their respective pages of my site.
My fourth book, The Song Remains The Same, was released by Putnam Books in April 2012.
My fiction is represented by Elisabeth Weed at Weed Literary. She can be contacted at elisabeth@weedliterary.com.
Other Tidbits
I graduated cum laude from the University of Pennsylvania with a BA in Honors History and Concentration in Marketing from the Wharton School of Business.
When I'm not planted in front of the computer (which is nearly always – seriously, ask anyone who knows me, I'm here – send me a note!), I'm hanging with my kids, my husband and my pooch, Pedro.
~~~~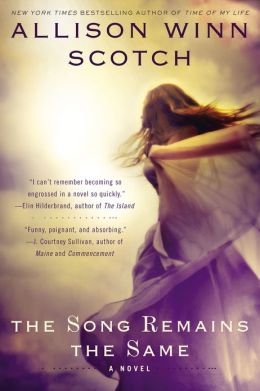 THE SONG REMAINS THE SAME-ALLISON WINN SCOTCH
Berkley Trade, January 2013
ISBN-10: 042525335X
ISBN-13: 9780425253359
352 pages
Trade Size
$15.00
From the New York Times-bestselling author comes a novel that asks the question, who are we without our memories?  And how much of our future is defined by our past?
One of only two survivors of a plane crash, Nell Slattery wakes in the hospital with no memory of the crash – or who she is, or was. Now she must piece together both body and mind — with the help of family and friends who have their own agendas.  She filters through photos, art, music and stories, hoping something will jog her memory, and soon – in tiny bits and pieces –Nell starts remembering…
It isn't long before she learns to question the stories presented by her mother, her sister and business partner, and her husband.  In the end she will learn that forgiving betrayals small and large will be the only true path to healing herself — and to finding happiness.
~~~~~
MY THOUGHTS:
THE SONG REMAINS THE SAME by Allison Winn Scotch is a compelling women's fiction. When Nell Slattery wakes in the hospital with no memory of  what happened,herself,her family or who she was, she must piece together her life with the help of her family and friends. But things are not what they same as each family member,friend, including her husband tell their version of the story. When she starts to remember her past she learns some things are best not to remember or is it? Long hidden secrets,and feelings come to surface along with present events. Compelling story of one women's life before and after a terrifying accident. You will need tissues. While, "The Song Remains the Same" will grip you from the first page to the last you find each family member has their own agenda. Nell,loves remembering songs, she wrote songs, as well as her father. A poignant story of past secrets,remembering the hurt and heartache,and moving forward. A must read for anyone who enjoys women's fiction,a compelling and complex story of love,heartache,and secrets. Received for an honest review from the publisher. For more information visit the author's website,Berkley Publishing Group,published by the Penguin Group and My Book Addiction and More.
RATING: 4
HEAT RATING: SWEET
REVIEWED BY: AprilR, My Book Addiction and More/My Book  Addiction Reviews