WE ARE HONORED TO HAVE WITH US TODAY….
JON FOYT
AUTHOR OF….
~MARCEL PROUST IN TAOS~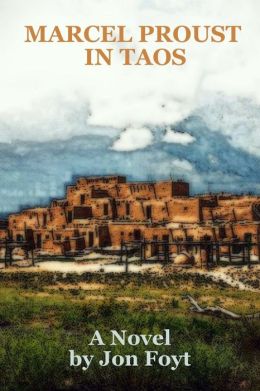 So without further ado, sit back and enjoy your visit with….Jon Foyt!!
MBA&M: Hello, Jon and welcome to MBA&M! Please give our readers some insight into the life of Jon Foyt?

JON: I grew up in Indianapolis and wanted to be a racecar driver at Indy, but soon gave that up to go to college to study journalism and geography, then business at Stanford. I was in the Korean War in Military Intelligence, then worked in electronics and radio broadcasting in the Pacific Northwest, before getting into real estate development, where my late wife, Lois, and I built apartments, condominiums, and single family homes. Later, I went back to school at the University of Georgia to study Historic Preservation. Lois and I then moved to New Mexico to write novels about the Southwest, archaeology, and Native Americans. My wife and I wrote together for 20 years until she passed away, and now I continue to write. I'm 81 and active in an adult retirement community in Northern California.
MBA&M: What was your inspiration behind writing "Marcel Proust In Taos"?

JON: The enchantment of New Mexico is exemplified by the Taos School of Artists dating back to the1890's. Taos is also an ancient Spanish town, plus there is the 1200 AD Taos Pueblo of Native Americans. Taos is also near the Atomic Lab in Los Alamos. All of these ingredients inspired the writing of Marcel Proust in Taos.


MBA&M: Who was your favorite character to write about and why?

JON: Christopher is an atomic scientist retiring to Taos, where he falls in love with the artist Marlene. He is also writing a novel within the novel about the dangers of nuclear terrorism. His character is complex, aggressive and, I think, of deep interest to the reader.
MBA&M: This is a twofold question: What was the allure to you, for writing a story on microbrewery, nuclear terrorism and love? And what made you chose New Mexico as your setting for "Marcel Proust In Taos"?

JON: I lived for 16 years in New Mexico. Santa Fe and Taos are the two places in the United States where you don't feel like you're in the United States, or so said D. H. Lawrence when he visited Taos in the early 1920's.
MBA&M: What was the most challenging thing about writing this story?

JON: Writing a novel within the novel is most challenging, yet it opens up an interesting experience for the reader.
MBA&M: Which secondary character was your favorite to write, why?

JON: Marlene, the immigrant artist is a complex character, for she has left her native Germany to seek a new life in a very different venue. She has to integrate herself into the community while at the same time pursuing her art, opening a microbrewery and enjoying her love affair with Christopher.
MB&AM: Does any of the characters in this story portray you at all, anyone you know, or are they straight out of your head?

JON: These are each fictional characters, totally invented, and do not represent anyone I know.
MBA&M:  Who would you say was the biggest influence in your writing career?

JON: My high school English teacher, oh so many years ago.
MBA&M: What advice do you have for inspiring authors? AND what was the quirkiest advice or thing you did to sale a story?

JON: Write about what you know or have researched and feel about deeply. Writing is hard work, so be prepared to experience a certain amount of isolation in the process of writing, editing, and re-writing.
MBA&M: Please tell us where to connect with Jon Foyt, and where we may purchase "Marcel Proust in Taos"?

My website is http://www.jonfoyt.com.
Marcel Proust in Taos is available on Amazon: http://www.amazon.com/dp/1481879162
Thank you,Jon for taking a few moments of your time to visit with us today! What an interesting story!
——————————-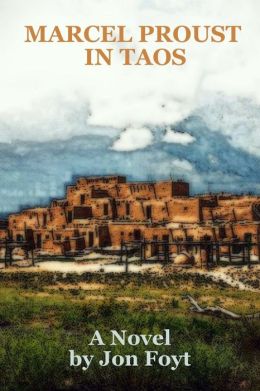 MARCHEL PROUST IN TAOS
JON FOYT
Paperback: 214 pages
Publisher: CreateSpace Independent Publishing Platform (June 19, 2013)
Language: English
ISBN-10: 1481879162
ISBN-13: 978-1481879163
A novel; A Los Alamos physicist, Christopher, retires to Taos, New Mexico to write a novel about nuclear terrorism. There he meets aspiring artist Marlene, and the two fall in love. Together they open a microbrewery and find themselves confronting terrorism of a new sort-in unmapped emotional territory.
Marcel Proust in Taos is available on Amazon: http://www.amazon.com/dp/1481879162
Barnes & Nobles:
http://www.barnesandnoble.com/w/marcel-proust-in-taos-jon-foyt/1115775204?ean=9781481879163
—————-
For "My Thoughts" visit:
http://mybookaddictionreviews.com/2013/08/07/reveiw-marcel-proust-in-taos-in-search-of-times-past-by-jon-foyt/
————–
~GIVEAWAY ALERT~
(Sponsored by the publisher/publicist)
Thanks to Kelsey, we are offering 1 lucky commenter their choice of either a print or digital copy of "Marcel Proust in Taos". Open internationally! Giveaway will run from August 24 until August 31,2013.
**Commenter, please leave your choice of either print or digital in your comment**
GOOD LUCK AND HAPPY READING!
————-
Please spread the word!