MBA&M AND PUMP UP YOUR BOOK PROUDLY PRESENTS…..
ACE COLLINS
*All information,images and facts from the   publicity site *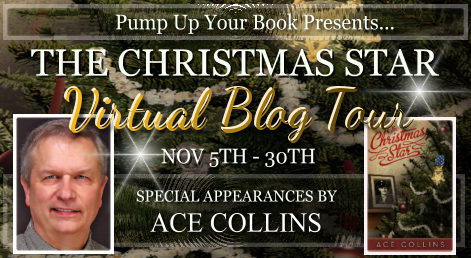 ABOUT ACE COLLINS
Bestselling author Ace Collins has written more than fifty books including novels Farraday Road, Swope's Ridge and Words of the Father, as well as the nonfiction Stories Behind The Best-Loved Songs of Christmas, grAttitudes, and Lassie A Dog's Life. His books have become movies and network television specials. He has appeared on Good Morning America, the NBC Nightly News and The Today Show and has been featured in the Distinguished Lecture Series at the National Archives in Washington D.C. Ace Collins has sold more than 1.5 million books during his career.
His latest book is the Christian holiday fiction, The Christmas Star.
You can visit Ace on the web at www.acecollins.com.
Stalk Ace!
BUY ONLINE
ABOUT THE CHRISTMAS STAR
Robert Reed gave his life for his country in the early days of World War II. His sacrifice was honored when his widow and son were presented with the Congressional Medal of Honor. Each Christmas the final decoration Madge Reed hangs on the family's tree is that medal. Rather than being a symbol of honor for young Jimmy Reed that shining star represents loss, pain, and suffering.
Yet a letter delivered by one of Robert's fellow soldiers and a mystery posed in that letter put a father's sacrifice and faith into perspective and bring new meaning to not just the star hanging on the Christmas tree but the events of the very first Christmas. Then, when least expected, a Christmas miracle turns a final bit of holiday sadness into a joy that Jimmy has never known.

The Christmas Star Virtual Book Publicity Tour Schedule
Monday, November 5
Book Review at A Year of Jubilee Reviews
Tuesday, November 6
Book Review & Book Giveaway at Deco My Heart
Wednesday, November 7
Book Review at The Mary Reader
Friday, November 9
Book Review at A Book Lover
Book Feature & Book Giveaway at Christian Bookshelf Reviews
Monday, November 12
Book Review & Book Giveaway at Mary's Cup of Tea
Tuesday, November 13
Book Review at Sharon's Garden of Book Reviews
Thursday, November 15
Book Review at By the Book
Interview & Book Giveaway at I Am a Reader Not a Writer
Friday, November 16
Book Review, Interview & Book Giveway at Hardcover Feedback
Monday, November 19
Book Review at  Mocha With Linda
Book Review at Splashes of Joy
Tuesday, November 20
Book Review & Book Giveaway at Reviews From the Heart
Wednesday, November 21
Book Feature & Book Giveaway at 4 the Love of Books
Thursday, November 22
Book Review at The Self-Taught Cook
Friday, November 23
Book Review & Book Giveaway at Jersey Girl Book Reviews
Monday, November 26
Book Review & Book Giveaway at Maureen's Musings
Book Review at Sincerely Stacie
Wednesday, November 28
Book Review at Blooming With Books
Friday, November 30
Book Review at A Room Without Books is Empty
Character Letter to Santa Claus at Literarily Speaking
* * * RESCHEDULING: Book Review at The Bunny's Review